Composer: Sri Tallapaka Annamacharya (Annamayya అన్నమయ్య) , May 9, 1408 – February 23, 1503 was born to Narayana Suri and Lakkamamba in Tallapaka, a village in current day Kadapa district of Andhra Pradesh. More….
Keerthana No. 150
Copper Sheet No. 275
Pallavi: A Mata Mi (ఆ మాట మీ)
Ragam: Madhyamavathi
Language: Telugu (తెలుగు)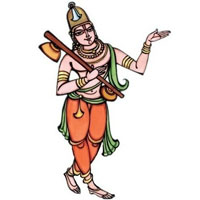 Recitals
Awaiting Contributions.
…
Awaiting Contributions.
[audio: audio-instrumental-file-name.mp3].
This Kriti was originally composed in Telugu. Other languages are for your convenience.
Pallavi
|| ఆ మాట మీ రెరగ రాతడె కాని | తామసించినాడ నుండె తనకేలె వెర్కపు |
Charanams
|| విచ్చేయమనవె విభుని నిక్కడికె | యిచ్చటనె విన్నవించే నేమి గల్లాను |
ముచ్చట దీరదు తన మొగము చూచినదాకా | తచ్చివేసి నేనుండగ తనకేలె వెర్కపు ||
|| తప్పక చూడు మనవె తానిట్టె నా దిక్కు | యిప్పుడె మంచిది సేసే నేమి గల్లాను |
దప్పివోదు నేడు నాకు తనతో మాటలాడుదాకా | తప్పులెల్ల వొప్పులయ్యీ తనకేలె వెర్కపు ||
|| తలచుకొమ్మనవలె తనపొందు నాపొందు | యెలమి గాగట దీర్చేనేమి గల్లాను |
అలమె శ్రీ వేంకటేశు డందుకే మెచ్చినదాకా | తలవంచుకున్నాడు తనకేలె వెర్కపు ||
.
Pallavi
|| A mATa mI reraga rAtaDe kAni | tAmasiMcinADa nuMDe tanakEle verxapu |
Charanams
|| viccEyamanave viBuni nikkaDike | yiccaTane vinnaviMcE nEmi gallAnu |
muccaTa dIradu tana mogamu cUcinadAkA | taccivEsi nEnuMDaga tanakEle verxapu ||
|| tappaka cUDu manave tAniTTe nA dikku | yippuDe maMcidi sEsE nEmi gallAnu |
dappivOdu nEDu nAku tanatO mATalADudAkA | tappulella voppulayyI tanakEle verxapu ||
|| talacukommanavale tanapoMdu nApoMdu | yelami gAgaTa dIrcEnEmi gallAnu |
alame SrI vEMkaTESu DaMdukE meccinadAkA | talavaMcukunnADu tanakEle verxapu ||
.

We will update this page , once we find comprehensive meaning. Feel free to contribute if you know.
.