Ustad Ghulam Ali (Urdu: غلام علی, Hindi: ग़ुलाम अली (born 1940) is a Pakistani ghazal singer of the Patiala gharana. He is not to be confused with the Indian singer Bade Ghulam Ali Khan (of whom he was a disciple) or Chhote Ghulam Ali, who is another Pakistani singer in the Qual Bachon Gharana More..
Category: Ghazals


Writer / Author: Ustad Ghulam Ali (غلام علی)


Language: Urdu (اردو)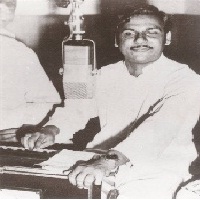 Recitals
Aaj Ruuthe Huye |آج روٹھے ہے
Album: Private | Voice: U.Ghulam Ali

Awaiting Contributions.
This Ghazal was originally composed in Urdu. Other languages are for your convenience.
آج روٹھے ہے ساجن کو بہت یاد کیا
اپنے وجدے ہے گلشن کو بہت یاد کیا
جب کبھی گردش ا تقدیر نے گھیرا ہے ہمیں
گیسو ا یار کی الجھن کو بہت یاد کیا
جسکے ماتھے پی نیی سبھو کا جھممار ہوگا
ہمنے اس وقت کی دلہن کو بہت یاد کیا
آج ٹوٹے ہے سپنوں کی بہت یاد آی
آج بیٹے ہے ساون کو بہت یاد کیا
ہم سر ا طور بھی مایوس ا تجللی ہی رہے
اس دار ا یار کی چلمن کو بہت یاد کیا
.
Awaiting Contribution..
.
aaj ruuthe huye saajan ko bahut yaad kiya
apane ujade huye gulashan ko bahut yaad kiya
jab kabhi gardish-e-taqadir ne ghera hai hamein
gesu-e-yaar ki ulajhan ko bahut yaad kiya
jisake maathe pe nayi subaho ka jhummar hoga
hamane us waqt ki dulhan ko bahut yaad kiya
aaj tuute huye sapanon ki bahut yaad aayi
aaj bite huye saawan ko bahut yaad kiya
ham sar-e-tuur bhi maayuus-e-tajalli hi rahe
us dar-e-yaar ki chilaman ko bahut yaad kiya
.