Ustad Ghulam Ali (Urdu: غلام علی, Hindi: ग़ुलाम अली (born 1940) is a Pakistani ghazal singer of the Patiala gharana. He is not to be confused with the Indian singer Bade Ghulam Ali Khan (of whom he was a disciple) or Chhote Ghulam Ali, who is another Pakistani singer in the Qual Bachon Gharana More..
Category: Ghazals


Writer / Author: Ustad Ghulam Ali (غلام علی)


Language: Urdu (اردو)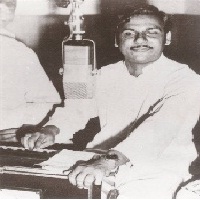 Recitals
Ab Aur Kya Kisi | اب اور کیا کسی
Album:Private | Voice: U.Ghulam Ali

Awaiting Contributions.

This Ghazal was originally composed in Urdu. Other languages are for your convenience.
اب اور کیا کسی سے مراسم بڑھاییں ہم
یہ بھی بہت ہے تجھکو اگر بھول جاییں ہم
اس زندگی میں اتنی فراگت کیسے نسب
اتنا نہ یاد آ کے تجھے بھول جاییں ہم
تو اتنی دلازدہ تو نہ تھی ای شب ا فراق
آ تیرے راستے میں ستارے لٹاےیں ہم
وو لوگ اب کہاں ہیں جو کہتے تھے کل فراز
ای ای کدہ نہ کرانا تجھے بھی رلاےیں ہم
.
Awaiting Contribution..
.
ab aur kya kisi se maraasim badhaayein ham
ye bhi bahut hai tujhako agar bhuul jaayein ham
is zindagi mein itani faraagat kise nasib
itana na yaad aa ke tujhe bhuul jaayein ham
tuu itani dilazada to na thi ai shab-e-firaaq
aa tere raaste mein sitaare lutaayein ham
wo log ab kahaan hain jo kahate the kal ' faraaz'
ai ai kuda na karana tujhe bhi rulaayein ham
.