Composer: Muttukumaraswamy (முத்துகுமாரச்வாமி) popularly known as Muthuswamy Dikshithar (முத்துஸ்வாமி தீக்ஷிதர் – ముత్తుస్వామీ డిక్షితర్), (March 24, 1775 – October 21, 1835) was was born in Tiruvarur (of Thanjavur district of Tamil Nadu) to a Tamil Iyer Brahmin couple Ramaswami Dikshitar and Subbamma, as the eldest son. He also had two younger brothers Baluswami, Chinnaswami and a sister Balambal.Chidambaranatha Yogi was his guru. More…

Raagam: Kalyaani
Taalam: Aadi

Diety: Tiruvarur – Thyagaraja vibhakti Krithis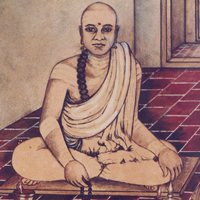 .
Recitals
Album: Unknown | Voice: K.Swaminathan
Album: Unknown | Voice: T.N.Bala

Awaiting Contributions.

We believe this kriti was originally composed in sanskrit. Other languages are for your convenience.
పల్లవి
అభయాంబా జగదంబా రక్షతు
ఆత్మ రూప ప్రతి బింబా మదంబా
అనుపల్లవి
ఇభ వదన శ్రీ గురు గుహ జననీ
ఈశ మాయూర నాథ రంజనీ
(మధ్యమ కాల సాహిత్యమ్)
అభయ వరద పాణీ అలి వేణీ
ఆశ్రిత మా వాణీ కల్యాణీ
చరణము
భక్త నాగ లింగ పరిపాలినీ
భాసమాన నవ రత్న మాలినీ
వ్యక్త సమస్త జగద్విశాలినీ
వ్యధికరణ హరణ నిపుణ శూలినీ
రక్త శుక్ల మిశ్ర ప్రకాశినీ
రవి కోటి కోటి సంకాశినీ
భక్తి ముక్తి మానస నివాసినీ
భావ రాగ తాళ విశ్వాసినీ
(మధ్యమ కాల సాహిత్యమ్)
భుక్తి ఫల ప్రద దక్ష మృడానీ
భక్తి ప్రద నిపుణ-తర భవానీ
శక్తి సంప్రదాయక శర్వాణీ
భుక్తి ముక్తి వితరణ రుద్రాణీ
variations
మాయూర నాథ – మయూర నాథ
భక్తి ముక్తి మానస – భుక్తి ముక్తి మానస
.
பல்லவி
அப4யாம்பா3 ஜக3த3ம்பா3 ரக்ஷது
ஆத்ம ரூப ப்ரதி பி3ம்பா3 மத3ம்பா3
அனுபல்லவி
இப4 வத3ன ஸ்ரீ கு3ரு கு3ஹ ஜனனீ
ஈஸ1 மாயூர நாத2 ரஞ்ஜனீ
(மத்4யம கால ஸாஹித்யம்)
அப4ய வரத3 பாணீ அலி வேணீ
ஆஸ்1ரித மா வாணீ கல்யாணீ
சரணம்
ப4க்த நாக3 லிங்க3 பரிபாலினீ
பா4ஸமான நவ ரத்ன மாலினீ
வ்யக்த ஸமஸ்த ஜக3த்3விஸா1லினீ
வ்யதி4கரண ஹரண நிபுண ஸூ1லினீ
ரக்த ஸு1க்ல மிஸ்1ர ப்ரகாஸி1னீ
ரவி கோடி கோடி ஸங்காஸி1னீ
ப4க்தி முக்தி மானஸ நிவாஸினீ
பா4வ ராக3 தாள விஸ்1வாஸினீ
(மத்4யம கால ஸாஹித்யம்)
பு4க்தி ப2ல ப்ரத3 த3க்ஷ ம்ரு2டா3னீ
ப4க்தி ப்ரத3 நிபுண-தர ப4வானீ
ஸ1க்தி ஸம்ப்ரதா3யக ஸ1ர்வாணீ
பு4க்தி முக்தி விதரண ருத்3ராணீ
variations
மாயூர நாத2 – மயூர நாத2
ப4க்தி முக்தி மானஸ – பு4க்தி முக்தி மானஸ
.
ಪಲ್ಲವಿ
ಅಭಯಾಂಬಾ ಜಗದಂಬಾ ರಕ್ಷತು
ಆತ್ಮ ರೂಪ ಪ್ರತಿ ಬಿಂಬಾ ಮದಂಬಾ
ಅನುಪಲ್ಲವಿ
ಇಭ ವದನ ಶ್ರೀ ಗುರು ಗುಹ ಜನನೀ
ಈಶ ಮಾಯೂರ ನಾಥ ರಂಜನೀ
(ಮಧ್ಯಮ ಕಾಲ ಸಾಹಿತ್ಯಮ್)
ಅಭಯ ವರದ ಪಾಣೀ ಅಲಿ ವೇಣೀ
ಆಶ್ರಿತ ಮಾ ವಾಣೀ ಕಲ್ಯಾಣೀ
ಚರಣಮ್
ಭಕ್ತ ನಾಗ ಲಿಂಗ ಪರಿಪಾಲಿನೀ
ಭಾಸಮಾನ ನವ ರತ್ನ ಮಾಲಿನೀ
ವ್ಯಕ್ತ ಸಮಸ್ತ ಜಗದ್ವಿಶಾಲಿನೀ
ವ್ಯಧಿಕರಣ ಹರಣ ನಿಪುಣ ಶೂಲಿನೀ
ರಕ್ತ ಶುಕ್ಲ ಮಿಶ್ರ ಪ್ರಕಾಶಿನೀ
ರವಿ ಕೋಟಿ ಕೋಟಿ ಸಂಕಾಶಿನೀ
ಭಕ್ತಿ ಮುಕ್ತಿ ಮಾನಸ ನಿವಾಸಿನೀ
ಭಾವ ರಾಗ ತಾಳ ವಿಶ್ವಾಸಿನೀ
(ಮಧ್ಯಮ ಕಾಲ ಸಾಹಿತ್ಯಮ್)
ಭುಕ್ತಿ ಫಲ ಪ್ರದ ದಕ್ಷ ಮೃಡಾನೀ
ಭಕ್ತಿ ಪ್ರದ ನಿಪುಣ-ತರ ಭವಾನೀ
ಶಕ್ತಿ ಸಂಪ್ರದಾಯಕ ಶರ್ವಾಣೀ
ಭುಕ್ತಿ ಮುಕ್ತಿ ವಿತರಣ ರುದ್ರಾಣೀ
variations
ಮಾಯೂರ ನಾಥ – ಮಯೂರ ನಾಥ
ಭಕ್ತಿ ಮುಕ್ತಿ ಮಾನಸ – ಭುಕ್ತಿ ಮುಕ್ತಿ ಮಾನಸ
.
पल्लवि
अभयाम्बा जगदम्बा रक्षतु
आत्म रूप प्रति बिम्बा मदम्बा
अनुपल्लवि
इभ वदन श्री गुरु गुह जननी
ईश मायूर नाथ रञ्जनी
(मध्यम काल साहित्यम्)
अभय वरद पाणी अलि वेणी
आश्रित मा वाणी कल्याणी
चरणम्
भक्त नाग लिङ्ग परिपालिनी
भासमान नव रत्न मालिनी
व्यक्त समस्त जगद्विशालिनी
व्यधिकरण हरण निपुण शूलिनी
रक्त शुक्ल मिश्र प्रकाशिनी
रवि कोटि कोटि संकाशिनी
भक्ति मुक्ति मानस निवासिनी
भाव राग ताळ विश्वासिनी
(मध्यम काल साहित्यम्)
भुक्ति फल प्रद दक्ष मृडानी
भक्ति प्रद निपुण-तर भवानी
शक्ति संप्रदायक शर्वाणी
भुक्ति मुक्ति वितरण रुद्राणी
variations
मायूर नाथ – मयूर नाथ
भक्ति मुक्ति मानस – भुक्ति मुक्ति मानस
.
pallavi
abhayAmbA jagadambA rakshatu
Atma rUpa prati bimbA madambA
anupallavi
ibha vadana SrI guru guha jananI
ISa mAyUra nAtha ranjanI
(madhyama kAla sAhityam)
abhaya varada pANI ali vENI
ASrita mA vANI kalyANI
caraNam
bhakta nAga linga paripAlinI
bhAsamAna nava ratna mAlinI
vyakta samasta jagadviSAlinI
vyadhikaraNa haraNa nipuNa SUlinI
rakta Sukla miSra prakASinI
ravi kOTi kOTi saMkASinI
bhakti mukti mAnasa nivAsinI
bhAva rAga tALa viSvAsinI
(madhyama kAla sAhityam)
bhukti phala prada daksha mRDAnI
bhakti prada nipuNa-tara bhavAnI
Sakti saMpradAyaka SarvANI
bhukti mukti vitaraNa rudrANI
variations
mAyUra nAtha – mayUra nAtha
bhakti mukti mAnasa – bhukti mukti mAnasa
.
പല്ലവി
അഭയാമ്ബാ ജഗദമ്ബാ രക്ഷതു
ആത്മ രൂപ പ്രതി ബിമ്ബാ മദമ്ബാ
അനുപല്ലവി
ഇഭ വദന ശ്രീ ഗുരു ഗുഹ ജനനീ
ഈശ മായൂര നാഥ രഞ്ജനീ
(മധ്യമ കാല സാഹിത്യമ്)
അഭയ വരദ പാണീ അലി വേണീ
ആശ്രിത മാ വാണീ കല്യാണീ
ചരണമ്
ഭക്ത നാഗ ലിങ്ഗ പരിപാലിനീ
ഭാസമാന നവ രത്ന മാലിനീ
വ്യക്ത സമസ്ത ജഗദ്വിശാലിനീ
വ്യധികരണ ഹരണ നിപുണ ശൂലിനീ
രക്ത ശുക്ല മിശ്ര പ്രകാശിനീ
രവി കോടി കോടി സങ്കാശിനീ
ഭക്തി മുക്തി മാനസ നിവാസിനീ
ഭാവ രാഗ താള വിശ്വാസിനീ
(മധ്യമ കാല സാഹിത്യമ്)
ഭുക്തി ഫല പ്രദ ദക്ഷ മൃഡാനീ
ഭക്തി പ്രദ നിപുണ-തര ഭവാനീ
ശക്തി സമ്പ്രദായക ശര്വാണീ
ഭുക്തി മുക്തി വിതരണ രുദ്രാണീ
variations
മായൂര നാഥ – മയൂര നാഥ
ഭക്തി മുക്തി മാനസ – ഭുക്തി മുക്തി മാനസ
.
Pallavi
ṁay Goddess abhayAmbA, the mother of the entire universe protect me,
The one who reflects herself in the self1, The one who is my mother, protect me.
Anupallavi
The mother of the elephant faced2, and of the auspicious guruguha;
The one who captivates the ḷord mayUranAtha3
The one whose hands bear the abhaya and varada mudras4 to Her devotees;
The one who has dark black tresses resembling the color of bees;
The one who is worshipped by lakśhmi and sarasvati, and
The one who is kalyANi5
caraNaṁ:
The one who protected the devotee nAgaliNga 6
The one who wears a sparkling necklace made of nine gems that shine like stars.
śhe illuminated the perceptible universe (dwells in all that is seen);
śhe is shUlini (one holding a trident), the adroit one at destroying the dualities 7
śhe shines in a blend of red and white8
śhe shines like crores and crores of śuns;
śhe resides in the minds of those that seek liberation through the path of devotion and those who seek liberation through the path of knowledge.
śhe revels in music filled with bhAva, rAga, and tAḷA
śhe is m.rDAni, who is adept in bestowing various types of enjoyment;
śhe is bhavAni, who is adroit at bequeathing the power of devotion;
she is sharvANI9, who is the giver of strength (or) who shows the path of shakti sampradaya.
śhe is rudrANI10, who gives worldly pleasures and liberation.
.