Composer: Muttukumaraswamy (முத்துகுமாரச்வாமி) popularly known as Muthuswamy Dikshithar (முத்துஸ்வாமி தீக்ஷிதர் – ముత్తుస్వామీ డిక్షితర్), (March 24, 1775 – October 21, 1835) was was born in Tiruvarur (of Thanjavur district of Tamil Nadu) to a Tamil Iyer Brahmin couple Ramaswami Dikshitar and Subbamma, as the eldest son. He also had two younger brothers Baluswami, Chinnaswami and a sister Balambal.Chidambaranatha Yogi was his guru. More…

Raagam: Yadukula Kaambhoji
Taalam: Rupakam

Diety: Mayuram – Mayuranatha swami krithis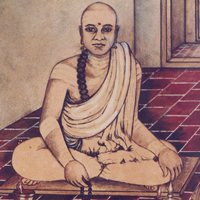 .
Recitals
Album: Unknown | Voice: K.Swaminathan

Awaiting Contributions.

We believe this kriti was originally composed in sanskrit. Other languages are for your convenience.
పల్లవి
అభయాంబికాయై అశ్వారూఢాయై
అభయ వర ప్రదాయై నమస్తే నమస్తే
అనుపల్లవి
సుభగాకారాయై సురుచిర నటన భేదాయై
శోభిత రదనాయై శుద్ధ మానసాయై
(మధ్యమ కాల సాహిత్యమ్)
హిరణ్య మణి కుండలాయై హిమాచల సదనాయై
చరణము
సకల మంత్ర తంత్ర రూపాయై సకలాయై
చంద్ర శేఖర ప్రియాయై పంచ మకారాయై
గూఢ గుల్ఫాయై గురు గుహ స్వరూపాయై
(మధ్యమ కాల సాహిత్యమ్)
గర్వ భండ ఖండాయై
గమపదాది నుత పదాయై
కావేరీ తీరాయై కమలేశ సేవితాయై
variations
తంత్ర – యంత్ర
.
பல்லவி
அப4யாம்பி3காயை அஸ்1வாரூடா4யை
அப4ய வர ப்ரதா3யை நமஸ்தே நமஸ்தே
அனுபல்லவி
ஸுப4கா3காராயை ஸுருசிர நடன பே4தா3யை
ஸோ1பி4த ரத3னாயை ஸு1த்3த4 மானஸாயை
(மத்4யம கால ஸாஹித்யம்)
ஹிரண்ய மணி குண்ட3லாயை ஹிமாசல ஸத3னாயை
சரணம்
ஸகல மந்த்ர தந்த்ர ரூபாயை ஸகலாயை
சந்த்3ர ஸே1க2ர ப்ரியாயை பஞ்ச மகாராயை
கூ3ட4 கு3ல்பா2யை கு3ரு கு3ஹ ஸ்வரூபாயை
(மத்4யம கால ஸாஹித்யம்)
க3ர்வ ப4ண்ட3 க2ண்டா3யை
க3மபதா3தி3 நுத பதா3யை
காவேரீ தீராயை கமலேஸ1 ஸேவிதாயை
variations
தந்த்ர – யந்த்ர
.
ಪಲ್ಲವಿ
ಅಭಯಾಂಬಿಕಾಯೈ ಅಶ್ವಾರೂಢಾಯೈ
ಅಭಯ ವರ ಪ್ರದಾಯೈ ನಮಸ್ತೇ ನಮಸ್ತೇ
ಅನುಪಲ್ಲವಿ
ಸುಭಗಾಕಾರಾಯೈ ಸುರುಚಿರ ನಟನ ಭೇದಾಯೈ
ಶೋಭಿತ ರದನಾಯೈ ಶುದ್ಧ ಮಾನಸಾಯೈ
(ಮಧ್ಯಮ ಕಾಲ ಸಾಹಿತ್ಯಮ್)
ಹಿರಣ್ಯ ಮಣಿ ಕುಂಡಲಾಯೈ ಹಿಮಾಚಲ ಸದನಾಯೈ
ಚರಣಮ್
ಸಕಲ ಮಂತ್ರ ತಂತ್ರ ರೂಪಾಯೈ ಸಕಲಾಯೈ
ಚಂದ್ರ ಶೇಖರ ಪ್ರಿಯಾಯೈ ಪಂಚ ಮಕಾರಾಯೈ
ಗೂಢ ಗುಲ್ಫಾಯೈ ಗುರು ಗುಹ ಸ್ವರೂಪಾಯೈ
(ಮಧ್ಯಮ ಕಾಲ ಸಾಹಿತ್ಯಮ್)
ಗರ್ವ ಭಂಡ ಖಂಡಾಯೈ
ಗಮಪದಾದಿ ನುತ ಪದಾಯೈ
ಕಾವೇರೀ ತೀರಾಯೈ ಕಮಲೇಶ ಸೇವಿತಾಯೈ
variations
ತಂತ್ರ – ಯಂತ್ರ
.
पल्लवि
अभयाम्बिकायै अश्वारूढायै
अभय वर प्रदायै नमस्ते नमस्ते
अनुपल्लवि
सुभगाकारायै सुरुचिर नटन भेदायै
शोभित रदनायै शुद्ध मानसायै
(मध्यम काल साहित्यम्)
हिरण्य मणि कुण्डलायै हिमाचल सदनायै
चरणम्
सकल मन्त्र तन्त्र रूपायै सकलायै
चन्द्र शेखर प्रियायै पञ्च मकारायै
गूढ गुल्फायै गुरु गुह स्वरूपायै
(मध्यम काल साहित्यम्)
गर्व भण्ड खण्डायै
गमपदादि नुत पदायै
कावेरी तीरायै कमलेश सेवितायै
variations
तन्त्र – यन्त्र
.
pallavi
abhayAmbikAyai aSvArUDhAyai
abhaya vara pradAyai namastE namastE
anupallavi
subhagAkArAyai surucira naTana bhEdAyai
SObhita radanAyai Suddha mAnasAyai
(madhyama kAla sAhityam)
hiraNya maNi kuNDalAyai himAcala sadanAyai
caraNam
sakala mantra tantra rUpAyai sakalAyai
candra SEkhara priyAyai panca makArAyai
gUDha gulphAyai guru guha svarUpAyai
(madhyama kAla sAhityam)
garva bhaNDa khaNDAyai
gamapadAdi nuta padAyai
kAvErI tIrAyai kamalESa sEvitAyai
variations
tantra – yantra
.
പല്ലവി
അഭയാമ്ബികായൈ അശ്വാരൂഢായൈ
അഭയ വര പ്രദായൈ നമസ്തേ നമസ്തേ
അനുപല്ലവി
സുഭഗാകാരായൈ സുരുചിര നടന ഭേദായൈ
ശോഭിത രദനായൈ ശുദ്ധ മാനസായൈ
(മധ്യമ കാല സാഹിത്യമ്)
ഹിരണ്യ മണി കുണ്ഡലായൈ ഹിമാചല സദനായൈ
ചരണമ്
സകല മന്ത്ര തന്ത്ര രൂപായൈ സകലായൈ
ചന്ദ്ര ശേഖര പ്രിയായൈ പഞ്ച മകാരായൈ
ഗൂഢ ഗുല്ഫായൈ ഗുരു ഗുഹ സ്വരൂപായൈ
(മധ്യമ കാല സാഹിത്യമ്)
ഗര്വ ഭണ്ഡ ഖണ്ഡായൈ
ഗമപദാദി നുത പദായൈ
കാവേരീ തീരായൈ കമലേശ സേവിതായൈ
variations
തന്ത്ര – യന്ത്ര
.
Pallavi :
Prostrations unto you. Abhayambika , the one who is seated on a horse as the form of Ashvaruda, the one who displays the abhaya and the varada mudras.
Anupallavi:
The one who has an auspicious form; the one who has beautiful variations in her dance; the one with sparkling teeth; the one with a pure mind; the one who wears a golden ear-ring, the one who has her abode in the Himalayas.
caraNaM:
The one who is in all he forms of mantra & tantra.The all knowing one, the one dear to shiva – who wears the moon; the one whose way of worship include the pancamakara-matya etc ; the one who has well-turned ankles;the form of guruguha; the one who removed the pride of Bandasura; the feet worshipped by the words of the agamas; tbe one who dwells on he banks of Kaveri;the one worshipped by Vishnu lord of Lakshmi
.