Composer: Sri Tallapaka Annamacharya (Annamayya అన్నమయ్య) , May 9, 1408 – February 23, 1503 was born to Narayana Suri and Lakkamamba in Tallapaka, a village in current day Kadapa district of Andhra Pradesh. More….
Keerthana No. 383
Copper Sheet No. 80
Pallavi: Abhayamu Abhayamo (అభయము అభయమో)
Ragam: Padi
Language: Telugu (తెలుగు)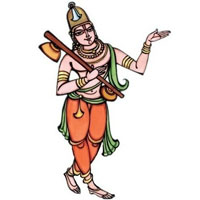 Recitals
Awaiting Contributions.
…
Awaiting Contributions.
[audio: audio-instrumental-file-name.mp3].
This Kriti was originally composed in Telugu. Other languages are for your convenience.
Pallavi
అభయము అభయమో హరి నీవు | విభుడ వింతటికి వెర వికనేది ||
Charanams
|| జడిగొని మదిలో శాంతము నిలువదు | కడుగడు దుస్సంగతి వలన |
ఇడుమలేని సుఖ మించుక గానము | ఆడియాసల నా-యలమట వలన ||
|| తలపులోన నీ తత్వము నిలువదు | పలులంపటముల భ్రమ వలన |
కలిగిన విజ్ఞాన గతియును దాగెను | వెలి విషయపు సిరివీకుల వలన ||
|| పక్కన పాపపు బంధము లూడెను | చిక్కక నిను దలచిన వలన |
చిక్కులు వాసెను శ్రీ వేంకటపతి | నిక్కము నాకిదే నీ కృప వలన ||
.
Pallavi
aBayamu aBayamO hari nIvu | viBuDa viMtaTiki vera vikanEdi ||
Charanams
|| jaDigoni madilO SAMtamu niluvadu | kaDugaDu dussaMgati valana | iDumalEni suKa miMcuka gAnamu | ADiyAsala nA-yalamaTa valana ||
|| talapulOna nI tatvamu niluvadu | palulaMpaTamula Brama valana | kaligina vij~jAna gatiyunu dAgenu | veli viShayapu sirivIkula valana ||
|| pakkana pApapu baMdhamu lUDenu | cikkaka ninu dalacina valana | cikkulu vAsenu SrI vEMkaTapati | nikkamu nAkidE nI kRupa valana ||
.

We will update this page , once we find comprehensive meaning. Feel free to contribute if you know.
.