Composer: Muttukumaraswamy (முத்துகுமாரச்வாமி) popularly known as Muthuswamy Dikshithar (முத்துஸ்வாமி தீக்ஷிதர் – ముత్తుస్వామీ డిక్షితర్), (March 24, 1775 – October 21, 1835) was born in Tiruvarur (of Thanjavur district of Tamil Nadu) to a Tamil Iyer Brahmin couple Ramaswami Dikshitar and Subbamma, as the eldest son. He also had two younger brothers Baluswami, Chinnaswami and a sister Balambal.Chidambaranatha Yogi was his guru. More…
Raagam: Sahaana

Taalam: Misra Caapu
Diety: Mayuram – Mayuranatha swami krithis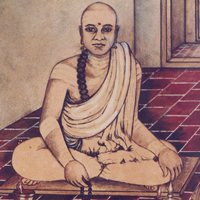 .
Recitals
Album: Unknown | Voice: Karthick Santhanam
Album: Unknown | Voice: T.N.Bala
Album: Unknown | Voice: T.N. Seshagopalan

Awaiting Contributions.

We believe this kriti was originally composed in sanskrit. Other languages are for your convenience.
పల్లవి
అభయాంబాయాం భక్తిం కరోమి
సచ్చిదానంద రూపాయాం స్వ-స్వరూపాయాం శ్రీ
సమష్టి చరణము
విభవాది వితరణ నిపుణ మంత్రిణ్యాం
విజయ కారణ నిపుణ-తర దండిన్యామ్
వియదాది భూత కిరణ మాలిన్యాం
వికల్ప హరణ నిపుణ శూలిన్యామ్
(మధ్యమ కాల సాహిత్యమ్)
అభేద ప్రతిపాదితాయాం
ఆది గురు గుహ వేదితాయాం
సభేశ మోదిత నటనాయాం
సాయుజ్య ప్రద చరణాయామ్
variations
త్రిపుట – చాపు
.
பல்லவி
அப4யாம்பா3யாம் ப4க்திம் கரோமி
ஸச்சிதா3னந்த3 ரூபாயாம் ஸ்வ-ஸ்வரூபாயாம் ஸ்ரீ
ஸமஷ்டி சரணம்
விப4வாதி3 விதரண நிபுண மந்த்ரிண்யாம்
விஜய காரண நிபுண-தர த3ண்டி3ன்யாம்
வியதா3தி3 பூ4த கிரண மாலின்யாம்
விகல்ப ஹரண நிபுண ஸூ1லின்யாம்
(மத்4யம கால ஸாஹித்யம்)
அபே4த3 ப்ரதிபாதி3தாயாம்
ஆதி3 கு3ரு கு3ஹ வேதி3தாயாம்
ஸபே4ஸ1 மோதி3த நடனாயாம்
ஸாயுஜ்ய ப்ரத3 சரணாயாம்
variations
த்ரிபுட – சாபு
.
ಪಲ್ಲವಿ
ಅಭಯಾಂಬಾಯಾಂ ಭಕ್ತಿಂ ಕರೋಮಿ
ಸಚ್ಚಿದಾನಂದ ರೂಪಾಯಾಂ ಸ್ವ-ಸ್ವರೂಪಾಯಾಂ ಶ್ರೀ
ಸಮಷ್ಟಿ ಚರಣಮ್
ವಿಭವಾದಿ ವಿತರಣ ನಿಪುಣ ಮಂತ್ರಿಣ್ಯಾಂ
ವಿಜಯ ಕಾರಣ ನಿಪುಣ-ತರ ದಂಡಿನ್ಯಾಮ್
ವಿಯದಾದಿ ಭೂತ ಕಿರಣ ಮಾಲಿನ್ಯಾಂ
ವಿಕಲ್ಪ ಹರಣ ನಿಪುಣ ಶೂಲಿನ್ಯಾಮ್
(ಮಧ್ಯಮ ಕಾಲ ಸಾಹಿತ್ಯಮ್)
ಅಭೇದ ಪ್ರತಿಪಾದಿತಾಯಾಂ
ಆದಿ ಗುರು ಗುಹ ವೇದಿತಾಯಾಂ
ಸಭೇಶ ಮೋದಿತ ನಟನಾಯಾಂ
ಸಾಯುಜ್ಯ ಪ್ರದ ಚರಣಾಯಾಮ್
variations
ತ್ರಿಪುಟ – ಚಾಪು
.
पल्लवि
अभयाम्बायां भक्तिं करोमि
सच्चिदानन्द रूपायां स्व-स्वरूपायां श्री
समष्टि चरणम्
विभवादि वितरण निपुण मन्त्रिण्यां
विजय कारण निपुण-तर दण्डिन्याम्
वियदादि भूत किरण मालिन्यां
विकल्प हरण निपुण शूलिन्याम्
(मध्यम काल साहित्यम्)
अभेद प्रतिपादितायां
आदि गुरु गुह वेदितायां
सभेश मोदित नटनायां
सायुज्य प्रद चरणायाम्
variations
त्रिपुट – चापु
.
pallavi
abhayAmbAyAM bhaktiM karOmi
saccidAnanda rUpAyAM sva-svarUpAyAM SrI
samashTi caraNam
vibhavAdi vitaraNa nipuNa mantriNyAM
vijaya kAraNa nipuNa-tara daNDinyAm
viyadAdi bhUta kiraNa mAlinyAM
vikalpa haraNa nipuNa zUlinyAm
(madhyama kAla sAhityam)
abhEda pratipAditAyAM
Adi guru guha vEditAyAM
sabhESa mOdita naTanAyAM
sAyujya prada caraNAyAm
variations
tripuTa – cApu
.
പല്ലവി
അഭയാമ്ബായാം ഭക്തിം കരോമി
സച്ചിദാനന്ദ രൂപായാം സ്വ-സ്വരൂപായാം ശ്രീ
സമഷ്ടി ചരണമ്
വിഭവാദി വിതരണ നിപുണ മന്ത്രിണ്യാം
വിജയ കാരണ നിപുണ-തര ദണ്ഡിന്യാമ്
വിയദാദി ഭൂത കിരണ മാലിന്യാം
വികല്പ ഹരണ നിപുണ ശൂലിന്യാമ്
(മധ്യമ കാല സാഹിത്യമ്)
അഭേദ പ്രതിപാദിതായാം
ആദി ഗുരു ഗുഹ വേദിതായാം
സഭേശ മോദിത നടനായാം
സായുജ്യ പ്രദ ചരണായാമ്
variations
ത്രിപുട – ചാപു
.
pallavi:
I offer devotion unto abhayAmbA
(unto her) who is of the form of sat cit Ananda1 and
(unto her) who is also of the form of the self2.
anupallavi:
who is mantriNi, adept in bestowing plenty of riches;
who is daNDini, who gives the skill for obtaining victory;
who is mAlini, of the form of five elements, beginning with the sky / One who wears a splendrous garland that shines like the rays of the five elements beginning with the sky
who is shUlini, the one adept in removing attachment to pseudo-objects3
who is understood through one-ness, free from distinctions4
who is realised by the primal guru Subrahmanya
whose dance pleases Lord shiva, the Lord of the sabha5
whose feet bestows that stage of salvation of being one with herself to her devotees6.
This is the saptami vibhakti(locative case)composition in the abhayambA vibhakti kRtis on the Goddess abhayAMbA at mAyavaraM or Mayiladuthurai
Highlights:
1.Knowledge / Consciousness / Existence / Bliss
2.sva svarupA – Of the form of the self. The idea that the the goddess is verily the form of Atman
3.vikalpa – Generally speaking imagination or fancy hence translated as false knowledge. In philosophical terms, it refers to the intellectual process of deluded thinking due to emotions and desires and not being able to grasp the true nature of things.
4.abhEda – non-difference or founded on monism
5.Sabha – Commonly meaning dance court but also interepreted as the cosmic dancer. The epithet refers to Shiva in his form of Nataraja.
6. Sayujya – The concept of graded liberation is referred to here. Mukti is said to be of the following grades or levels : sAlOka – being in the same plane as the deity,
sAmIpya – being in the vicinity of the deity, sArupya – being of the same form as the deity and sAyujya- being one with the deity.
.