Composer: Sri Tallapaka Annamacharya (Annamayya అన్నమయ్య) , May 9, 1408 – February 23, 1503 was born to Narayana Suri and Lakkamamba in Tallapaka, a village in current day Kadapa district of Andhra Pradesh. More….
Keerthana No. 112
Copper Sheet No. 220
Pallavi: Adaramma Padaramma (ఆడరమ్మా పాడారమ్మా)
Ragam: Mukhari
Language: Telugu (తెలుగు)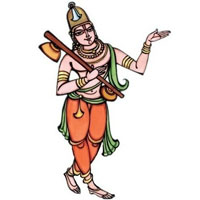 Recitals
Awaiting Contributions.
…
Awaiting Contributions.
[audio: audio-instrumental-file-name.mp3].
This Kriti was originally composed in Telugu. Other languages are for your convenience.
Pallavi
ఆడరమ్మా పాడారమ్మా అందరు మీరు
వేడుక సంతసంబులు వెల్లివిరియాయను
Charanams
1.కమలనాభుడు పుట్టె కంసుని మదమణచ
తిమిరి దేవకి దేవి దేహమందు
అమరులకు మునులకభయమిచ్చె నితడు
కొమరె గొల్లెతలపై కోరికలు నిలిపె
2.రేయిపగలుగ చేసి రేపల్లె పెరుగుజొచ్చె
ఆయెడా నావుల గాచె నాదిమూలము
యీ యెడ లోకాలు చూపె నిట్టే తనకడుపులో
మాయసేసి యిందరిలో మనుజుడైనిలిచె
3.బాలలీలలు నటించి బహుదైవికము మించె
పాలువెన్నలు దొంగిలె పరమమూర్తి
తాళిభూభారమణచె ధర్మము పరిపాలించె
మేలిమి శ్రీవేంకటాద్రి మీద నిట్టె నిలిచె
.
Pallavi
ADarammA pADArammA aMdaru mIru
vEDuka saMtasaMbulu velliviriyAyanu
charanams
1.kamalanAbhuDu puTTe kaMsuni madamaNacha
timiri dEvaki dEvi dEhamaMdu
amarulaku munulakabhayamichche nitaDu
komare golletalapai kOrikalu nilipe
2.rEyipagaluga chEsi rEpalle perugujochche
AyeDA nAvula gAche nAdimUlamu
yI yeDa lOkAlu chUpe niTTE tanakaDupulO
mAyasEsi yiMdarilO manujuDainiliche
3.bAlalIlalu naTiMchi bahudaivikamu miMche
pAluvennalu doMgile paramamUrti
tALibhUbhAramaNache dharmamu paripAliMche
mElimi SrIvEMkaTAdri mIda niTTe niliche
.

We will update this page , once we find comprehensive meaning. Feel free to contribute if you know.
.