Composer: Sri Tallapaka Annamacharya (Annamayya అన్నమయ్య) , May 9, 1408 – February 23, 1503 was born to Narayana Suri and Lakkamamba in Tallapaka, a village in current day Kadapa district of Andhra Pradesh. More….
Keerthana No. 485;Volume No:2
Copper Sheet No. 194
Pallavi: Ade Sirascakramu (అదె శిరశ్చక్రము)
Ragam: Ramakriya
Language: Telugu (తెలుగు)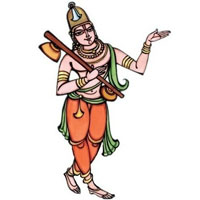 Recitals
Awaiting Contributions.
…
Awaiting Contributions.
[audio: audio-instrumental-file-name.mp3].
This Kriti was originally composed in Telugu. Other languages are for your convenience.
Pallavi
|| అదె శిరశ్చక్రములేనట్టిదేవర లేదు | యిదె హరిముద్రాంకిత మిందే తెలియరో ||
Charanams
|| "అనాయుధాసో అసురా అదేవా" యని | వినోదముగ ఋగ్వేదముదెలిపెడి |
సనాతనము విష్ణుచక్రధారునకును | అనాది ప్రమాణమందే తెలియరో ||
|| "యచ్చ యింద్రే" యని "యచ్చ సూర్యే" యని | అచ్చుగ తుదకెక్క నదె పొగడీ శ్రుతి |
ముచ్చట గోవిందుని ముద్రధారణకు | అచ్చమయిన ప్రమాణమందే తెలియరో ||
|| మును "నేమినా తప్త ముద్రాం ధారయే" త్తని | వెనువేంకటశ్రుతి యదె వెల్లవిరిసేసీని |
మొనసి శ్రీవేంకటేశు ముద్రధారణకు | అనువుగ బ్రమాణమందే తెలియరో ||
.
Pallavi
|| ade SiraScakramulEnaTTidEvara lEdu | yide harimudrAMkita miMdE teliyarO ||
Charanams
||"anAyudhAsO asurA adEvA" yani | vinOdamuga RugvEdamudelipeDi |
sanAtanamu viShNucakradhArunakunu | anAdi pramANamaMdE teliyarO ||
||"yacca yiMdrE" yani "yacca sUryE" yani | accuga tudakekka nade pogaDI Sruti |
muccaTa gOviMduni mudradhAraNaku | accamayina pramANamaMdE teliyarO ||
||munu "nEminA tapta mudrAM dhArayE" ttani | venuvEMkaTaSruti yade vellavirisEsIni | monasi SrIvEMkaTESu mudradhAraNaku | anuvuga bramANamaMdE teliyarO ||
.

We will update this page , once we find comprehensive meaning. Feel free to contribute if you know.
.