Composer: Sri Tallapaka Annamacharya (Annamayya అన్నమయ్య) , May 9, 1408 – February 23, 1503 was born to Narayana Suri and Lakkamamba in Tallapaka, a village in current day Kadapa district of Andhra Pradesh. More….
Keerthana No. 365 ; Volume No. 14
Copper Sheet No. 661
Pallavi: Ade Srivemkatapati (అదె శ్రీవేంకటపతి)
Ragam: salangam
Language: Telugu (తెలుగు)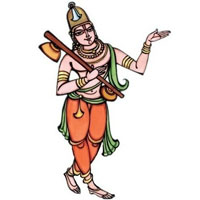 Recitals

Awaiting Contributions.
…
Awaiting Contributions.
[audio: audio-instrumental-file-name.mp3].
This Kriti was originally composed in Telugu. Other languages are for your convenience.
PAllavi
అదె శ్రీవేంకటపతి అలమేలుమంగయును
కదిసి యున్నారు తమకమున పెండ్లికిని
charanams
1.బాసికములు కట్టరో పైపై దంపతులకు
శేసపాలందియ్యరో చేతులకును
సూసకాల పేరంటాండ్లు సోబనాలు పాడరో
మోసపోక యిట్టే ముహూర్తమడుగరో
2.గక్కునను మంగలాష్టకములు చదువురో
తక్కట జేగట (జేగంట?) వేసి తప్పకుండాను
నిక్కినిక్కి చూచేరదె నెరి(దెర తీయరో
వొక్కటైరి కొంగుముళ్ళు వొనరగ వేయరో
3.కంకణ దారములను కట్టరో యిద్దరికిని
సుంకుల పెండ్లిపీట కూర్చుండబెట్టరో
లంకె శ్రీవేంకటేశు నలమేల్ మంగను దీవించి
అంకెల పానుపుమీద అమరించరో
.
Pallavi
ade SrIvEMkaTapati alamElumaMgayunu
kadisi yunnAru tamakamuna peMDlikini
Charanams
1.bAsikamulu kaTTarO paipai daMpatulaku
SEsapAlaMdiyyarO chEtulakunu
sUsakAla pEraMTAMDlu sObanAlu pADarO
mOsapOka yiTTE muhUrtamaDugarO
2.gakkunanu maMgalAShTakamulu chaduvurO
takkaTa jEgaTa (jEgaMTa?) vEsi tappakuMDAnu
nikkinikki chUchErade neri(dera tIyarO
vokkaTairi koMgumuLLu vonaraga vEyarO
3.kaMkaNa dAramulanu kaTTarO yiddarikini
suMkula peMDlipITa kUrchuMDabeTTarO
laMke SrIvEMkaTESu nalamEl maMganu dIviMchi
aMkela pAnupumIda amariMcharO
.

We will update this page , once we find comprehensive meaning. Feel free to contribute if you know.
.