Composer: Sri Tallapaka Annamacharya (Annamayya అన్నమయ్య) , May 9, 1408 – February 23, 1503 was born to Narayana Suri and Lakkamamba in Tallapaka, a village in current day Kadapa district of Andhra Pradesh. More….
Keerthana No. 208
Copper Sheet No. 1435
Pallavi: Adechudare (అదె చూడరే)
Ragam: Hindola vasamtam
Language: Telugu (తెలుగు)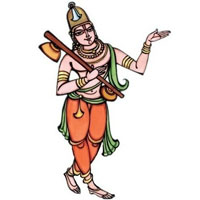 Recitals
Adechudare Mohana | అదె చూడరే మోహన
Album: Unknown | Voice: G.N. Naidu

Awaiting Contributions.
[audio: audio-instrumental-file-name.mp3]
This Kriti was originally composed in Telugu. Other languages are for your convenience.
Pallavi
అదె చూడరే మోహన రూపం పది కోట్లుగల భావజ రూపం
Charanams
1.వెలయగ పదారువేల మగువలను అలమిన ఘన మోహన రూపం
వలచిన నంద వజ్రము గొల్లెతల కులుకు చూపులకు గురియగు రూపం
2.ఇందిరా వనిత నెప్పుడు తన ఉర మందు నిలిపిన మోహన రూపం
కందువ భూపతి కౌగిట సొంపుల విందుల మరిగిన వేడుక రూపం
3.త్రిపురసతుల బోధించి రమించిన అపురూపపు మోహన రూపం
కపురుల శ్రీవేంకటపతి యైయిల ఉపమించగ ఉన్నత రూపం
.
Pallavi
ade chooDarae mOhana roopaM padi kOTlugala bhaavaja roopaM
Charanams
1.velayaga padaaruvaela maguvalanu alamina ghana mOhana roopaM
valachina naMda vajramu golletala kuluku choopulaku guriyagu roopaM
2.iMdiraa vanita neppuDu tana ura maMdu nilipina mOhana roopaM
kaMduva bhoopati kaugiTa soMpula viMdula marigina vaeDuka roopaM
3.tripurasatula bOdhiMchi ramiMchina apuroopapu mOhana roopaM
kapurula SreevaeMkaTapati yaiyila upamiMchaga unnata roopaM
.

We will update this page , once we find comprehensive meaning. Feel free to contribute if you know.
.