Composer: Sri Tallapaka Annamacharya (Annamayya అన్నమయ్య) , May 9, 1408 – February 23, 1503 was born to Narayana Suri and Lakkamamba in Tallapaka, a village in current day Kadapa district of Andhra Pradesh. More….
Keerthana No. 79
Copper Sheet No. 114
Pallavi: Adevachche (అదెవచ్చె)
Ragam: Salanga nata
Language: Telugu (తెలుగు)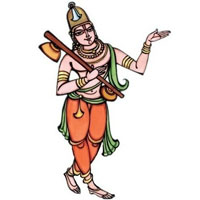 Recitals
Awaiting Contributions.
…
Awaiting Contributions.
[audio: audio-instrumental-file-name.mp3].
This Kriti was originally composed in Telugu. Other languages are for your convenience.
Pallavi
అదెవచ్చె నిదెవచ్చె అచ్యుతుసేనాపతి
పదిదిక్కులకు నిట్టె పారరో యసురులు
Charanams
1.గరుడధ్వజంబదె ఘనశంఖరవమదె
సరుసనే విష్ణుదేవుచక్రమదె
మురవైరిపంపులవె ముందరిసేనలవె
పరచి గగ్గుల కాడై(ఱై) పారరో దానవులు
2.తెల్లని గొడుగులవె దేవదుందుభులు నవె
యెల్లదేవతరథా లింతటా నవె
కెల్లురేగీ నిక్కి హరికీర్తి భుజములవె
పల్లపు పాతాళానఁ బడరో దనుజులు
3.వెండిపైడిగుదె లవె వెంజామరములవె
మెండగు కైవారాలు మించిన వవె
దండి శ్రీవేంకటపతి దాడిముట్టె నదెయిదె
బడుబండై జజ్జరించి పారరో దైతేయులు
.
Pallavi
adevachche nidevachche achyutusEnApati
padidikkulaku niTTe pArarO yasurulu
Charanams
1.garuDadhwajaMbade ghanaSaMkharavamade
sarusanE vishNudEvuchakramade
muravairipaMpulave muMdarisEnalave
parachi gaggula kADai(~rai) pArarO dAnavulu
2.tellani goDugulave dEVaduMdubhulu nave
yelladEvatarathA liMtaTA nave
kellurEgI nikki harikIrti bhujamulave
pallapu pAtALAna@M baDarO danujulu
3.veMDipaiDigude lave veMjAmaramulave
meMDagu kaivArAlu miMchina vave
daMDi SrIvEMkaTapati dADimuTTe nadeyide
baDubaMDai jajjariMchi pArarO daitEyulu
.

We will update this page , once we find comprehensive meaning. Feel free to contribute if you know.
.