Composer: Sri Tallapaka Annamacharya (Annamayya అన్నమయ్య) , May 9, 1408 – February 23, 1503 was born to Narayana Suri and Lakkamamba in Tallapaka, a village in current day Kadapa district of Andhra Pradesh. More….
Keerthana No. 49; Volume No. 4
Copper Sheet No. 309
Pallavi: Adimulame (ఆదిమూలమే)
Ragam: Mukhari
Language: Telugu (తెలుగు)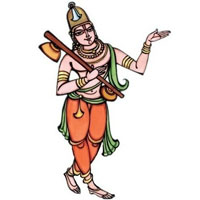 Recitals
Awaiting Contributions.
…

Awaiting Contributions.

This Kriti was originally composed in Telugu. Other languages are for your convenience.
Pallavi
ఆదిమూలమే మాకు నంగరక్ష
శ్రీదేవుడే మాకు జీవరక్ష
Charanams
1.భూమిదేవిపతియైన పురుషోత్తముడే మాకు
భూమిపై నేడనుండినా భూమిరక్ష
ఆమనిజలధిశాయి అయిన దేవుడే మాకు
సామీప్యముందున్న జలరక్ష
2.మ్రోయుచు నగ్నిలో యజ్ఞమూర్తియైన దేవుడే
ఆయములు దాకకుండా నగ్నిరక్ష
వాయుసుతు నేలినట్టి వనజనాభుడే మాకు
వాయువందు కందకుండా వాయురక్ష
3.పాదమాకసమునకు పారజాచే విష్ణువే
గాదిలియై మాకు నాకాశరక్ష
సాధించి శ్రీవేంకటాద్రి సర్వేస్వరుడే మాకు
సాదరము మీరినట్టి సర్వరక్ష
.
Pallavi
AdimUlamE mAku naMgaraksha
SrIdEvuDE mAku jIvaraksha
Charanams
1.bhUmidEvipatiyaina purushOttamuDE mAku
bhUmipai nEDanuMDinA bhUmiraksha
AmanijaladhiSAyi ayina dEVuDE mAku
sAmIpyamuMdunna jalaraksha
2.mrOyuchu nagnilO yaj~namUrtiyaina dEvuDE
Ayamulu dAkakuMDA nagniraksha
vAyusutu nElinaTTi vanajanAbhuDE mAku
vAyuvaMdu kaMdakuMDA vAyuraksha
3.pAdamAkasamunaku pArajAchE vishNuvE
gAdiliyai mAku nAkASaraksha
sAdiMchi SrIvEMkaTAdri sarwEswaruDE mAku
sAdaramu mIrinaTTi sarwaraksha
.

We will update this page , once we find comprehensive meaning. Feel free to contribute if you know.
.