Composer: Sri Tallapaka Annamacharya (Annamayya అన్నమయ్య) , May 9, 1408 – February 23, 1503 was born to Narayana Suri and Lakkamamba in Tallapaka, a village in current day Kadapa district of Andhra Pradesh. More….
Keerthana No. 160
Copper Sheet No. 20
Pallavi: Alamelumamga neevabhi (అలమేలుమంగనీ వభి)
Ragam: Padi
Language: Telugu (తెలుగు)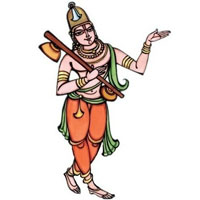 Recitals
Awaiting Contributions.
…
Awaiting Contributions.
[audio: audio-instrumental-file-name.mp3].
This Kriti was originally composed in Telugu. Other languages are for your convenience.
Pallavi
అలమేలుమంగనీ వభినవరూపము జలజాక్షు కన్నులకు చవులిచ్చేవమ్మ
Charanams
1.గరుడాచలాధీశు ఘనవక్షముననుండి పరమానంద సంభిరతవై నెరతనములు జూపి నిరంతరమునాథుని హరుషింపగ జేసి తిగదమ్మ
2.శశికిరణములకు చలువలచూపులు విశదముగా మీద వెదజల్లుచు రసికత పెంపున కరగించి ఎప్పుడు నీ వశముజేసుకొంటి వల్లభునోయమ్మ
3.రట్టడి శ్రీవేంకటరాయనికి నీవు పట్టపురాణివై పరగుచు వట్టిమాకులిగిరించు వలపుమాటలవిభు జట్టిగొని వురమునసతమైతివమ్మ
.
Pallavi
Alamelumamganee vabhinavaroopamu Jalajaakshu kannulaku chavulichchevamma
Charanams
1.Garudaachalaadheesu ghanavakshamunanumdi Paramaanamda sambhiratavai Neratanamulu joopi niramtaramunaathuni Harushimpaga jesi tigadamma
2.Sasikiranamulaku chaluvalachoopulu Visadamugaa meeda vedajalluchu Rasikata pempuna karagimchi eppudu nee Vasamujesukomti vallabhunoyamma
3.Rattadi sreevenkataraayaniki neevu Pattapuraanivai paraguchu Vattimaakuligirimchu valapumaatalavibhu Jattigoni vuramunasatamaitivamma
.

We will update this page , once we find comprehensive meaning. Feel free to contribute if you know.
.