Composer: Muttukumaraswamy (முத்துகுமாரச்வாமி) popularly known as Muthuswamy Dikshithar (முத்துஸ்வாமி தீக்ஷிதர் – ముత్తుస్వామీ డిక్షితర్), (March 24, 1775 – October 21, 1835) was born in Tiruvarur (of Thanjavur district of Tamil Nadu) to a Tamil Iyer Brahmin couple Ramaswami Dikshitar and Subbamma, as the eldest son. He also had two younger brothers Baluswami, Chinnaswami and a sister Balambal.Chidambaranatha Yogi was his guru. More…

Raagam: Kedaaram
Taalam: Adi

Diety: Mayuram – Mayuranatha swami krithis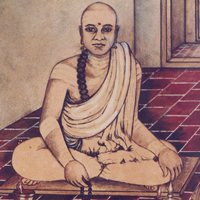 .
Recitals
Album: Unknown | Voice: T.N.Bala

Awaiting Contributions.

We believe this kriti was originally composed in sanskrit. Other languages are for your convenience.
పల్లవి
అంబికాయాః అభయాంబికాయాః తవ దాసోऽహం
ఆది జగదంబికాయాః
అనుపల్లవి
శంబరారి హరి శశి కుబేర –
ప్రముఖోపాసిత నవ యోగిన్యాః
సాంఖ్య తారక మనస్క రాజ యోగిన్యాః
శివ భోగిన్యాః
బింబ ప్రతి-బింబ రూపిణ్యాః
బిందు మండల వాసిన్యాః స్వ-రూపిణ్యాః
చరణము
యమ నియమాద్యష్టాంగ యోగ –
విషయాది నిగ్రహ కరణ-
మూలాధార మణిపూరకాద్యబ్జ –
భేదన స్ఫురత్కుండలినీ-
సహస్ర దళ బ్రహ్మ రంధ్రస్థ –
కమలాంతర్గత శివ సమ్మేళన-
గళిత పరమామృత బిందు సేచన –
సముజ్జృంభిత నాడీ ముఖ –
వికాస కరణ నిజానుభూతి యోగిన్యాః
(మధ్యమ కాల సాహిత్యమ్)
అమోఘ వర శివ –
సారూప్యానందానుభవ ప్రదాయిన్యాః
అప్రమేయ గురు గుహాది జనన్యాః
బ్రహ్మాది పంచక కారిణ్యాః
variations
సాంఖ్య – సాంఖ్యా
వాసిన్యాః – నివాసిన్యాః
అమోఘ వర శివ – అమోఘ పర శివ
.
பல்லவி
அம்பி3காயா: அப4யாம்பி3காயா: தவ தா3ஸோऽஹம்
ஆதி3 ஜக3த3ம்பி3காயா:
அனுபல்லவி
ஸ1ம்ப3ராரி ஹரி ஸ1ஸி1 குபே3ர –
ப்ரமுகோ2பாஸித நவ யோகி3ன்யா:
ஸாங்க்2ய தாரக மனஸ்க ராஜ யோகி3ன்யா:
ஸி1வ போ4கி3ன்யா:
பி3ம்ப3 ப்ரதி-பி3ம்ப3 ரூபிண்யா:
பி3ந்து3 மண்ட3ல வாஸின்யா: ஸ்வ-ரூபிண்யா:
சரணம்
யம நியமாத்3யஷ்டாங்க3 யோக3 –
விஷயாதி3 நிக்3ரஹ கரண-
மூலாதா4ர மணிபூரகாத்3யப்3ஜ –
பே4த3ன ஸ்பு2ரத்குண்ட3லினீ-
ஸஹஸ்ர த3ள ப்3ரஹ்ம ரந்த்4ரஸ்த2 –
கமலாந்தர்க3த ஸி1வ ஸம்மேளன-
க3ளித பரமாம்ரு2த பி3ந்து3 ஸேசன –
ஸமுஜ்ஜ்ரு2ம்பி4த நாடீ3 முக2 –
விகாஸ கரண நிஜானுபூ4தி யோகி3ன்யா:
(மத்4யம கால ஸாஹித்யம்)
அமோக4 வர ஸி1வ –
ஸாரூப்யானந்தா3னுப4வ ப்ரதா3யின்யா:
அப்ரமேய கு3ரு கு3ஹாதி3 ஜனன்யா:
ப்3ரஹ்மாதி3 பஞ்சக காரிண்யா:
variations
ஸாங்க்2ய – ஸாங்க்2யா
வாஸின்யா: – நிவாஸின்யா:
அமோக4 வர ஸி1வ – அமோக4 பர ஸி1வ
.
ಪಲ್ಲವಿ
ಅಂಬಿಕಾಯಾಃ ಅಭಯಾಂಬಿಕಾಯಾಃ ತವ ದಾಸೋऽಹಂ
ಆದಿ ಜಗದಂಬಿಕಾಯಾಃ
ಅನುಪಲ್ಲವಿ
ಶಂಬರಾರಿ ಹರಿ ಶಶಿ ಕುಬೇರ –
ಪ್ರಮುಖೋಪಾಸಿತ ನವ ಯೋಗಿನ್ಯಾಃ
ಸಾಂಖ್ಯ ತಾರಕ ಮನಸ್ಕ ರಾಜ ಯೋಗಿನ್ಯಾಃ
ಶಿವ ಭೋಗಿನ್ಯಾಃ
ಬಿಂಬ ಪ್ರತಿ-ಬಿಂಬ ರೂಪಿಣ್ಯಾಃ
ಬಿಂದು ಮಂಡಲ ವಾಸಿನ್ಯಾಃ ಸ್ವ-ರೂಪಿಣ್ಯಾಃ
ಚರಣಮ್
ಯಮ ನಿಯಮಾದ್ಯಷ್ಟಾಂಗ ಯೋಗ –
ವಿಷಯಾದಿ ನಿಗ್ರಹ ಕರಣ-
ಮೂಲಾಧಾರ ಮಣಿಪೂರಕಾದ್ಯಬ್ಜ –
ಭೇದನ ಸ್ಫುರತ್ಕುಂಡಲಿನೀ-
ಸಹಸ್ರ ದಳ ಬ್ರಹ್ಮ ರಂಧ್ರಸ್ಥ –
ಕಮಲಾಂತರ್ಗತ ಶಿವ ಸಮ್ಮೇಳನ-
ಗಳಿತ ಪರಮಾಮೃತ ಬಿಂದು ಸೇಚನ –
ಸಮುಜ್ಜೃಂಭಿತ ನಾಡೀ ಮುಖ –
ವಿಕಾಸ ಕರಣ ನಿಜಾನುಭೂತಿ ಯೋಗಿನ್ಯಾಃ
(ಮಧ್ಯಮ ಕಾಲ ಸಾಹಿತ್ಯಮ್)
ಅಮೋಘ ವರ ಶಿವ –
ಸಾರೂಪ್ಯಾನಂದಾನುಭವ ಪ್ರದಾಯಿನ್ಯಾಃ
ಅಪ್ರಮೇಯ ಗುರು ಗುಹಾದಿ ಜನನ್ಯಾಃ
ಬ್ರಹ್ಮಾದಿ ಪಂಚಕ ಕಾರಿಣ್ಯಾಃ
variations
ಸಾಂಖ್ಯ – ಸಾಂಖ್ಯಾ
ವಾಸಿನ್ಯಾಃ – ನಿವಾಸಿನ್ಯಾಃ
ಅಮೋಘ ವರ ಶಿವ – ಅಮೋಘ ಪರ ಶಿವ
.
पल्लवि
अम्बिकायाः अभयाम्बिकायाः तव दासोऽहं
आदि जगदम्बिकायाः
अनुपल्लवि
शम्बरारि हरि शशि कुबेर –
प्रमुखोपासित नव योगिन्याः
सांख्य तारक मनस्क राज योगिन्याः
शिव भोगिन्याः
बिम्ब प्रति-बिम्ब रूपिण्याः
बिन्दु मण्डल वासिन्याः स्व-रूपिण्याः
चरणम्
यम नियमाद्यष्टाङ्ग योग –
विषयादि निग्रह करण-
मूलाधार मणिपूरकाद्यब्ज –
भेदन स्फुरत्कुण्डलिनी-
सहस्र दळ ब्रह्म रन्ध्रस्थ –
कमलान्तर्गत शिव सम्मेळन-
गळित परमामृत बिन्दु सेचन –
समुज्जृम्भित नाडी मुख –
विकास करण निजानुभूति योगिन्याः
(मध्यम काल साहित्यम्)
अमोघ वर शिव –
सारूप्यानन्दानुभव प्रदायिन्याः
अप्रमेय गुरु गुहादि जनन्याः
ब्रह्मादि पञ्चक कारिण्याः
variations
सांख्य – सांख्या
वासिन्याः – निवासिन्याः
अमोघ वर शिव – अमोघ पर शिव
.
pallavi
ambikAyAH abhayAmbikAyAH tava dAsO(a)haM
Adi jagadambikAyAH
anupallavi
SambarAri hari SaSi kubEra –
pramukhOpAsita nava yOginyAH
sAMkhya tAraka manaska rAja yOginyAH
Siva bhOginyAH
bimba prati-bimba rUpiNyAH
bindu maNDala vAsinyAH sva-rUpiNyAH
caraNam
yama niyamAdyashTAnga yOga –
vishayAdi nigraha karaNa-
mUlAdhAra maNipUrakAdyabja –
bhEdana sphuratkuNDalinI-
sahasra daLa brahma randhrastha –
kamalAntargata Siva sammELana-
gaLita paramAmRta bindu sEcana –
samujjRmbhita nADI mukha –
vikAsa karaNa nijAnubhUti yOginyAH
(madhyama kAla sAhityam)
amOgha vara Siva –
sArUpyAnandAnubhava pradAyinyAH
apramEya guru guhAdi jananyAH
brahmAdi pancaka kAriNyAH
variations
sAMkhya – sAMkhyA
vAsinyAH – nivAsinyAH
amOgha vara Siva – amOgha para Siva
.
പല്ലവി
അമ്ബികായാഃ അഭയാമ്ബികായാഃ തവ ദാസോऽഹം
ആദി ജഗദമ്ബികായാഃ
അനുപല്ലവി
ശമ്ബരാരി ഹരി ശശി കുബേര –
പ്രമുഖോപാസിത നവ യോഗിന്യാഃ
സാങ്ഖ്യ താരക മനസ്ക രാജ യോഗിന്യാഃ
ശിവ ഭോഗിന്യാഃ
ബിമ്ബ പ്രതി-ബിമ്ബ രൂപിണ്യാഃ
ബിന്ദു മണ്ഡല വാസിന്യാഃ സ്വ-രൂപിണ്യാഃ
ചരണമ്
യമ നിയമാദ്യഷ്ടാങ്ഗ യോഗ –
വിഷയാദി നിഗ്രഹ കരണ-
മൂലാധാര മണിപൂരകാദ്യബ്ജ –
ഭേദന സ്ഫുരത്കുണ്ഡലിനീ-
സഹസ്ര ദള ബ്രഹ്മ രന്ധ്രസ്ഥ –
കമലാന്തര്ഗത ശിവ സമ്മേളന-
ഗളിത പരമാമൃത ബിന്ദു സേചന –
സമുജ്ജൃമ്ഭിത നാഡീ മുഖ –
വികാസ കരണ നിജാനുഭൂതി യോഗിന്യാഃ
(മധ്യമ കാല സാഹിത്യമ്)
അമോഘ വര ശിവ –
സാരൂപ്യാനന്ദാനുഭവ പ്രദായിന്യാഃ
അപ്രമേയ ഗുരു ഗുഹാദി ജനന്യാഃ
ബ്രഹ്മാദി പഞ്ചക കാരിണ്യാഃ
variations
സാങ്ഖ്യ – സാങ്ഖ്യാ
വാസിന്യാഃ – നിവാസിന്യാഃ
അമോഘ വര ശിവ – അമോഘ പര ശിവ
.
Pallavi:
I am a slave unto you, ambika, abhayambika, the primordial mother of the universe.
AnuPallavi:
The one who has the 9 yoginis who were worshipped by cupid – enemy of Shiva, Vishnu, moon & Kubera. The one who lies at the end of the three stages of enquiry. The one gives enjoyment to the Still Shiva; the form of the light of the reflected; the one who dwells in the bindu mandala, the form of her self.
Charanam:
By Controlling the senses, by the practising of the 8-fold path of yoga beginning with yama,niyama, by the awakening of the lotuses at the mooladhara & manipooraka in the way to the 1000-petalled brahmarandra at the sahasrara is merging with shiva causing the flow of ambrosia which enervates the nerves by which she is realised; the rare boon of shiva sayujya she bestows; the mother of the immeasurable guruguha; the cause of the doers of the 5-fold activites beginning with Brahma.
.