Composer: Sri Tallapaka Annamacharya (Annamayya అన్నమయ్య) , May 9, 1408 – February 23, 1503 was born to Narayana Suri and Lakkamamba in Tallapaka, a village in current day Kadapa district of Andhra Pradesh. More….
Keerthana No. 154
Copper Sheet No. 126
Pallavi: Anadi Jagamulu (అనాది జగములు)
Ragam: Bouli
Language: Telugu (తెలుగు)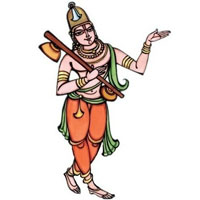 Recitals
Awaiting Contributions.
…
Awaiting Contributions.
[audio: audio-instrumental-file-name.mp3].
This Kriti was originally composed in Telugu. Other languages are for your convenience.
Pallavi
అనాది జగములు అనాది దేవుడు
వినోదములు గని విసుకదు మాయ
Charanams
1.పుట్టేటి జీవులు పోయిన జీవులు
(పు)వొట్టిన జీవులు ఉన్నారు
చుట్టేరు దినములు సూర్యచంద్రాదులు
తెట్టా( దెరువుననె తేగడు కాలము
2.కలడు బ్రహ్మయును కలరింద్రాదులు
కలవనేకములు కార్యములు
ఫలభోగంబులు పైపైనున్నవి
కలియు( గర్మము (గడవగ లేదూ
3.శ్రీవేంకటేశుడు చిత్తములో వేడె
భావము లోపల భక్తి యిదే
భావించి బ్రతుకుట ప్రపన్నులు వీరిదె
యేవల జూచిన యిహమే పరము
.
Pallavi
anAdi jagamulu anAdi dEvuDu
vinOdamulu gani visukadu mAya
Charanams
1.puTTETi jIvulu pOyina jIvulu
(pu)voTTina jIvulu unnAru
chuTTEru dinamulu sUryachaMdrAdulu
teTTA( deruvunane tEgaDu kAlamu
2.kalaDu brahmayunu kalariMdrAdulu
kalavanEkamulu kAryamulu
phalabhOgaMbulu paipainunnavi
kaliyu( garmamu (gaDavaga lEdU
3.SrIvEMkaTESuDu chittamulO vEDe
bhAvamu lOpala bhakti yidE
bhAviMchi bratukuTa prapannulu vIride
yEvala jUchina yihamE paramu
.

We will update this page , once we find comprehensive meaning. Feel free to contribute if you know.
.