Composer: Muttukumaraswamy (முத்துகுமாரச்வாமி) popularly known as Muthuswamy Dikshithar (முத்துஸ்வாமி தீக்ஷிதர் – ముత్తుస్వామీ డిక్షితర్), (March 24, 1775 – October 21, 1835) was born in Tiruvarur (of Thanjavur district of Tamil Nadu) to a Tamil Iyer Brahmin couple Ramaswami Dikshitar and Subbamma, as the eldest son. He also had two younger brothers Baluswami, Chinnaswami and a sister Balambal.Chidambaranatha Yogi was his guru. More…

Raagam: Bhairavi
Taalam: MiSra cApu
Diety: Pancha bhoota sthala linga kritis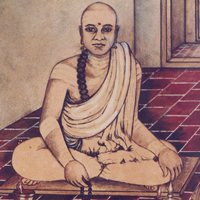 .
Recitals
Album: Unknown | Voice: D.K.Pattammal
Album: Unknown | Voice: Sowmya Srinivasan
Album: Unknown | Voice: B. Rajam Iyer

Awaiting Contributions.

We believe this kriti was originally composed in sanskrit. Other languages are for your convenience.
పల్లవి
ఆనందేశ్వరేణ సంరక్షితోऽహం
చిదానంద రూపోऽస్మి బ్రహ్మానంద రూపోऽస్మి
అనుపల్లవి
జ్ఞాన ప్రదాన గురు గుహ రూప-
చిదానంద నాథ స్వ-రూప ప్రకాశేన
చరణము
అవయవ త్రయాతీతేన నిత్యేన
అవస్థా త్రయ సాక్షిణాऽతి శుద్ధేన
భవ పంచ కోశ వ్యతిరిక్తేన బుద్ధేన
శివ సచ్చిదానంద రూపేణ ముక్తేన
(మధ్యమ కాల సాహిత్యమ్)
శ్రవణ మనన నిదిధ్యాసన సమాధి
నిష్ఠాపరోక్షానుభవ స్వ-మాత్రావశేషిత-
ప్రకాశమాన మహేశ్వరేణ
variations
చిదానంద – నిత్యానంద
సాక్షిణాऽతి – సాక్షిణాది
.
பல்லவி
ஆனந்தே3ஸ்1வரேண ஸம்ரக்ஷிதோऽஹம்
சிதா3னந்த3 ரூபோऽஸ்மி ப்3ரஹ்மானந்த3 ரூபோऽஸ்மி
அனுபல்லவி
ஞான ப்ரதா3ன கு3ரு கு3ஹ ரூப-
சிதா3னந்த3 நாத2 ஸ்வ-ரூப ப்ரகாஸே1ன
சரணம்
அவயவ த்ரயாதீதேன நித்யேன
அவஸ்தா2 த்ரய ஸாக்ஷிணாऽதி ஸு1த்3தே4ன
ப4வ பஞ்ச கோஸ1 வ்யதிரிக்தேன பு3த்3தே4ன
ஸி1வ ஸச்சிதா3னந்த3 ரூபேண முக்தேன
(மத்4யம கால ஸாஹித்யம்)
ஸ்1ரவண மனன நிதி3த்4யாஸன ஸமாதி4
நிஷ்டா2பரோக்ஷானுப4வ ஸ்வ-மாத்ராவஸே1ஷித-
ப்ரகாஸ1மான மஹேஸ்1வரேண
variations
சிதா3னந்த3 – நித்யானந்த3
ஸாக்ஷிணாऽதி – ஸாக்ஷிணாதி3
.
ಪಲ್ಲವಿ
ಆನಂದೇಶ್ವರೇಣ ಸಂರಕ್ಷಿತೋऽಹಂ
ಚಿದಾನಂದ ರೂಪೋऽಸ್ಮಿ ಬ್ರಹ್ಮಾನಂದ ರೂಪೋऽಸ್ಮಿ
ಅನುಪಲ್ಲವಿ
ಜ್ಞಾನ ಪ್ರದಾನ ಗುರು ಗುಹ ರೂಪ-
ಚಿದಾನಂದ ನಾಥ ಸ್ವ-ರೂಪ ಪ್ರಕಾಶೇನ
ಚರಣಮ್
ಅವಯವ ತ್ರಯಾತೀತೇನ ನಿತ್ಯೇನ
ಅವಸ್ಥಾ ತ್ರಯ ಸಾಕ್ಷಿಣಾऽತಿ ಶುದ್ಧೇನ
ಭವ ಪಂಚ ಕೋಶ ವ್ಯತಿರಿಕ್ತೇನ ಬುದ್ಧೇನ
ಶಿವ ಸಚ್ಚಿದಾನಂದ ರೂಪೇಣ ಮುಕ್ತೇನ
(ಮಧ್ಯಮ ಕಾಲ ಸಾಹಿತ್ಯಮ್)
ಶ್ರವಣ ಮನನ ನಿದಿಧ್ಯಾಸನ ಸಮಾಧಿ
ನಿಷ್ಠಾಪರೋಕ್ಷಾನುಭವ ಸ್ವ-ಮಾತ್ರಾವಶೇಷಿತ-
ಪ್ರಕಾಶಮಾನ ಮಹೇಶ್ವರೇಣ
variations
ಚಿದಾನಂದ – ನಿತ್ಯಾನಂದ
ಸಾಕ್ಷಿಣಾऽತಿ – ಸಾಕ್ಷಿಣಾದಿ
.
पल्लवि
आनन्देश्वरेण संरक्षितोऽहं
चिदानन्द रूपोऽस्मि ब्रह्मानन्द रूपोऽस्मि
अनुपल्लवि
ज्ञान प्रदान गुरु गुह रूप-
चिदानन्द नाथ स्व-रूप प्रकाशेन
चरणम्
अवयव त्रयातीतेन नित्येन
अवस्था त्रय साक्षिणाऽति शुद्धेन
भव पञ्च कोश व्यतिरिक्तेन बुद्धेन
शिव सच्चिदानन्द रूपेण मुक्तेन
(मध्यम काल साहित्यम्)
श्रवण मनन निदिध्यासन समाधि
निष्ठापरोक्षानुभव स्व-मात्रावशेषित-
प्रकाशमान महेश्वरेण
variations
चिदानन्द – नित्यानन्द
साक्षिणाऽति – साक्षिणादि
.
pallavi
AnandESvarENa saMrakshitO(a)haM
cidAnanda rUpO(a)smi brahmAnanda rUpO(a)smi
anupallavi
jnAna pradAna guru guha rUpa-
cidAnanda nAtha sva-rUpa prakASEna
caraNam
avayava trayAtItEna nityEna
avasthA traya sAkshiNA(a)ti SuddhEna
bhava panca kOSa vyatiriktEna buddhEna
Siva saccidAnanda rUpENa muktEna
(madhyama kAla sAhityam)
SravaNa manana nididhyAsana samAdhi
nishThAparOkshAnubhava sva-mAtrAvaSEshita-
prakASamAna mahESvarENa
variations
cidAnanda – nityAnanda
sAkshiNA(a)ti – sAkshiNAdi
.
പല്ലവി
ആനന്ദേശ്വരേണ സംരക്ഷിതോऽഹം
ചിദാനന്ദ രൂപോऽസ്മി ബ്രഹ്മാനന്ദ രൂപോऽസ്മി
അനുപല്ലവി
ജ്ഞാന പ്രദാന ഗുരു ഗുഹ രൂപ-
ചിദാനന്ദ നാഥ സ്വ-രൂപ പ്രകാശേന
ചരണമ്
അവയവ ത്രയാതീതേന നിത്യേന
അവസ്ഥാ ത്രയ സാക്ഷിണാऽതി ശുദ്ധേന
ഭവ പഞ്ച കോശ വ്യതിരിക്തേന ബുദ്ധേന
ശിവ സച്ചിദാനന്ദ രൂപേണ മുക്തേന
(മധ്യമ കാല സാഹിത്യമ്)
ശ്രവണ മനന നിദിധ്യാസന സമാധി
നിഷ്ഠാപരോക്ഷാനുഭവ സ്വ-മാത്രാവശേഷിത-
പ്രകാശമാന മഹേശ്വരേണ
variations
ചിദാനന്ദ – നിത്യാനന്ദ
സാക്ഷിണാऽതി – സാക്ഷിണാദി
.
Pallavi
I am protected by Anandeshvara.I become the form of eternal bliss, the form of supreme bliss.
Anupallavi
The one that shines forth as the deeksha guru cidanandanatha who is the form of the knowledge giving guruguha.
Charanam
The one who is beyond the three senses, the eternal , the pure, the witness to the three states, the one beyond the five sheaths, the intelligent one.the auspicious one ; the form of knowledge-existence-bliss.the liberated one.The supreme Lord who is known by (Eight-fold yoga – ashTAnga yOga) knowing the self through hearing, rememembering, meditation and in the higher states of samadhi and nishta.
.