Composer: Sri Tallapaka Annamacharya (Annamayya అన్నమయ్య) , May 9, 1408 – February 23, 1503 was born to Narayana Suri and Lakkamamba in Tallapaka, a village in current day Kadapa district of Andhra Pradesh. More….
Keerthana No. 51
Copper Sheet No. 309
Pallavi: Annividhamulu danai (అన్నివిధములు దానై)
Ragam: devagandhari
Language: Telugu (తెలుగు)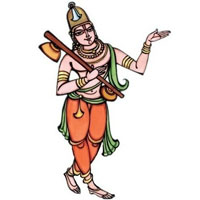 Recitals
Awaiting Contributions.
…
Awaiting Contributions.
[audio: audio-instrumental-file-name.mp3].
This Kriti was originally composed in Telugu. Other languages are for your convenience.
పల్లవి
అన్నివిధములు దానై యాతుమలో మరి వీడే
పన్నిన యీ పరమాత్మభావనే మా బ్రదుకు
చరణములు
1.గోపాలకృష్ణునిచూపే కోరిన పనులపాడి
గోపికావల్లభుకృపే కూర్మువనుత
శ్రీపతిదయే మాకుజేరే ధనధాన్యములు
చేపట్టినబ్రహ్మతండ్రిచిత్తమే మాపుత్రులు
2.జలధిశాయికరుణే సర్వరత్నములసొమ్ము
అల పీతాంబరువాత్సల్యమే వస్త్రములు
మలయు గరుడధ్వజుమన్ననే వాహనములు
యిల నచ్యుయనామమే యిదే మాకాయుష్యము
3.అమృతమథనుమహిమదె మా గాదెల కొల్చు
విమతదైత్యారి యావెశమే భయహరము
అమర శ్రీవేంకటేశునడుగులే మాకు నిండ్లు
తమితో నాతనిదేవే తలియు దండ్రియును
.
Pallavi
annividhamulu dAnai yAtumalO mari vIDE
pannina yI paramAtmaBAvanE mA braduku
Charanams
1.gOpAlakRshNunicUpE kOrina panulapADi
gOpikAvallaBukRpE kUrmuvanuta
SrIpatidayE mAkujErE dhanadhAnyamulu
cEpaTTinabrahmataMDricittamE mAputrulu
2.jaladhiSAyikaruNE sarvaratnamulasommu
ala pItAMbaruvAtsalyamE vastramulu
malayu garuDadhvajumannanE vAhanamulu
yila nacyuyanAmamE yidE mAkAyushyamu
3.amRtamathanumahimade mA gAdela kolcu
vimatadaityAri yAveSamE Bayaharamu
amara SrIvEMkaTESunaDugulE mAku niMDlu
tamitO nAtanidEvE taliyu daMDriyunu
.

We will update this page , once we find comprehensive meaning. Feel free to contribute if you know.
.