Composer: Sri Tallapaka Annamacharya (Annamayya అన్నమయ్య) , May 9, 1408 – February 23, 1503 was born to Narayana Suri and Lakkamamba in Tallapaka, a village in current day Kadapa district of Andhra Pradesh. More….
Keerthana No. 35
Copper Sheet No. 306
Pallavi: Appudainahari yekke (అప్పుడైనహరి యెక్కె)
Ragam: Padi
Language: Telugu (తెలుగు)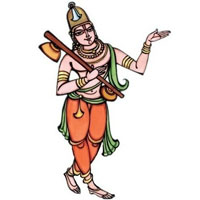 Recitals
Awaiting Contributions.
…
Awaiting Contributions.
[audio: audio-instrumental-file-name.mp3].
This Kriti was originally composed in Telugu. Other languages are for your convenience.
పల్లవి
అప్పుడైనహరి యెక్కె నదివో తేరు
యిప్పుడు తిరువీషుల నేగీ తేరు
చరణములు
1.సముద్రాలమీద దోలె సర్వేశ్వరుడు తేరు
భ్రమయ జరాసంధుపై బరపె దేరు
తిమురుచు రుక్మకుపై దిరుగ దోలె దేరు
ప్రమదాన సృగాలునిపై దోలె దేరు
2.కమ్మి యక్రూరుడు దేగా కంసునిపై నెక్కె దేరు
బమ్మరపో దంతవక్ర్తూపై దోలె దేరు
దుమ్ములుగా సాల్వునిపై దొడ్డగా దోలినతేరు
మొమ్మి రుక్మిణిపెండ్లికి దోలినట్టితేరు
3.మీఱి హంసడిచికులమీద దోలినట్టితేరు
తూఱి సంధిమాటలకు దోలినతేరు
ఆఱడి శ్రీవేంకటేశు డలమేలుమంగ గూడి
చూఱలుగొన నెక్కెను శోభనపుతేరు
.
Pallavi
appuDainahari yekke nadivO tEru
yippuDu tiruvIshula nEgI tEru
Charanams
1.samudrAlamIda dOle sarvESvaruDu tEru
Bramaya jarAsaMdhupai barape dEru
timurucu rukmakupai diruga dOle dEru
pramadAna sRgAlunipai dOle dEru
2.kammi yakrUruDu dEgA kaMsunipai nekke dEru
bammarapO daMtavakrtUpai dOle dEru
dummulugA sAlvunipai doDDagA dOlinatEru
mommi rukmiNipeMDliki dOlinaTTitEru
3.mI~ri haMsaDicikulamIda dOlinaTTitEru
tU~ri sMdhimATalaku dOlinatEru
A~raDi SrIvEMkaTESu DalamElumaMga gUDi
cU~ralugona nekkenu SOBanaputEru
.

We will update this page , once we find comprehensive meaning. Feel free to contribute if you know.
.