Composer: Sri Tallapaka Annamacharya (Annamayya అన్నమయ్య) , May 9, 1408 – February 23, 1503 was born to Narayana Suri and Lakkamamba in Tallapaka, a village in current day Kadapa district of Andhra Pradesh. More….
Keerthana No. 181; Volume No. 26
Copper Sheet No. 1631
Pallavi: Aragimci (ఆరగించి)
Ragam: Malavi
Language: Telugu (తెలుగు)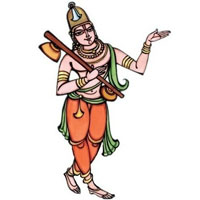 Recitals
Album: Private | Voice: G. Bla Krishna Prasad

Awaiting Contributions.

This Kriti was originally composed in Telugu. Other languages are for your convenience.
Pallavi
||ఆరగించి కూర్చున్నాడల్లవాడె | చేరువనే చూడరె లక్ష్మీనారసింహుడు ||
Charanams
||ఇందిరను తొడమీద నిడుకొని కొలువిచ్చీ | అందపు నవ్వులు చల్లీనల్ల వాడె |
చెందిన మాణికముల శేషుని పడెగె మీది | చెంది వరాలిచ్చీ లక్ష్మీనారసింహుడు ||
||బంగారు మేడలోన పచ్చల గద్దియల మీద | అంగనల అట చూచినల్ల వాడె |
రంగగు సొమ్ముల తోడ రాజసపు విభవాల | చెంగట నున్నాడు లక్ష్మీనారసింహుడు ||
||పెండెపు పాదము చాచి పెనచి ఒకపాదము | అండనే పూజగొనీ నల్ల వాడె |
కొండల శ్రీవేంకటాద్రి కోరి అహోబలమున | మెండుగాను మెరసీ లక్ష్మీనారసింహుడు ||
.
Pallavi
||AragiMci kUrcunnADallavADe | cEruvanE cUDare lakShmInArasiMhuDu ||
Charanams
||iMdiranu toDamIda niDukoni koluviccI | aMdapu navvulu callInalla vADe |
ceMdina mANikamula SEShuni paDege mIdi | ceMdi varAliccI lakShmInArasiMhuDu ||
||baMgAru mEDalOna paccala gaddiyala mIda | aMganala aTa cUcinalla vADe |
raMgagu sommula tODa rAjasapu viBavAla | ceMgaTa nunnADu lakShmInArasiMhuDu ||
||peMDepu pAdamu cAci penaci okapAdamu | aMDanE pUjagonI nalla vADe |
koMDala SrIvEMkaTAdri kOri ahObalamuna | meMDugAnu merasI lakShmInArasiMhuDu ||
.

We will update this page , once we find comprehensive meaning. Feel free to contribute if you know.
.