Composer: Muttukumaraswamy (முத்துகுமாரச்வாமி) popularly known as Muthuswamy Dikshithar (முத்துஸ்வாமி தீக்ஷிதர் – ముత్తుస్వామీ డిక్షితర్), (March 24, 1775 – October 21, 1835) was born in Tiruvarur (of Thanjavur district of Tamil Nadu) to a Tamil Iyer Brahmin couple Ramaswami Dikshitar and Subbamma, as the eldest son. He also had two younger brothers Baluswami, Chinnaswami and a sister Balambal.Chidambaranatha Yogi was his guru. More…

Raagam: Saaranga
Taalam: Rupakam
Diety: Pancha bhoota sthala linga kritis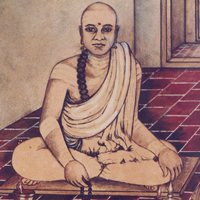 .
Recitals
Album: Unknown | Voice: Hyderabad Brothers
Album: Unknown | Voice: D.K.Jayaraman
Album: Unknown | Voice: K.V.Narayanaswamy

Awaiting Contributions.

We believe this kriti was originally composed in sanskrit. Other languages are for your convenience.
పల్లవి
అరుణాచల నాథం స్మరామి అనిశం
అపీత కుచాంబా సమేతమ్
అనుపల్లవి
స్మరణాత్ కైవల్య ప్రద చరణారవిందం
తరుణాదిత్య కోటి సంకాశ చిదానందం
(మధ్యమ కాల సాహిత్యమ్)
కరుణా రసాది కందం శరణాగత సుర బృందమ్
చరణము
అప్రాకృత తేజో-మయ లింగం
అత్యద్భుత కర ధృత సారంగం
అప్రమేయం అపర్ణాబ్జ భృంగం
ఆరూఢోత్తుంగ వృష తురంగమ్
(మధ్యమ కాల సాహిత్యమ్)
విప్రోత్తమ విశేషాంతరంగం
వీర గురు గుహ తార ప్రసంగం
స్వ-ప్రదీప మౌలి విధృత గంగం
స్వ-ప్రకాశ జిత సోమాగ్ని పతంగమ్
.
பல்லவி
அருணாசல நாத2ம் ஸ்மராமி அனிஸ1ம்
அபீத குசாம்பா3 ஸமேதம்
அனுபல்லவி
ஸ்மரணாத் கைவல்ய ப்ரத3 சரணாரவிந்த3ம்
தருணாதி3த்ய கோடி ஸங்காஸ1 சிதா3னந்த3ம்
(மத்4யம கால ஸாஹித்யம்)
கருணா ரஸாதி3 கந்த3ம் ஸ1ரணாக3த ஸுர ப்3ரு2ந்த3ம்
சரணம்
அப்ராக்ரு2த தேஜோ-மய லிங்க3ம்
அத்யத்3பு4த கர த்4ரு2த ஸாரங்க3ம்
அப்ரமேயம் அபர்ணாப்3ஜ ப்4ரு2ங்க3ம்
ஆரூடோ4த்துங்க3 வ்ரு2ஷ துரங்க3ம்
(மத்4யம கால ஸாஹித்யம்)
விப்ரோத்தம விஸே1ஷாந்தரங்க3ம்
வீர கு3ரு கு3ஹ தார ப்ரஸங்க3ம்
ஸ்வ-ப்ரதீ3ப மௌலி வித்4ரு2த க3ங்க3ம்
ஸ்வ-ப்ரகாஸ1 ஜித ஸோமாக்3னி பதங்க3ம்
.
ಪಲ್ಲವಿ
ಅರುಣಾಚಲ ನಾಥಂ ಸ್ಮರಾಮಿ ಅನಿಶಂ
ಅಪೀತ ಕುಚಾಂಬಾ ಸಮೇತಮ್
ಅನುಪಲ್ಲವಿ
ಸ್ಮರಣಾತ್ ಕೈವಲ್ಯ ಪ್ರದ ಚರಣಾರವಿಂದಂ
ತರುಣಾದಿತ್ಯ ಕೋಟಿ ಸಂಕಾಶ ಚಿದಾನಂದಂ
(ಮಧ್ಯಮ ಕಾಲ ಸಾಹಿತ್ಯಮ್)
ಕರುಣಾ ರಸಾದಿ ಕಂದಂ ಶರಣಾಗತ ಸುರ ಬೃಂದಮ್
ಚರಣಮ್
ಅಪ್ರಾಕೃತ ತೇಜೋ-ಮಯ ಲಿಂಗಂ
ಅತ್ಯದ್ಭುತ ಕರ ಧೃತ ಸಾರಂಗಂ
ಅಪ್ರಮೇಯಂ ಅಪರ್ಣಾಬ್ಜ ಭೃಂಗಂ
ಆರೂಢೋತ್ತುಂಗ ವೃಷ ತುರಂಗಮ್
(ಮಧ್ಯಮ ಕಾಲ ಸಾಹಿತ್ಯಮ್)
ವಿಪ್ರೋತ್ತಮ ವಿಶೇಷಾಂತರಂಗಂ
ವೀರ ಗುರು ಗುಹ ತಾರ ಪ್ರಸಂಗಂ
ಸ್ವ-ಪ್ರದೀಪ ಮೌಲಿ ವಿಧೃತ ಗಂಗಂ
ಸ್ವ-ಪ್ರಕಾಶ ಜಿತ ಸೋಮಾಗ್ನಿ ಪತಂಗಮ್
.
पल्लवि
अरुणाचल नाथं स्मरामि अनिशं
अपीत कुचाम्बा समेतम्
अनुपल्लवि
स्मरणात् कैवल्य प्रद चरणारविन्दं
तरुणादित्य कोटि संकाश चिदानन्दं
(मध्यम काल साहित्यम्)
करुणा रसादि कन्दं शरणागत सुर बृन्दम्
चरणम्
अप्राकृत तेजो-मय लिङ्गं
अत्यद्भुत कर धृत सारङ्गं
अप्रमेयं अपर्णाब्ज भृङ्गं
आरूढोत्तुङ्ग वृष तुरङ्गम्
(मध्यम काल साहित्यम्)
विप्रोत्तम विशेषान्तरङ्गं
वीर गुरु गुह तार प्रसङ्गं
स्व-प्रदीप मौलि विधृत गङ्गं
स्व-प्रकाश जित सोमाग्नि पतङ्गम्
.
pallavi
aruNAcala nAthaM smarAmi aniSaM
apIta kucAmbA samEtam
anupallavi
smaraNAt kaivalya prada caraNAravindaM
taruNAditya kOTi saMkASa cidAnandaM
(madhyama kAla sAhityam)
karuNA rasAdi kandaM SaraNAgata sura bRndam
caraNam
aprAkRta tEjO-maya lingaM
atyadbhuta kara dhRta sArangaM
apramEyaM aparNAbja bhRngaM
ArUDhOttunga vRsha turangam
(madhyama kAla sAhityam)
viprOttama viSEshAntarangaM
vIra guru guha tAra prasangaM
sva-pradIpa mauli vidhRta gangaM
sva-prakASa jita sOmAgni patangam
.
പല്ലവി
അരുണാചല നാഥം സ്മരാമി അനിശം
അപീത കുചാമ്ബാ സമേതമ്
അനുപല്ലവി
സ്മരണാത് കൈവല്യ പ്രദ ചരണാരവിന്ദം
തരുണാദിത്യ കോടി സങ്കാശ ചിദാനന്ദം
(മധ്യമ കാല സാഹിത്യമ്)
കരുണാ രസാദി കന്ദം ശരണാഗത സുര ബൃന്ദമ്
ചരണമ്
അപ്രാകൃത തേജോ-മയ ലിങ്ഗം
അത്യദ്ഭുത കര ധൃത സാരങ്ഗം
അപ്രമേയം അപര്ണാബ്ജ ഭൃങ്ഗം
ആരൂഢോത്തുങ്ഗ വൃഷ തുരങ്ഗമ്
(മധ്യമ കാല സാഹിത്യമ്)
വിപ്രോത്തമ വിശേഷാന്തരങ്ഗം
വീര ഗുരു ഗുഹ താര പ്രസങ്ഗം
സ്വ-പ്രദീപ മൌലി വിധൃത ഗങ്ഗം
സ്വ-പ്രകാശ ജിത സോമാഗ്നി പതങ്ഗമ്
.
Pallavi
I always think of the Lord of Arunacala; The consort of apItakucAMbA;
Anupallavi
he lotus-feet which gives liberation the moment one thinks of it;The form of cidananda who shines like a crore early morning suns; The source of mercy; The one who has the hordes of devas surrendering unto him;
Charanam
The beginning-less shining lingam; The one that bears a deer in his wonderful hands; The immeasurable one; The bee that hovers around the lotus that is Parvati; The one who rides an excellent bull; The one who is intimate to the learned;The one dear to guruguha;The one who wears the Ganges on his splendrous matted locks;The one who outshines the moon,sun and fire;
.