Composer: Muttukumaraswamy (मुत्तुकुमर स्वम्य) popularly known as Muthuswamy Dikshithar (முத்துஸ்வாமி தீக்ஷிதர் – ముత్తుస్వామీ డిక్షితర్), (March 24, 1775 – October 21, 1835) was was born in Tiruvarur (of Thanjavur district of Tamil Nadu) to a Tamil Iyer Brahmin couple Ramaswami Dikshitar and Subbamma, as the eldest son. He also had two younger brothers Baluswami, Chinnaswami and a sister Balambal.Chidambaranatha Yogi was his guru. More…

Raagam: Bhairavi
Taalam: Triputa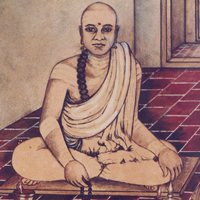 .
Recitals
Album: Unknown | Voice: K.Swaminathan
Album: Unknown | Voice: Unknown

Awaiting Contributions.

We believe this kriti was originally composed in sanskrit. Other languages are for your convenience.
ఆర్యాం అభయాంబామ్ – రాగం భైరవి – తాళం త్రిపుట
పల్లవి
ఆర్యాం అభయాంబాం భజరే రే చిత్త సంతతం
అవిద్యా కార్య కలనాం త్యజ రే
(మధ్యమ కాల సాహిత్యమ్)
ఆది మధ్యాంత రహితాం శివ సహితామ్
అనుపల్లవి
సూర్యాగ్ని చంద్ర మండల మధ్య వాసినీం
సుఖ-తర ప్రవర్తినీం స్వేతర నివాసినీమ్
ఆచార్య శిష్యానుగ్రహ కరణ శక్తి ప్రదాపార కరుణాం
(మధ్యమ కాల సాహిత్యమ్)
చర్యాది చతుష్టయ వితరణ సమర్థ-తర చరణాం అరుణామ్
చరణమ్
నందన వనోత్పాదన పుష్ప మాలికా –
వందనాలయాది ప్రస్థాపన దివ్య-
చందన ఘర్షణ స్థల శుద్ధి కరణ-
వందన స్తోత్రాది పఠన భక్త సేవానాం –
మంద-ధీ హరణ చర్యాయుత మానవానాం-
ధర్మ-మయ స్వచ్ఛంద శివ సాలోక్య –
దాయక చతుర-తర హర నట భైరవీం
(మధ్యమ కాల సాహిత్యమ్)
మంద స్మిత విలసిత ముఖారవిందాం గురు గుహాంబికాం
ముకుంద సోదరీం మహా త్రిపుర సుందరీం ఆనంద లహరీమ్
variations:
తాళం – త్రిపుట – అట
పల్లవి – త్యజరే – త్యజరే రే
చరణమ్ –
వనోత్పాదన – వనోత్పాదనాం
మాలికా – మాలికాం
చందన ఘర్షణ – చందన కర్షణ – చందనాకర్షణ
సాలోక్య – సాలోక
చతుర-తర – చతుర వర
.
ஆர்யாம் அப4யாம்பாம் – ராகம் பைரவி – தாளம் த்ரிபுட
பல்லவி
ஆர்யாம் அபயாம்பா3ம் பஜரே ரே சித்த ஸந்ததம்
அவித்யா கார்ய கலனாம் த்யஜ ரே
(மத்யம கால ஸாஹித்யம்)
ஆதி மத்யாந்த ரஹிதாம் ஸிவ ஸஹிதாம்
அனுபல்லவி
ஸூர்யாக்னி சந்த்ர மண்டல மத்ய வாஸினீம்
ஸுக-தர ப்ரவர்தினீம் ஸ்வேதர நிவாஸினீம்
ஆசார்ய ஸிஷ்யானுக்ரஹ கரண ஸக்தி ப்ரதாபார கருணாம்
(மத்யம கால ஸாஹித்யம்)
சர்யாதி சதுஷ்டய விதரண ஸமர்த-தர சரணாம் அருணாம்
சரணம்
நந்தன வனோத்பாதன புஷ்ப மாலிகா –
வந்தனாலயாதி ப்ரஸ்தாபன திவ்ய-
சந்தன கர்ஷண ஸ்தல ஸுத்தி கரண-
வந்தன ஸ்தோத்ராதி படன பக்த ஸேவானாம் –
மந்த தீ ஹரண சர்யாயுத மானவானாம்-
த4ர்ம-மய ஸ்வச்சந்த ஸிவ ஸாலோக்ய –
தாயக சதுர-தர ஹர நட பை4ரவீம்
(மத்யம கால ஸாஹித்யம்)
மந்த ஸ்மித விலஸித முகாரவிந்தா3ம் குரு குஹாம்பிகாம்
முகுந்த ஸோதரீம் மஹா த்ரிபுர ஸுந்தரீம் ஆனந்த லஹரீம்
variations:
தாளம் – த்ரிபுட – அட
பல்லவி – த்யஜரே – த்யஜரே ரே
சரணம் –
வனோத்பாத3ன – வனோத்பாத3னாம்
மாலிகா – மாலிகாம்
சந்த3ன க4ர்ஷண – சந்த3ன கர்ஷண – சந்த3னாகர்ஷண
ஸாலோக்ய – ஸாலோக
சதுர-தர – சதுர வர
.
ಆರ್ಯಾಂ ಅಭಯಾಂಬಾಮ್ – ರಾಗಂ ಭೈರವಿ – ತಾಳಂ ತ್ರಿಪುಟ
ಪಲ್ಲವಿ
ಆರ್ಯಾಂ ಅಭಯಾಂಬಾಂ ಭಜರೇ ರೇ ಚಿತ್ತ ಸಂತತಂ
ಅವಿದ್ಯಾ ಕಾರ್ಯ ಕಲನಾಂ ತ್ಯಜ ರೇ
(ಮಧ್ಯಮ ಕಾಲ ಸಾಹಿತ್ಯಮ್)
ಆದಿ ಮಧ್ಯಾಂತ ರಹಿತಾಂ ಶಿವ ಸಹಿತಾಮ್
ಅನುಪಲ್ಲವಿ
ಸೂರ್ಯಾಗ್ನಿ ಚಂದ್ರ ಮಂಡಲ ಮಧ್ಯ ವಾಸಿನೀಂ
ಸುಖ-ತರ ಪ್ರವರ್ತಿನೀಂ ಸ್ವೇತರ ನಿವಾಸಿನೀಮ್
ಆಚಾರ್ಯ ಶಿಷ್ಯಾನುಗ್ರಹ ಕರಣ ಶಕ್ತಿ ಪ್ರದಾಪಾರ ಕರುಣಾಂ
(ಮಧ್ಯಮ ಕಾಲ ಸಾಹಿತ್ಯಮ್)
ಚರ್ಯಾದಿ ಚತುಷ್ಟಯ ವಿತರಣ ಸಮರ್ಥ-ತರ ಚರಣಾಂ ಅರುಣಾಮ್
ಚರಣಮ್
ನಂದನ ವನೋತ್ಪಾದನ ಪುಷ್ಪ ಮಾಲಿಕಾ –
ವಂದನಾಲಯಾದಿ ಪ್ರಸ್ಥಾಪನ ದಿವ್ಯ-
ಚಂದನ ಘರ್ಷಣ ಸ್ಥಲ ಶುದ್ಧಿ ಕರಣ-
ವಂದನ ಸ್ತೋತ್ರಾದಿ ಪಠನ ಭಕ್ತ ಸೇವಾನಾಂ –
ಮಂದ-ಧೀ ಹರಣ ಚರ್ಯಾಯುತ ಮಾನವಾನಾಂ-
ಧರ್ಮ-ಮಯ ಸ್ವಚ್ಛಂದ ಶಿವ ಸಾಲೋಕ್ಯ –
ದಾಯಕ ಚತುರ-ತರ ಹರ ನಟ ಭೈರವೀಂ
(ಮಧ್ಯಮ ಕಾಲ ಸಾಹಿತ್ಯಮ್)
ಮಂದ ಸ್ಮಿತ ವಿಲಸಿತ ಮುಖಾರವಿಂದಾಂ ಗುರು ಗುಹಾಂಬಿಕಾಂ
ಮುಕುಂದ ಸೋದರೀಂ ಮಹಾ ತ್ರಿಪುರ ಸುಂದರೀಂ ಆನಂದ ಲಹರೀಮ್
variations:
ತಾಳಂ – ತ್ರಿಪುಟ – ಅಟ
ಪಲ್ಲವಿ – ತ್ಯಜರೇ – ತ್ಯಜರೇ ರೇ
ಚರಣಮ್ –
ವನೋತ್ಪಾದನ – ವನೋತ್ಪಾದನಾಂ
ಮಾಲಿಕಾ – ಮಾಲಿಕಾಂ
ಚಂದನ ಘರ್ಷಣ – ಚಂದನ ಕರ್ಷಣ – ಚಂದನಾಕರ್ಷಣ
ಸಾಲೋಕ್ಯ – ಸಾಲೋಕ
ಚತುರ-ತರ – ಚತುರ ವರ
.
आर्यां अभयाम्बाम् – रागं भैरवि – ताळं त्रिपुट
पल्लवि
आर्यां अभयाम्बां भजरे रे चित्त सन्ततं
अविद्या कार्य कलनां त्यज रे
(मध्यम काल साहित्यम्)
आदि मध्यान्त रहितां शिव सहिताम्
अनुपल्लवि
सूर्याग्नि चन्द्र मण्डल मध्य वासिनीं
सुख-तर प्रवर्तिनीं स्वेतर निवासिनीम्
आचार्य शिष्यानुग्रह करण शक्ति प्रदापार करुणां
(मध्यम काल साहित्यम्)
चर्यादि चतुष्टय वितरण समर्थ-तर चरणां अरुणाम्
चरणम्
नन्दन वनोत्पादन पुष्प मालिका –
वन्दनालयादि प्रस्थापन दिव्य-
चन्दन घर्षण स्थल शुद्धि करण-
वन्दन स्तोत्रादि पठन भक्त सेवानां –
मन्द-धी हरण चर्यायुत मानवानां-
धर्म-मय स्वच्छन्द शिव सालोक्य –
दायक चतुर-तर हर नट भैरवीं
(मध्यम काल साहित्यम्)
मन्द स्मित विलसित मुखारविन्दां गुरु गुहाम्बिकां
मुकुन्द सोदरीं महा त्रिपुर सुन्दरीं आनन्द लहरीम्
variations:
ताळं – त्रिपुट – अट
पल्लवि – त्यजरे – त्यजरे रे
चरणम् –
वनोत्पादन – वनोत्पादनां
मालिका – मालिकां
चन्दन घर्षण – चन्दन कर्षण – चन्दनाकर्षण
सालोक्य – सालोक
चतुर-तर – चतुर वर
.
pallavi
AryAM abhayAmbAM bhajarE rE citta santataM
avidyA kArya kalanAM tyaja rE
(madhyama kAla sAhityam)
Adi madhyAnta rahitAM Siva sahitAm
anupallavi
sUryAgni candra maNDala madhya vAsinIM
sukha-tara pravartinIM svEtara nivAsinIm
AcArya SishyAnugraha karaNa Sakti pradApAra karuNAM
(madhyama kAla sAhityam)
caryAdi catushTaya vitaraNa samartha-tara caraNAM aruNAm
caraNam
nandana vanOtpAdana pushpa mAlikA –
vandanAlayAdi prasthApana divya-
candana gharshaNa sthala Suddhi karaNa-
vandana stOtrAdi paThana bhakta sEvAnAM –
manda-dhI haraNa caryAyuta mAnavAnAM-
dharma-maya svacchanda Siva sAlOkya –
dAyaka catura-tara hara naTa bhairavIM
(madhyama kAla sAhityam)
manda smita vilasita mukhAravindAM guru guhAmbikAM
mukunda sOdarIM mahA tripura sundarIM Ananda laharIm
variations:
tALaM – tripuTa – aTa
pallavi – tyajarE – tyajarE rE
caraNam –
vanOtpAdana – vanOtpAdanAM
mAlikA – mAlikAM
candana gharshaNa – candana karshaNa – candanAkarshaNa
sAlOkya – sAlOka
catura-tara – catura vara
.
ആര്യാം അഭയാമ്ബാമ് – രാഗം ഭൈരവി – താളം ത്രിപുട
പല്ലവി
ആര്യാം അഭയാമ്ബാം ഭജരേ രേ ചിത്ത സന്തതം
അവിദ്യാ കാര്യ കലനാം ത്യജ രേ
(മധ്യമ കാല സാഹിത്യമ്)
ആദി മധ്യാന്ത രഹിതാം ശിവ സഹിതാമ്
അനുപല്ലവി
സൂര്യാഗ്നി ചന്ദ്ര മണ്ഡല മധ്യ വാസിനീം
സുഖ-തര പ്രവര്തിനീം സ്വേതര നിവാസിനീമ്
ആചാര്യ ശിഷ്യാനുഗ്രഹ കരണ ശക്തി പ്രദാപാര കരുണാം
(മധ്യമ കാല സാഹിത്യമ്)
ചര്യാദി ചതുഷ്ടയ വിതരണ സമര്ഥ-തര ചരണാം അരുണാമ്
ചരണമ്
നന്ദന വനോത്പാദന പുഷ്പ മാലികാ –
വന്ദനാലയാദി പ്രസ്ഥാപന ദിവ്യ-
ചന്ദന ഘര്ഷണ സ്ഥല ശുദ്ധി കരണ-
വന്ദന സ്തോത്രാദി പഠന ഭക്ത സേവാനാം –
മന്ദ-ധീ ഹരണ ചര്യായുത മാനവാനാമ്-
ധര്മ-മയ സ്വച്ഛന്ദ ശിവ സാലോക്യ –
ദായക ചതുര-തര ഹര നട ഭൈരവീം
(മധ്യമ കാല സാഹിത്യമ്)
മന്ദ സ്മിത വിലസിത മുഖാരവിന്ദാം ഗുരു ഗുഹാമ്ബികാം
മുകുന്ദ സോദരീം മഹാ ത്രിപുര സുന്ദരീം ആനന്ദ ലഹരീമ്
variations:
താളം – ത്രിപുട – അട
പല്ലവി – ത്യജരേ – ത്യജരേ രേ
ചരണമ് –
വനോത്പാദന – വനോത്പാദനാം
മാലികാ – മാലികാം
ചന്ദന ഘര്ഷണ – ചന്ദന കര്ഷണ – ചന്ദനാകര്ഷണ
സാലോക്യ – സാലോക
ചതുര-തര – ചതുര വര
.
Pallavi:
O Mind! Worship the revered Abhayamba, forever.Forego those things associated with ignorance; She is the one without beginning or end; the one who is with Shiva
Anupallavi:
The one who dwells in the middle of the solar, lunar and the plane of agni, the one who gives bliss; the one who is in herself & in others; the one with limitless mercy in granting the power that is responsible for the guru's grace for a student; the lotus feet that gives the four beginning with charya, the one of reddish-hue .
Charanam:
The one who wears a garland of flowers made from the temple-garden;
To the people who have the acharas of building and cleaning holy temples; reading scriptures,grinding sandal paste; being of service to devotees -she the dancing bhairavi – is skilled at bestowing upon them the righteous path of Shivasayujya ie being one with Shiva, The lotus-face that has a soft smile upon it; the mother of guruguha; the sister of Mukunda, Tripurasundari the flood of bliss.
.