Composer: Sri Tallapaka Annamacharya (Annamayya అన్నమయ్య) , May 9, 1408 – February 23, 1503 was born to Narayana Suri and Lakkamamba in Tallapaka, a village in current day Kadapa district of Andhra Pradesh. More….
Keerthana No. 13
Copper Sheet No. 303
Pallavi: Ata demisesina (అత డేమిసేసినా)
Ragam: Sankarabharanam
Language: Telugu (తెలుగు)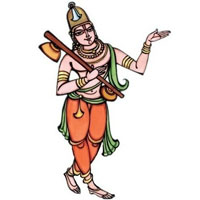 Recitals
Awaiting Contributions.
…
Awaiting Contributions.
[audio: audio-instrumental-file-name.mp3].
This Kriti was originally composed in Telugu. Other languages are for your convenience.
పల్లవి
అత డేమిసేసినా మాకదె గురి
మతిలో నాతడుండగా మాయలు మా కేటికి
చరణములు
1.ఆసలకెల్లా గురి హరి యొక్కడేకాని
వేసరక కన్నవారి వేడనోపను(ము?)
చేసేటిసేతకు గురి శ్రీవిభుడేకాని
వాసి దప్పి హీనులసేవలు సేయ నోపము
2.ముచ్చటకెల్లా గురి మురహరుడేకాని
చెచ్చెర నెవ్వరికైనా జెప్పనోపము
నిచ్చలు మాబ్రదుకెల్లా నీలవర్ణునికేకాని
రచ్చల దుష్టులతోడిరావులకు నోపము
3.పరమునిహమునకు పరమాత్ముడే గురి
పరులకధీనమైబాతి యేటికి
సిరులకెల్లా గురి శ్రీవేంకటేశుడేకాని
అరపికితనపుటలమట లేదు
.
Pallavi
ata DEmisEsinA mAkade guri
matilO nAtaDuMDagA mAyalu mA kETiki
Charanams
1.AsalakellA guri hari yokkaDEkAni
vEsaraka kannavAri vEDanOpanu(mu?)
chEsETisEtaku guri SrIviBhuDEkAni
vAsi dappi hInulasEvalu sEya nOpamu
2.muccaTakellA guri muraharuDEkAni
checcera nevvarikainA jeppanOpamu
niccalu mAbradukellA nIlavarNunikEkAni
raccala dushTulatODirAvulaku nOpamu
3.paramunihamunaku paramAtmuDE guri
parulakadhInamaibAti yETiki
sirulakellA guri SrIvEMkaTESuDEkAni
arapikitanapuTalamaTa lEdu
.

We will update this page , once we find comprehensive meaning. Feel free to contribute if you know.
.