Composer: Sri Tallapaka Annamacharya (Annamayya అన్నమయ్య) , May 9, 1408 – February 23, 1503 was born to Narayana Suri and Lakkamamba in Tallapaka, a village in current day Kadapa district of Andhra Pradesh. More….
Keerthana No. 9
Copper Sheet No. 2
Pallavi: Atade Yeragada (అతడే యెఱగడా)
Ragam: Mukhari
Language: Telugu (తెలుగు)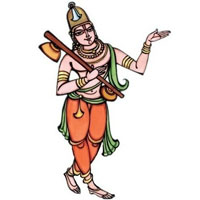 Recitals
Awaiting Contributions.
…
Awaiting Contributions.
[audio: audio-instrumental-file-name.mp3].
This Kriti was originally composed in Telugu. Other languages are for your convenience.
పల్లవి
అతడే యెఱగడా ఆకెలాగు
రాతి గుండెతోడ దా రాకుంటే మాననీ
చరణములు
1.అద్దో నేమొందాకానైనా గాచుకుండలేము
వొద్దనే యెంతవదైనా నోసి రావే
అద్దికపువారము నేమమ్మ గడు గోపగించే
వొద్దువోయ రాకుంతే బోనీవే తాను
2.అంతేవో మదిరాక్షి యాడ మాకెదురు చూచీ
ఏంతైనా గద్దుపని యీడనేలోసి
వొంత నూడిగము నేనే పొద్దయ దేవులకు
కాంతుడు మీదటియెత్తు గననీవే తాను
3.మేలే వేంకటపతి మెల్లనె విచ్చేసినాడు
వేల్లమె అక్కకు విన్నవింతమోసి
ఆలకించి వుండుదము అందరము వాకిటను
లోలో దానాకె గూడి లోలుడయ దాను.
.
Pallavi
ataDE ye~ragaDA AkelAgu
rAti gumDetODa dA rAkumTE mAnanI
Charanams
1.addO nEmomdAkAnainA gAcukumDalEmu
voddanE yemtavadainA nOsi rAvE
addikapuvAramu nEmamma gaDu gOpagimcE
vodduvOya rAkumtE bOnIvE tAnu
2.amtEvO madirAkshi yADa mAkeduru cUcI
EmtainA gaddupani yiiDanElOsi
vomta nUDigamu nEnE poddaya dEvulaku
kAmtuDu mIdaTiyettu gananIvE tAnu
3.mElE vEmkaTapati mellane viccEsinADu
VEllame akkaku vinnavimtamOsi
Alakimci vumDudamu amdaramu vAkiTanu
lOlO dAnAke gUDi lOluDaya dAnu.
.

We will update this page , once we find comprehensive meaning. Feel free to contribute if you know.
.