Composer: Sri Tallapaka Annamacharya (Annamayya అన్నమయ్య) , May 9, 1408 – February 23, 1503 was born to Narayana Suri and Lakkamamba in Tallapaka, a village in current day Kadapa district of Andhra Pradesh. More….
Keerthana No. 153
Copper Sheet No. 27
Pallavi: Atadu Chochchinavela (అతఁడు చొచ్చినవేళ)
Ragam: Sriragam
Language: Telugu (తెలుగు)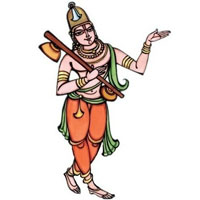 Recitals
Awaiting Contributions.
…
Awaiting Contributions.
[audio: audio-instrumental-file-name.mp3].
This Kriti was originally composed in Telugu. Other languages are for your convenience.
పల్లవి
అతఁడు చొచ్చినవేళ నలరు యడవి
సతి నీదుమురిపెంపు జవ్వనపుటడవి
చరణములు
1.గురుకుచముగిరుల నెక్కువయైన యడవి
తరుణంపు బాహులతల యడవి
పురిగొన్న వాలుఁజూపుల తేట యడవి
గరిమతోఁ దనుతావి కప్పరపుటడవి
2.గనియైన నెరులచీఁకటి పెజుయడ్వి
ఘనమైన జఘనకందకములడవి
నునుపు నడవుల యేనుక పెద్దయడవి
చెనకు నట్టనడిమి సిమ్హపుటడవి
3.అతివ నీ వూరుల యరంట్లయడవి
కత కఱపుల చిలుకల యడవి
ప్రతిలేని వేంకటపతి యాఁక యడవి
తతి నీకుఁగానతఁడు తపమున్న యడవి.
.
Pallavi
ata@mDu coccinavELa nalaru yaDavi
sati nIdumuripempu javvanapuTaDavi
Charanams
1.gurukucamugirula nekkuvayaina yaDavi
taruNampu bAhulatala yaDavi
purigonna vAlu@mjUpula tETa yaDavi
garimatO@m danutAvi kapparapuTaDavi
2.ganiyaina nerulacI@mkaTi pejuyaDvi
ghanamaina jaghanakamdakamulaDavi
nunupu naDavula yEnuka peddayaDavi
cenaku naTTanaDimi simhapuTaDavi
3.ativa nI vUrula yaramTlayaDavi
kata ka~rapula cilukala yaDavi
pratilEni vEmkaTapati yA@mka yaDavi
tati nIku@mgAnata@mDu tapamunna yaDavi.
.

We will update this page , once we find comprehensive meaning. Feel free to contribute if you know.
.