Composer: Sri Tallapaka Annamacharya (Annamayya అన్నమయ్య) , May 9, 1408 – February 23, 1503 was born to Narayana Suri and Lakkamamba in Tallapaka, a village in current day Kadapa district of Andhra Pradesh. More….
Keerthana No. 109
Copper Sheet No. 319
Pallavi: Atandepo mayelika (ఆతఁడేపో మాయేలిక)
Ragam: Malavi
Language: Telugu (తెలుగు)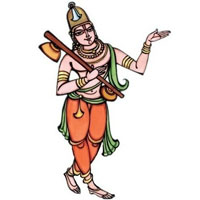 Recitals
Awaiting Contributions.
…
Awaiting Contributions.
[audio: audio-instrumental-file-name.mp3].
This Kriti was originally composed in Telugu. Other languages are for your convenience.
పల్లవి
ఆతఁడేపో మాయేలిక ఆతఁడే జగన్మూల-
మాతఁడే శ్రీవేంకటేద్రియందుమీఁదిదైవము
చరణములు
1.కమలవాసినియైనకాంతఁ బెండ్లాడినాఁ(నవాఁ?)డు
కమలములో బిడ్డఁ గన్నవాఁడు
కమలాప్తునిలోనఁ గలిగి మెరయువాఁడు
కమలనాభుఁడేపో లకుగుమాదైవము
2.జలధి బంధించి లంక సంహరించినవాఁడు
జలధిచొచ్చినదైత్యుఁ జంపినవాఁడు
జలధిసుతునకు వరుస బావైనవాఁడు
జలధిశయనుఁడేపో చక్కని మాదైవము
3.కొండ గొడుగుగనెత్తి గోవులఁగాచినవాఁడు
కొండవంటి రాకాసిఁ గొట్టినవాఁడు
కొండలకు నెక్కుడైనగురుతు శ్రీవేంకటాద్రి-
కొండరూపు దానేపో కోరిన మాదైవము
.
pallavi
Ata@mDEpO mAyElika Ata@mDE jaganmUla-
mAta@mDE SrIvEMkaTEdriyaMdumI@mdidaivamu
charanams
1.kamalavAsiniyainakAMta@m beMDlADinA@m(navA@m?)Du
kamalamulO biDDa@m gannavA@mDu
kamalAptunilOna@m galigi merayuvA@mDu
kamalanABu@mDEpO lakugumAdaivamu
2.jaladhi baMdhiMci laMka saMhariMcinavA@mDu
jaladhicoccinadaityu@m jaMpinavA@mDu
jaladhisutunaku varusa bAvainavA@mDu
jaladhiSayanu@mDEpO cakkani mAdaivamu
3.koMDa goDuguganetti gOvula@mgAcinavA@mDu
koMDavaMTi rAkAsi@m goTTinavA@mDu
koMDalaku nekkuDainagurutu SrIvEMkaTAdri-
koMDarUpu dAnEpO kOrina mAdaivamu
.

We will update this page , once we find comprehensive meaning. Feel free to contribute if you know.
.