Composer: Sri Tallapaka Annamacharya (Annamayya అన్నమయ్య) , May 9, 1408 – February 23, 1503 was born to Narayana Suri and Lakkamamba in Tallapaka, a village in current day Kadapa district of Andhra Pradesh. More….
Keerthana No.37
Copper Sheet No. 1307
Pallavi:Atani Kokkateve (అతని కొక్కతెవే)
Ragam: Ramakriya
Language: Telugu (తెలుగు)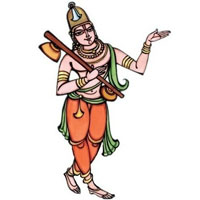 Recitals
Awaiting Contributions.
…
Awaiting Contributions.
[audio: audio-instrumental-file-name.mp3].
This Kriti was originally composed in Telugu. Other languages are for your convenience.
Pallavi
|| అతని కొక్కతెవే వాలు నైతివా
సతులందరును నీసాటివారే కారా ||
Charanams
||గాదె బోసుకొనే వేమే గంపముంచి వలపులు
పోదిసేసి రమణుని పొంతనీవుండి
పాదుసేసి విత్తేవేమే పద నుతోనీసిగ్గులు
అదిగొని చన్నులు పయ్యద గప్పికప్పి ||
|| నెదజల్లేవేమే వెన్నెలవంటి నవ్వులు
కొదదీర నీతని కొలువునను
తుద బచరించేవేమే తొంగి తొంగినీ చూపులు
చెదరిన నీ కొప్పు చేత దెట్టుకొంటాను ||
|| వొడిగట్టు కొనేవేమే వుబ్బరి సంతోసాలు
కడగి శ్రీవేంకటేశు కౌగిటగూడి
నడుమ నీవది యేమే నన్ను నీతండిపుడేలె
అడరియలమేల్మంగనౌతనీ వెఅగవానీ ||
.
Pallavi
||atani kokkatevE vAlu naitivA
satulaMdarunu nIsATivArE kArA ||
Charanams
|| gAde bOsukonE vEmE gaMpamuMchi valapulu
pOdisEsi ramaNuni poMtanIvuMDi
pAdusEsi vittEvEmE pada nutOnIsiggulu
adigoni channulu payyada gappikappi ||
|| nedajallEvEmE vennelavaMTi navvulu
kodadIra nItani koluvunanu
tuda bachariMchEvEmE toMgi toMginI chUpulu
chedarina nI koppu chEta deTTukoMTAnu ||
|| voDigaTTu konEvEmE vubbari saMtOsAlu
kaDagi SrIvEMkaTESu kougiTagUDi
naDuma nIvadi yEmE nannu nItaMDipuDEle
aDariyalamElmaMganoutanI veRagavAnI ||
.

We will update this page , once we find comprehensive meaning. Feel free to contribute if you know.
.