Composer: Sri Tallapaka Annamacharya (Annamayya అన్నమయ్య) , May 9, 1408 – February 23, 1503 was born to Narayana Suri and Lakkamamba in Tallapaka, a village in current day Kadapa district of Andhra Pradesh. More….
Keerthana No. 7
Copper Sheet No. 43
Pallavi: Atanu Sampada (అతను సంపద)
Ragam: Sankarabharanam
Language: Telugu (తెలుగు)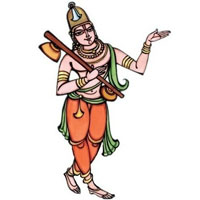 Recitals
Awaiting Contributions.
…
Awaiting Contributions.
[audio: audio-instrumental-file-name.mp3].
This Kriti was originally composed in Telugu. Other languages are for your convenience.
Pallavi
|| అతను సంపద కంటెన సదా చెలిరూపు | మతి చింత చేత వేమరు నలగె గాక ||
Charanams
|| తగు జందురుని నణచ దగదా చెలిమోము | వగలచే నొకయింత వాడెగాక |
పగటు గోవెల మించి పాఱదా సతి పలుకు | జగడమున బతి బాసి సన్నగిలె గాక ||
|| కదలు గందపు గాలి గావదా చెలియూర్పు | కదిమేటి మదనాగ్ని గ్రాగె గాక |
కొదకు తుమ్మెద గమికి గొఱతా చెలి తురుము | చెదరి మరు బాణముల చేజాఱె గాక ||
|| లీల బన్నీటికిని లేతా చెలి చెమట | లోలి బూబానుపున నుడికె గాక |
యేల చిగురున కంటె నెరవా చెలి మోవి | గేళి వేంకట విభుడు గీలించెగాక ||
.
Pallavi
|| atanu saMpada kaMTena sadA celirUpu | mati ciMta cEta vEmaru nalage gAka ||
Charanams
|| tagu jaMduruni naNaca dagadA celimOmu | vagalacE nokayiMta vADegAka |
pagaTu gOvela miMci pArxadA sati paluku | jagaDamuna bati bAsi sannagile gAka ||
|| kadalu gaMdapu gAli gAvadA celiyUrpu | kadimETi madanAgni grAge gAka |
kodaku tummeda gamiki gorxatA celi turumu | cedari maru bANamula cEjArxe gAka ||
|| lIla bannITikini lEtA celi cemaTa | lOli bUbAnupuna nuDike gAka |
yEla ciguruna kaMTe neravA celi mOvi | gELi vEMkaTa viBuDu gIliMcegAka ||
.

We will update this page , once we find comprehensive meaning. Feel free to contribute if you know.
.