Composer: Sri Tallapaka Annamacharya (Annamayya అన్నమయ్య) , May 9, 1408 – February 23, 1503 was born to Narayana Suri and Lakkamamba in Tallapaka, a village in current day Kadapa district of Andhra Pradesh. More….
Keerthana No. 166
Copper Sheet No. 40
Pallavi: Atuvamti Vaibavamu (అటువంటి వైభవము)
Ragam: Desakshi
Language: Telugu (తెలుగు)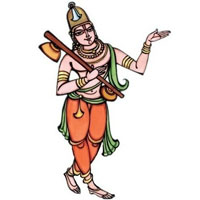 Recitals
Awaiting Contributions.
…
Awaiting Contributions.
[audio: audio-instrumental-file-name.mp3].
This Kriti was originally composed in Telugu. Other languages are for your convenience.
Pallavi
|| అటువంటి వైభవము లమర జేసిన దైవ- | మిటువంటి యోగంబు లిన్నియును జేసి ||
Charanams
|| జలజాక్షి లావణ్య జలధినుప్పొంగిన | నలివేణి ముఖచంద్రు డభ్యుదయ మాయె |
కలికి వలరాయడను కాలకూటంబుతో | దలకొన్న యధరామృతంబు జన్మించె ||
|| వనిత సౌభాగ్యంబు వనధిలోపల దోచె | గొనకొన్న గుఱుతైన కుచపర్వతములు |
తనివోని కోరికల తగు తురంగములతో | ననువైన విరహ బడబానలము గలిగె ||
|| భామయవ్వన మనెడి పాలజలధిలోన | వామాక్షి యైన యవ్వన లక్ష్మి గలిగె |
యీ మంచి తిరువేంకటేశ్వరుం డిందులో | బ్రేమమున సుఖియించి పెంపొందగలిగె ||
.
Pallavi
||aTuvaMTi vaiBavamu lamara jEsina daiva- | miTuvaMTi yOgaMbu linniyunu jEsi ||
Charanams
||jalajAkShi lAvaNya jaladhinuppoMgina | nalivENi muKacaMdru DaByudaya mAye |
kaliki valarAyaDanu kAlakUTaMbutO | dalakonna yadharAmRutaMbu janmiMce ||
||vanita sauBAgyaMbu vanadhilOpala dOce | gonakonna gurxutaina kucaparvatamulu |
tanivOni kOrikala tagu turaMgamulatO | nanuvaina viraha baDabAnalamu galige ||
||BAmayavvana maneDi pAlajaladhilOna | vAmAkShi yaina yavvana lakShmi galige |
yI maMci tiruvEMkaTESvaruM DiMdulO | brEmamuna suKiyiMci peMpoMdagalige ||
.

We will update this page , once we find comprehensive meaning. Feel free to contribute if you know.
.