Composer: Sri Tallapaka Annamacharya (Annamayya అన్నమయ్య) , May 9, 1408 – February 23, 1503 was born to Narayana Suri and Lakkamamba in Tallapaka, a village in current day Kadapa district of Andhra Pradesh. More….
Keerthana No. 497
Copper Sheet No. 385
Pallavi: Aunayya Janaduvu (ఔనయ్య జాణడువు)
Ragam: Samantham
Language: Telugu (తెలుగు)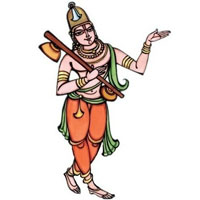 Recitals
Awaiting Contributions.
…
Awaiting Contributions.
[audio: audio-instrumental-file-name.mp3].
This Kriti was originally composed in Telugu. Other languages are for your convenience.
Pallavi
|| ఔనయ్య జాణడువు ప్రహ్లాద వరద | ఆసలు వెట్టకుము ప్రహ్లాదవరద ||
Charanams
||వేసరక శ్రీసతితో వేడుక నవ్వులు నవ్వి | ఆసలు చూపేవు ప్రహ్లాద వరద |
సేస వెట్టిన చేతుల చెరగు వట్టి తిసేవు | ఆ సుద్దులె చెప్పేను ప్రహ్లాద వరద ||
||నంటున తొడమీదను నలినాక్షి నెక్కించుక | అంటేవు సిగ్గులు ప్రహ్లాదవరద |
గెంటుక ఏ పొద్దును కేలుకేలు కీలించుక | అంటువాయ వదివో ప్రహ్లాద వరద ||
||కందువతో కాగిలించి కైవసము సేసుకొంటి- | వందముగ నీకెను ప్రహ్లాద వరద |
పొంది శ్రీవేంకటమున పొంచి ఔభళములోన | అంది వరాలిచ్చేవు ప్రహ్లాద వరద ||
.
Pallavi
||aunayya jANaDuvu prahlAda varada | Asalu veTTakumu prahlAdavarada ||
Charanams
||vEsaraka SrIsatitO vEDuka navvulu navvi | Asalu cUpEvu prahlAda varada |
sEsa veTTina cEtula ceragu vaTTi tisEvu | A suddule ceppEnu prahlAda varada ||
||naMTuna toDamIdanu nalinAkShi nekkiMcuka | aMTEvu siggulu prahlAdavarada |
geMTuka E poddunu kElukElu kIliMcuka | aMTuvAya vadivO prahlAda varada ||
||kaMduvatO kAgiliMci kaivasamu sEsukoMTi- | vaMdamuga nIkenu prahlAda varada |
poMdi SrIvEMkaTamuna poMci auBaLamulOna | aMdi varAliccEvu prahlAda varada ||
.

We will update this page , once we find comprehensive meaning. Feel free to contribute if you know.
.