Composer: Sri Tallapaka Annamacharya (Annamayya అన్నమయ్య) , May 9, 1408 – February 23, 1503 was born to Narayana Suri and Lakkamamba in Tallapaka, a village in current day Kadapa district of Andhra Pradesh. More….
Keerthana No. 33
Copper Sheet No. 106
Pallavi:Ayyo vaaribhaagya (అయ్యో వారిభాగ్య)
Ragam: Raamakriya
Language: Telugu (తెలుగు)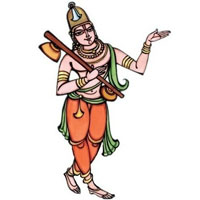 Recitals
Awaiting Contributions.
…
Awaiting Contributions.
[audio: audio-instrumental-file-name.mp3].
This Kriti was originally composed in Telugu. Other languages are for your convenience.
పల్లవి
అయ్యో వారిభాగ్య మంతేకాక
నెయ్యపువెన్న వట్టుక నెయ్యి వెదకేరు
చరణములు
1.దేవుఁడు వెల్లవిరై దిక్కులెల్లా నిడుండఁగా
సోవల నాస్తికునకు శూన్యమై తోఁచు
యీవల వాన గురిసి యేరెంతబంటి వారినా
కావరపుజీవునకు గతుగతుకే
2.హరి శరణంటేఁ గాచేఅట్టియుపాయమే వుండఁగ
విరసానకుఁ గర్మమే వెగ్గళమాయ
పరగ నరులకెల్లాఁ బట్టపగలై యుండఁగా
అరయఁ గొన్నిజంతువుల కంధకారమాయను
3.ఇక్కడ శ్రీవేంకటేశుఁ డెదుటనే వుండఁగాను
అక్కటా మూడున కెందు ననుమానమే
మక్కువ నింతా నమృతమయమైనఁ గోడికి
తెక్కలఁ దవ్వఁబొయ్యేది తిప్పపెంటలే
.
Pallavi
ayyO vAriBAgya mamtEkAka
neyyapuvenna vaTTuka neyyi vedakEru
Charanams
1.dEvu@mDu vellavirai dikkulellA niDumDa@mgA
sOvala nAstikunaku SUnyamai tO@mcu
yIvala vAna gurisi yEremtabanTi vArinA
kAvarapujIvunaku gatugatukE
2.hari SaraNamTE@m gAcEaTTiyupAyamE vunDa@mga
virasAnaku@m garmamE veggaLamAya
paraga narulakellA@m baTTapagalai yunDa@mgA
araya@m gonnijamtuvula kamdhakAramAyanu
3.ikkaDa SrIvEnkaTESu@m DeduTanE vunDa@mgAnu
akkaTA mUDuna kemdu nanumAnamE
makkuva nimtA namRtamayamaina@m gODiki
tekkala@m davva@mboyyEdi tippapenTalE
.

We will update this page , once we find comprehensive meaning. Feel free to contribute if you know.
.