Composer: Sri Tallapaka Annamacharya (Annamayya అన్నమయ్య) , May 9, 1408 – February 23, 1503 was born to Narayana Suri and Lakkamamba in Tallapaka, a village in current day Kadapa district of Andhra Pradesh. More….
Keerthana No. 147
Copper Sheet No. 26
Pallavi: Ayyovidu Nannanakimche (అయ్యో వీఁడు నన్నణఁకించీనే)
Ragam: Ahiri
Language: Telugu (తెలుగు)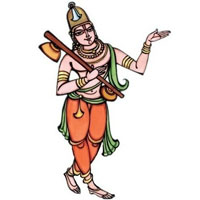 Recitals
Awaiting Contributions.
…
Awaiting Contributions.
[audio: audio-instrumental-file-name.mp3].
This Kriti was originally composed in Telugu. Other languages are for your convenience.
పల్లవి
అయ్యో వీఁడు నన్నణఁకించీనే వీని-
కొయ్యతనాలణఁచక కోపమేల తీరునే
చరణములు
1.గుట్టున వాఁడిందు రాఁగ గొబ్బన నే ముంగురులు
పట్టుకొని పరపుపైఁ బడఁదీసి
గట్టిగ గుబ్బలమీఁది కస్తూచెమటలనే
అట్టునిట్టు సేయక నాయలపేల తీరునే
2.గక్కున వాఁడిందు రాఁగా గడెవెట్టి తమకావ
చెక్కుదోయి నాకొనచేతనే నొక్కి
పుక్కిటితమూలమిడిపొదిగొన్న కౌఁగిటిలో నొక్కినఁటిలో
నిక్కినఁగాని నానొగులేల తీరునే
3.కూరిమి వాఁడిందు రాఁగా కొంకక నావాఁడిగోళ్ళ
జీరలుగా నొడలెల్ల జిమ్ముచెఁ దీసి
ధీరత వేకటగిరి దేవుఁడైన వానికి నా-
నేరుపెల్లఁ జూపక నా నెగులేల తీరునే
.
Pallavi
ayyO vI@mDu nannaNa@mkimcInE vIni-
koyyatanAlaNa@mcaka kOpamEla tIrunE
Charanams
1.guTTuna vA@mDimdu rA@mga gobbana nE mumgurulu
paTTukoni parapupai@m baDa@mdIsi
gaTTiga gubbalamI@mdi kastUcemaTalanE
aTTuniTTu sEyaka nAyalapEla tIrunE
2.gakkuna vA@mDimdu rA@mgA gaDeveTTi tamakAva
cekkudOyi nAkonacEtanE nokki
pukkiTitamuulamiDipodigonna kau@mgiTilO nokkina@mTilO
nikkina@mgAni nAnogulEla tIrunE
3.kUrimi vA@mDimdu rA@mgA komkaka nAvA@mDigOLLa
jIralugA noDalella jimmuce@m dIsi
dhIrata vEkaTagiri dEvu@mDaina vAniki nA-
nErupella@m jUpaka nA negulEla tIrunE
.

We will update this page , once we find comprehensive meaning. Feel free to contribute if you know.
.