Composer: Sri Tallapaka Annamacharya (Annamayya అన్నమయ్య) , May 9, 1408 – February 23, 1503 was born to Narayana Suri and Lakkamamba in Tallapaka, a village in current day Kadapa district of Andhra Pradesh. More….
Keerthana No. 141
Copper Sheet No. 324
Pallavi: Badi Badi Tirigadi (బడి బడి తిరిగాడీ)
Ragam: Sankarabharanam
Language: Telugu (తెలుగు)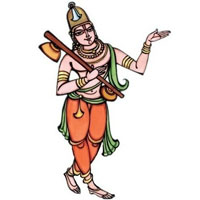 Recitals
Awaiting Contributions.
…
Awaiting Contributions.
[audio: audio-instrumental-file-name.mp3].
This Kriti was originally composed in Telugu. Other languages are for your convenience.
Pallavi
బడి బడి తిరిగాడీ బాలకృష్ణుడు
ఎడయని జాణగదే ఈ బాలకృష్ణుడు
Charanams
1. చొక్కుచు సోలుచువచ్చి సుదతులు ఎత్తుకుంటే
పక్కన నవ్వులు నవ్వీ బాలకృష్ణుడు
ఇక్కువకూ చేయిచాచి ఏడనైన తొంగిచూచి
ఎక్కుడు గామిడికద ఈ బాలకృష్ణుడు
2. చన్నులంటి సారె సారె చవిగా ముద్దులువెట్టి
పన్నీకదే మోహమెల్ల బాలకృష్ణుడు
సన్నలనే మొక్కు మొక్కి సమ్మతిపై ఎదదీసి
ఎన్నేసి నేర్చినాడే బాలకృష్ణుడు
3. నిండుకాగిట నించి నేరుపులు పచరించీ
పండు మాటలాడీకదే బాలకృష్ణుడు
అండనే శ్రీవేంకటాద్రి న్యాయమెరిగి తాకూడే
ఎండనీడ కన్నులతో బాలకృష్ణుడు
.
Pallavi
baDi baDi tirigADI bAlakrushNuDu
eDayani jANagadE I bAlakrushNuDu
Charanams
1.chokkuchu sOluchuvachchi sudatulu ettukuMTE
pakkana navvulu navvI bAlakrushNuDu
ikkuvaku cheyichAchi EDanaina toMgichUchi ekkaDu gAmiDikada I bAlakrushNuDu
2.channulaMTi sAre sAre chavigA mudduluveTTi
pannI kadE mOhamella bAlakrushNuDu
sannalanE mokkumokki sammatipai edadIsi
ennEsi nErchinADE balakrushNuDu
3.niMDukAgiTa niMchi nErupulu pachariMchI
paMDu mATalADIkadE balakrushNuDu
aMDanE SrIvEMkaTAdri nyAyamerigi tAkUdE eMDanIDa kannulatO balakrushNuDu
.

We will update this page , once we find comprehensive meaning. Feel free to contribute if you know.
.