Composer: Sri Tallapaka Annamacharya (Annamayya అన్నమయ్య) , May 9, 1408 – February 23, 1503 was born to Narayana Suri and Lakkamamba in Tallapaka, a village in current day Kadapa district of Andhra Pradesh. More….
Keerthana No. 10
Copper Sheet No. 202
Pallavi: Bakti sulabudunu (భక్తి సులభుడును)
Ragam: Saalmgam
Language: Telugu (తెలుగు)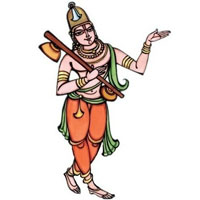 Recitals
Awaiting Contributions.
…
Awaiting Contributions.
[audio: audio-instrumental-file-name.mp3].
This Kriti was originally composed in Telugu. Other languages are for your convenience.
పల్లవి
భక్తి సులభుడును పరతంత్రుడు హరి
యుక్తి సాధ్య మిదె యుకరికీగాడు
చరణములు
1.నినుపగులోకముల నిండినవిష్ణుడు
మనజుడ నాలో మనికియయ్యి
మునుకొని వేదములు ముడిగినమంత్రము
కొననాలికలలో గుదురై నిలిచె || భక్తి ||
2.యెలమి ళవతలనేలినదేవుడు
నలుగడ నధముని నన్ను నేలె
బలుపగు లక్ష్మిపతియగు శ్రీహరి
యెల మాయింటను యిదివో నిలిచె || భక్తి ||
3.పొడవుకు బొడవగుపురుషోత్తముడిదె
బుడిబుడి మాచేత బూజగొనె
పిడువుకిదివో శ్రీవేంకటేశ్వరుడు
బడివాయడు మాపాలిత నిలిచి || భక్తి ||
.
Pallavi
Bakti sulaBuDunu parataMtruDu hari
yukti sAdhya mide yukarikIgADu
Charanams
1.ninupagulOkamula niMDinavishNuDu
manajuDa nAlO manikiyayyi
munukoni vEdamulu muDiginamaMtramu
konanAlikalalO gudurai niliche || Bakti ||
2.yelami LavatalanElinadEvuDu
nalugaDa nadhamuni nannu nEle
balupagu laxmipatiyagu SrIhari
yela mAyiMTanu yidivO niliche || Bakti ||
3.poDavuku boDavagupurushOttamuDide
buDibuDi mAchEta bUjagone
piDuvukidivO SrIvEMkaTESWaruDu
baDivAyaDu mApAlita nilichi || Bakti ||
.

We will update this page , once we find comprehensive meaning. Feel free to contribute if you know.
.