Composer: Muttukumaraswamy (முத்துகுமாரச்வாமி) popularly known as Muthuswamy Dikshithar (முத்துஸ்வாமி தீக்ஷிதர் – ముత్తుస్వామీ డిక్షితర్), (March 24, 1775 – October 21, 1835) was born in Tiruvarur (of Thanjavur district of Tamil Nadu) to a Tamil Iyer Brahmin couple Ramaswami Dikshitar and Subbamma, as the eldest son. He also had two younger brothers Baluswami, Chinnaswami and a sister Balambal.Chidambaranatha Yogi was his guru. More…

Raagam: Manohari
Taalam: Rupakam
Diety: Sri Lakshmi Krithis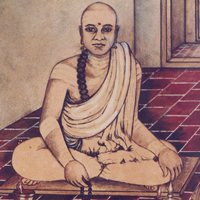 .
Recitals
Album: Unknown | Voice: R.N. Thyagarajan,R.N. Tharanathan

Awaiting Contributions.

We believe this kriti was originally composed in sanskrit. Other languages are for your convenience.
పల్లవి
భారతి మద్ధిషణా జాడ్యాపహే త్వద్భక్త –
కల్పక మహీ రుహే ముఖాంభోరుహే శ్రీ
అనుపల్లవి
కారుణ్య సుధా లహరి కంజజ దేవ మనోహరి
శారదే వాగధీశ్వరి శశి కుంద ధవళ భాస్వరి
చరణము
వల్లకీ పుస్తకాభయ వరద కోమళ-తర కరే
పల్లవాంఘ్రి యుగళ మణి ప్రకాశ మంజీర ధరే
ఫుల్ల సరసిజాక్షి శ్రీ పుర స్వ-పీఠాంతరే
వల్లభేశ విధి హరి హర
వాంఛితార్థ ప్రదే వరే
(మధ్యమ కాల సాహిత్యమ్)
మల్లికాది సుమార్చితే మాయా కార్య వర్జితే
వల్లీశ గురు గుహ నుతేऽవాదిక్షాంతార్ణ యుతే
variations
భారతి – భారతీ
ముఖాంభోరుహే – ముఖాంబురుహే
నుతేऽవాదిక్షాంతార్ణ – నుతే ఆదిక్షాంతార్ణ – నుతే వాదిక్షాంతార్ణ
.
பல்லவி
பா4ரதி மத்3தி4ஷணா ஜாட்3யாபஹே த்வத்3ப4க்த –
கல்பக மஹீ ருஹே முகா2ம்போ4ருஹே ஸ்ரீ
அனுபல்லவி
காருண்ய ஸுதா4 லஹரி கஞ்ஜஜ தே3வ மனோஹரி
ஸா1ரதே3 வாக3தீ4ஸ்1வரி ஸ1ஸி1 குந்த3 த4வள பா4ஸ்வரி
சரணம்
வல்லகீ புஸ்தகாப4ய வரத3 கோமள-தர கரே
பல்லவாங்க்4ரி யுக3ள மணி ப்ரகாஸ1 மஞ்ஜீர த4ரே
பு2ல்ல ஸரஸிஜாக்ஷி ஸ்ரீ புர ஸ்வ-பீடா2ந்தரே
வல்லபே4ஸ1 விதி4 ஹரி ஹர
வாஞ்சி2தார்த2 ப்ரதே3 வரே
(மத்4யம கால ஸாஹித்யம்)
மல்லிகாதி3 ஸுமார்சிதே மாயா கார்ய வர்ஜிதே
வல்லீஸ1 கு3ரு கு3ஹ நுதேऽவாதி3க்ஷாந்தார்ண யுதே
variations
பா4ரதி – பா4ரதீ
முகா2ம்போ4ருஹே – முகா2ம்பு3ருஹே
நுதேऽவாதி3க்ஷாந்தார்ண – நுதே ஆதி3க்ஷாந்தார்ண – நுதே வாதி3க்ஷாந்தார்ண
.
ಪಲ್ಲವಿ
ಭಾರತಿ ಮದ್ಧಿಷಣಾ ಜಾಡ್ಯಾಪಹೇ ತ್ವದ್ಭಕ್ತ –
ಕಲ್ಪಕ ಮಹೀ ರುಹೇ ಮುಖಾಂಭೋರುಹೇ ಶ್ರೀ
ಅನುಪಲ್ಲವಿ
ಕಾರುಣ್ಯ ಸುಧಾ ಲಹರಿ ಕಂಜಜ ದೇವ ಮನೋಹರಿ
ಶಾರದೇ ವಾಗಧೀಶ್ವರಿ ಶಶಿ ಕುಂದ ಧವಳ ಭಾಸ್ವರಿ
ಚರಣಮ್
ವಲ್ಲಕೀ ಪುಸ್ತಕಾಭಯ ವರದ ಕೋಮಳ-ತರ ಕರೇ
ಪಲ್ಲವಾಂಘ್ರಿ ಯುಗಳ ಮಣಿ ಪ್ರಕಾಶ ಮಂಜೀರ ಧರೇ
ಫುಲ್ಲ ಸರಸಿಜಾಕ್ಷಿ ಶ್ರೀ ಪುರ ಸ್ವ-ಪೀಠಾಂತರೇ
ವಲ್ಲಭೇಶ ವಿಧಿ ಹರಿ ಹರ
ವಾಂಛಿತಾರ್ಥ ಪ್ರದೇ ವರೇ
(ಮಧ್ಯಮ ಕಾಲ ಸಾಹಿತ್ಯಮ್)
ಮಲ್ಲಿಕಾದಿ ಸುಮಾರ್ಚಿತೇ ಮಾಯಾ ಕಾರ್ಯ ವರ್ಜಿತೇ
ವಲ್ಲೀಶ ಗುರು ಗುಹ ನುತೇऽವಾದಿಕ್ಷಾಂತಾರ್ಣ ಯುತೇ
variations
ಭಾರತಿ – ಭಾರತೀ
ಮುಖಾಂಭೋರುಹೇ – ಮುಖಾಂಬುರುಹೇ
ನುತೇऽವಾದಿಕ್ಷಾಂತಾರ್ಣ – ನುತೇ ಆದಿಕ್ಷಾಂತಾರ್ಣ – ನುತೇ ವಾದಿಕ್ಷಾಂತಾರ್ಣ
.
पल्लवि
भारति मद्धिषणा जाड्यापहे त्वद्भक्त –
कल्पक मही रुहे मुखाम्भोरुहे श्री
अनुपल्लवि
कारुण्य सुधा लहरि कञ्जज देव मनोहरि
शारदे वागधीश्वरि शशि कुन्द धवळ भास्वरि
चरणम्
वल्लकी पुस्तकाभय वरद कोमळ-तर करे
पल्लवाङ्घ्रि युगळ मणि प्रकाश मञ्जीर धरे
फुल्ल सरसिजाक्षि श्री पुर स्व-पीठान्तरे
वल्लभेश विधि हरि हर
वाञ्छितार्थ प्रदे वरे
(मध्यम काल साहित्यम्)
मल्लिकादि सुमार्चिते माया कार्य वर्जिते
वल्लीश गुरु गुह नुतेऽवादिक्षान्तार्ण युते
variations
भारति – भारती
मुखाम्भोरुहे – मुखाम्बुरुहे
नुतेऽवादिक्षान्तार्ण – नुते आदिक्षान्तार्ण – नुते वादिक्षान्तार्ण
.
pallavi
bhArati maddhishaNA jADyApahE tvadbhakta –
kalpaka mahI ruhE mukhAmbhOruhE SrI
anupallavi
kAruNya sudhA lahari kanjaja dEva manOhari
SAradE vAgadhISvari SaSi kunda dhavaLa bhAsvari
caraNam
vallakI pustakAbhaya varada kOmaLa-tara karE
pallavAnghri yugaLa maNi prakASa manjIra dharE
phulla sarasijAkshi SrI pura sva-pIThAntarE
vallabhESa vidhi hari hara
vAnchitArtha pradE varE
(madhyama kAla sAhityam)
mallikAdi sumArcitE mAyA kArya varjitE
vallISa guru guha nutE(a)vAdikshAntArNa yutE
variations
bhArati – bhAratI
mukhAmbhOruhE – mukhAmburuhE
nutE(a)vAdikshAntArNa – nutE AdikshAntArNa – nutE vAdikshAntArNa
.
പല്ലവി
ഭാരതി മദ്ധിഷണാ ജാഡ്യാപഹേ ത്വദ്ഭക്ത –
കല്പക മഹീ രുഹേ മുഖാമ്ഭോരുഹേ ശ്രീ
അനുപല്ലവി
കാരുണ്യ സുധാ ലഹരി കഞ്ജജ ദേവ മനോഹരി
ശാരദേ വാഗധീശ്വരി ശശി കുന്ദ ധവള ഭാസ്വരി
ചരണമ്
വല്ലകീ പുസ്തകാഭയ വരദ കോമള-തര കരേ
പല്ലവാങ്ഘ്രി യുഗള മണി പ്രകാശ മഞ്ജീര ധരേ
ഫുല്ല സരസിജാക്ഷി ശ്രീ പുര സ്വ-പീഠാന്തരേ
വല്ലഭേശ വിധി ഹരി ഹര
വാഞ്ഛിതാര്ഥ പ്രദേ വരേ
(മധ്യമ കാല സാഹിത്യമ്)
മല്ലികാദി സുമാര്ചിതേ മായാ കാര്യ വര്ജിതേ
വല്ലീശ ഗുരു ഗുഹ നുതേऽവാദിക്ഷാന്താര്ണ യുതേ
variations
ഭാരതി – ഭാരതീ
മുഖാമ്ഭോരുഹേ – മുഖാമ്ബുരുഹേ
നുതേऽവാദിക്ഷാന്താര്ണ – നുതേ ആദിക്ഷാന്താര്ണ – നുതേ വാദിക്ഷാന്താര്ണ
.
Pallavi
O Bharati! The remover of the laziness of my mind.The celestial wish-yielding tree
to devotees!
Anupallavi
The wave of the nectar of compassion.The captivator of the mind of the lotus-born Brahma.Sharada!
The goddess of speech.The skin as radiant and white as the moon and the jasminum flower
Charanam
The one who bears in her tender hands the vallaki instrument,the varada and abhaya mudras.
The tender feet which are radiant and wear bejewelled anklets.The one whose eyes are like the full-bloom lotuses
The one who resides in the shripura pitha.The one who grants the desires of Ganesa – the Lord of Vallabha, Brahma, Vishnu and Siva.The Venerable one.
The one worshipped by the jasmine and other fragrant flowers.The one devoid of the activities associated
with maya or illusion.The one praised by guruguha – Lord of Valli.
The representation of all the alphabets beginning with "a" and ending with "ksha".
.