Composer: Muttukumaraswamy (முத்துகுமாரச்வாமி) popularly known as Muthuswamy Dikshithar (முத்துஸ்வாமி தீக்ஷிதர் – ముత్తుస్వామీ డిక్షితర్), (March 24, 1775 – October 21, 1835) was born in Tiruvarur (of Thanjavur district of Tamil Nadu) to a Tamil Iyer Brahmin couple Ramaswami Dikshitar and Subbamma, as the eldest son. He also had two younger brothers Baluswami, Chinnaswami and a sister Balambal.Chidambaranatha Yogi was his guru. More…

Raagam: Natakuranji
Taalam: Jhampa
Diety: Navagraha Krithis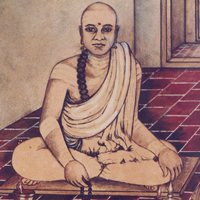 .
Recitals
Album: Unknown | Voice: M.Mani Iyer
Album: Unknown | Voice: Dr.Semmangudi,R.Srinivasa Iyer

Awaiting Contributions.

We believe this kriti was originally composed in sanskrit. Other languages are for your convenience.
పల్లవి
బుధమాశ్రయామి సతతం
సుర వినుతం చంద్ర తారా సుతమ్
అనుపల్లవి
బుధ జనైర్వేదితం భూ-సురైర్మోదితం
(మధ్యమ కాల సాహిత్యమ్)
మధుర కవితా ప్రదం మహనీయ సంపదమ్
చరణము
కుంకుమ సమ ద్యుతిం గురు గుహ ముదాకృతిం
కుజ వైరిణం మణి మకుట హార –
కేయూర కంకణాది ధరణమ్
కమనీయ-తర మిథున కన్యాధిపం
పుస్తక కరం నపుంసకం
(మధ్యమ కాల సాహిత్యమ్)
కింకర జన మహితం కిల్బిషాది రహితం
శంకర భక్త హితం సదానంద సహితమ్
.
பல்லவி
பு3த4மாஸ்1ரயாமி ஸததம்
ஸுர வினுதம் சந்த்3ர தாரா ஸுதம்
அனுபல்லவி
பு3த4 ஜனைர்வேதி3தம் பூ4-ஸுரைர்மோதி3தம்
(மத்4யம கால ஸாஹித்யம்)
மது4ர கவிதா ப்ரத3ம் மஹனீய ஸம்பத3ம்
சரணம்
குங்கும ஸம த்3யுதிம் கு3ரு கு3ஹ முதா3க்ரு2திம்
குஜ வைரிணம் மணி மகுட ஹார –
கேயூர கங்கணாதி3 த4ரணம்
கமனீய-தர மிது2ன கன்யாதி4பம்
புஸ்தக கரம் நபும்ஸகம்
(மத்4யம கால ஸாஹித்யம்)
கிங்கர ஜன மஹிதம் கில்பி3ஷாதி3 ரஹிதம்
ஸ1ங்கர ப4க்த ஹிதம் ஸதா3னந்த3 ஸஹிதம்
.
ಪಲ್ಲವಿ
ಬುಧಮಾಶ್ರಯಾಮಿ ಸತತಂ
ಸುರ ವಿನುತಂ ಚಂದ್ರ ತಾರಾ ಸುತಮ್
ಅನುಪಲ್ಲವಿ
ಬುಧ ಜನೈರ್ವೇದಿತಂ ಭೂ-ಸುರೈರ್ಮೋದಿತಂ
(ಮಧ್ಯಮ ಕಾಲ ಸಾಹಿತ್ಯಮ್)
ಮಧುರ ಕವಿತಾ ಪ್ರದಂ ಮಹನೀಯ ಸಂಪದಮ್
ಚರಣಮ್
ಕುಂಕುಮ ಸಮ ದ್ಯುತಿಂ ಗುರು ಗುಹ ಮುದಾಕೃತಿಂ
ಕುಜ ವೈರಿಣಂ ಮಣಿ ಮಕುಟ ಹಾರ –
ಕೇಯೂರ ಕಂಕಣಾದಿ ಧರಣಮ್
ಕಮನೀಯ-ತರ ಮಿಥುನ ಕನ್ಯಾಧಿಪಂ
ಪುಸ್ತಕ ಕರಂ ನಪುಂಸಕಂ
(ಮಧ್ಯಮ ಕಾಲ ಸಾಹಿತ್ಯಮ್)
ಕಿಂಕರ ಜನ ಮಹಿತಂ ಕಿಲ್ಬಿಷಾದಿ ರಹಿತಂ
ಶಂಕರ ಭಕ್ತ ಹಿತಂ ಸದಾನಂದ ಸಹಿತಮ್
.
पल्लवि
बुधमाश्रयामि सततं
सुर विनुतं चन्द्र तारा सुतम्
अनुपल्लवि
बुध जनैर्वेदितं भू-सुरैर्मोदितं
(मध्यम काल साहित्यम्)
मधुर कविता प्रदं महनीय सम्पदम्
चरणम्
कुङ्कुम सम द्युतिं गुरु गुह मुदाकृतिं
कुज वैरिणं मणि मकुट हार –
केयूर कङ्कणादि धरणम्
कमनीय-तर मिथुन कन्याधिपं
पुस्तक करं नपुंसकं
(मध्यम काल साहित्यम्)
किङ्कर जन महितं किल्बिषादि रहितं
शङ्कर भक्त हितं सदानन्द सहितम्
.
pallavi
budhamASrayAmi satataM
sura vinutaM candra tArA sutam
anupallavi
budha janairvEditaM bhU-surairmOditaM
(madhyama kAla sAhityam)
madhura kavitA pradaM mahanIya sampadam
caraNam
kunkuma sama dyutiM guru guha mudAkRtiM
kuja vairiNaM maNi makuTa hAra –
kEyUra kankaNAdi dharaNam
kamanIya-tara mithuna kanyAdhipaM
pustaka karaM napuMsakaM
(madhyama kAla sAhityam)
kinkara jana mahitaM kilbishAdi rahitaM
Sankara bhakta hitaM sadAnanda sahitam
.
പല്ലവി
ബുധമാശ്രയാമി സതതം
സുര വിനുതം ചന്ദ്ര താരാ സുതമ്
അനുപല്ലവി
ബുധ ജനൈര്വേദിതം ഭൂ-സുരൈര്മോദിതം
(മധ്യമ കാല സാഹിത്യമ്)
മധുര കവിതാ പ്രദം മഹനീയ സമ്പദമ്
ചരണമ്
കുങ്കുമ സമ ദ്യുതിം ഗുരു ഗുഹ മുദാകൃതിം
കുജ വൈരിണം മണി മകുട ഹാര –
കേയൂര കങ്കണാദി ധരണമ്
കമനീയ-തര മിഥുന കന്യാധിപം
പുസ്തക കരം നപുംസകം
(മധ്യമ കാല സാഹിത്യമ്)
കിങ്കര ജന മഹിതം കില്ബിഷാദി രഹിതം
ശങ്കര ഭക്ത ഹിതം സദാനന്ദ സഹിതമ്
.
Pallavi:
I always worship Budha; the one worshipped by devas; the son of moon & Tara.
AnuPallavi:
The one known by the intelligent, the one who pleases the brahmans; the one who bestows the sweet gift of poesy. The one who grants riches.
Charanam:
The one who has a reddish body; the form which pleases guruguha,; the enemy of mars, the one who wears a bejewelled crown, necklace, shoulder-armour and bracelets; the lord of the beautiful houses of gemini & cancer; the one who holds a book in his hand, the one who is a eunuch; the one worshipped by kinkaras; the one who is free of evil; the one soft towards he devotees of Shiva. The ever blissful.
.