Composer: Sri Tallapaka Annamacharya (Annamayya అన్నమయ్య) , May 9, 1408 – February 23, 1503 was born to Narayana Suri and Lakkamamba in Tallapaka, a village in current day Kadapa district of Andhra Pradesh. More….
Keerthana No. 17
Copper Sheet No. 203
Pallavi: Bumilona (భూమిలోన)
Ragam: Ramakriya
Language: Telugu (తెలుగు)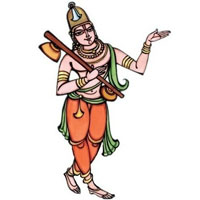 Recitals
Awaiting Contributions.
…
Awaiting Contributions.
[audio: audio-instrumental-file-name.mp3].
This Kriti was originally composed in Telugu. Other languages are for your convenience.
పల్లవి
భూమిలోన గొత్తలాయ బుత్రోత్సవ మిదివో
నేమవు కృష్ణజయంతి నేడే యమ్మా
చరణములు
1.కావిరి బ్రహ్మండము కడుపులోనున్న వాని
దేవకి గర్భమును నద్ధిర మోచెను
దేవతలెల్ల వెదకి తెలిసి కాననివాని
యీవల వసుదేవుదు యెట్టుగనెనమ్మ || భూమిలోన ||
2.పొడవుకు ఒదవైన పురుషోత్తముడు నేడు
అడరి తొత్తెలబాలుడాయ నమ్మి
వుడుగక యఙ్ఞ్బాగమొగి నారగించేవాడు
కొడుకాఇ తల్లిచన్నగుడిచీనమ్మ || భూమిలోన ||
3.పాలజలధియల్లుండె పాయకుండేయీతనికి
పాలపుట్లపండుగ బాతేయనటే
ఆలరి శ్రీవేంకటాద్రి నాతలాడనే మరిగి
వేలరియై కడు పెచ్చువెరిగీనమ్మ || భూమిలోన ||
.
Pallavi
BUmilOna gottalAya butrOtsava midivO
nEmavu kRShNajayaMti nEDE yammA
Charanams
1.kAviri brahmaMDamu kaDupulOnunna vAni
dEvaki garBamunu naddhira moechenu
dEvatalella vedaki telisi kAnanivAni
yIvala vasudEvudu yeTTuganenamma || BUmilOna ||
2.poDavuku odavaina purushOttamuDu nEDu
aDari tottelabAluDAya nammi
vuDugaka ya~m~nbAgamogi nAragiMchEvADu
koDukaai tallichannaguDichInamma || BUmilOna ||
3.pAlajaladhiyalluMDe pAyakuMDEyItaniki
pAlapuTlapaMDuga bAtEyanaTE
Alari SrIvEMkaTAdri nAtalADanE marigi
vElariyai kaDu pecchuverigInamma || BUmilOna ||
.

We will update this page , once we find comprehensive meaning. Feel free to contribute if you know.
.