Composer: Sri Tallapaka Annamacharya (Annamayya అన్నమయ్య) , May 9, 1408 – February 23, 1503 was born to Narayana Suri and Lakkamamba in Tallapaka, a village in current day Kadapa district of Andhra Pradesh. More….
Keerthana No. 183
Copper Sheet No. 62
Pallavi: Cellabo Aluga (చెల్లఁబో అలుగ)
Ragam: Sriragam
Language: Telugu (తెలుగు)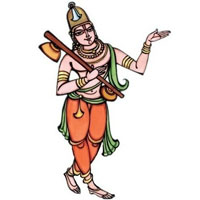 Recitals
Awaiting Contributions.
…
Awaiting Contributions.
[audio: audio-instrumental-file-name.mp3].
This Kriti was originally composed in Telugu. Other languages are for your convenience.
పల్లవి
చెల్లఁబో అలుగ నేఁడు సిగ్గుగాదా
వొల్లని వీనిఁ బాసి వుండికీ నామనసు
చరణములు
1.పొలసి యీ ప్రాణమిట్టే పోయినాఁ బోయఁ గాక
తవంపు నేసే యీ తను వేఁటికే
కలసియుఁ గలయని కఠి చిత్తుని వీని
సొలసి కమ్మరఁ జూచీ నా మనసు
2.మరుతాపమున మేను మాఁడిన మాఁడెఁగాక
పరులబారికిఁ జిక్కేబ్రదుకేఁటికే
విరహాన నొకతెపై వేదనఁ బొరలు వీని-
కరుణలే కోరీని కష్తపు నామనసు
3.నడిఁబెట్టి వయసిట్టే చంపినఁ జంపెఁగాక
వటిఁబెట్టి వేఁచే నావయసేఁటికే
కడు జాణఁడైన వేంకటగిరీంద్రుఁడు వాని-
వొడలు సోఁకిన నిట్టే వుబ్బెడి నామనసు
.
Pallavi
cella@mbO aluga nE@mDu siggugAdA
vollani vIni@m bAsi vumDikI nAmanasu
Charanams
1.polasi yI prANamiTTE pOyinA@m bOya@m gAka
tavampu nEsE yI tanu vE@mTikE
kalasiyu@m galayani kaThi cittuni vIni
solasi kammara@m jUcI nA manasu
2.marutApamuna mEnu mA@mDina mA@mDe@mgAka
parulabAriki@m jikkEbradukE@mTikE
virahAna nokatepai vEdana@m boralu vIni-
karuNalE kOrIni kashtapu nAmanasu
3.naDi@mbeTTi vayasiTTE campina@m jampe@mgAka
vaTi@mbeTTi vE@mcE nAvayasE@mTikE
kaDu jANa@mDaina vEmkaTagirImdru@mDu vAni-
voDalu sO@mkina niTTE vubbeDi nAmanasu
.

We will update this page , once we find comprehensive meaning. Feel free to contribute if you know.
.