Composer: Sri Tallapaka Annamacharya (Annamayya అన్నమయ్య) , May 9, 1408 – February 23, 1503 was born to Narayana Suri and Lakkamamba in Tallapaka, a village in current day Kadapa district of Andhra Pradesh. More….
Keerthana No. 86
Copper Sheet No. 15
Pallavi: Cetta Vattevera (చెట్ట వట్టేవేరా)
Ragam: Kambodhi
Language: Telugu (తెలుగు)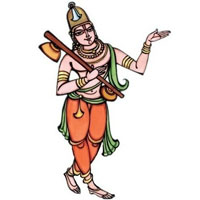 Recitals
Awaiting Contributions.
…
Awaiting Contributions.
[audio: audio-instrumental-file-name.mp3].
This Kriti was originally composed in Telugu. Other languages are for your convenience.
పల్లవి
చెట్ట వట్టేవేరా నన్ను జెంచుదానిని
పుట్టతేనెలారగించి పోకవుండేవా
చరణములు
1.కుదురు గదలని నా గుబ్బలే చూచితి గాని
గదరు బుణుగు కంపు గానవైతినిగా
చిదిమినా నెఱగవు నేరేవు నా పొడగని
గుదిలొన్న మరునమ్ము గుండె దాకెనా
2.తోరంపు నా మెఱుగుల తొడలే చూచితి గాని
జీరల నా నెమటమై చిత్తగించవా
కేరేవు నా పొడగని కిందుపడి నీవు నాకు
యీరాని చనవులెల్లా నియ్యనోపుదా
3.పిక్కటిల్లు తేనెల నా పెదవే చూచితి గాని
చొక్కపు నా యెంగిలిని చూడవైతిగా
ఇక్కువ గరగి వేంకటేశ నన్ను గూడితివి
వొక్కనిమిషమోరువ నోపవైతిగా
.
Pallavi
ceTTa vaTTEvErA nannu jemcudAnini
puTTatEnelAragimci pOkavumDEvA
Charanams
1.kuduru gadalani nA gubbalE cUciti gAni
gadaru buNugu kampu gAnavaitinigA
cidiminA ne~ragavu nErEvu nA poDagani
gudilonna marunammu gumDe dAkenA
2.tOrampu nA me~rugula toDalE cUciti gAni
jIrala nA nemaTamai cittagincavA
kErEvu nA poDagani kimdupaDi nIvu nAku
yIrAni canavulellA niyyanOpudA
3.pikkaTillu tEnela nA pedavE cUciti gAni
cokkapu nA yemgilini cUDavaitigA
ikkuva garagi vEmkaTESa nannu gUDitivi
vokkanimishamOruva nOpavaitigA.
.

We will update this page , once we find comprehensive meaning. Feel free to contribute if you know.
.