Composer: Sri Tallapaka Annamacharya (Annamayya అన్నమయ్య) , May 9, 1408 – February 23, 1503 was born to Narayana Suri and Lakkamamba in Tallapaka, a village in current day Kadapa district of Andhra Pradesh. More….
Keerthana No. 195
Copper Sheet No. 1433
Pallavi: Chakkani Manini (చక్కని మానిని)
Ragam: Mukhari
Language: Telugu (తెలుగు)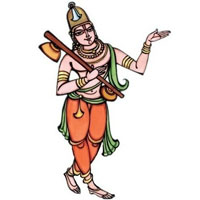 Recitals
Awaiting Contributions.
…
Awaiting Contributions.
[audio: audio-instrumental-file-name.mp3].
This Kriti was originally composed in Telugu. Other languages are for your convenience.
Pallavi
చక్కని మానిని మీసరి యెవ్వరె
యెక్కువైన నీ భావమెంచి చూడవసమా ||
Charanams
1.కోమలి నీకుచముల కొండలకొనల పొంత
వోముచు మించి నిలిచెనొక సింహము
కాముడు జఘ్హనమనే కట్టుబండిమీద బెట్టి
దీమముతో వేటలాడిదేరి చూడ వసమా ||
2.పడతిలే జిగురుల పాదపుటడవిలోన
నడవుల యేనుగలు నటిఇంచగా
తొడలరటి కంబాలతో గట్టి దీములుగా
బడిబడి వేటలాడ భావించ వసమా ||
3.అంగనముఖ్హమనేటి అంబుజాకరము పొంత
ముంగిట జూపుల లేళ్ళు మోహరించగా
కంగని శ్రీవేంకటేశు కౌగిటి భావానగట్టి
చెంగటనే వేటలాడి జిత్తగించ వసమా ||
.
Pallavi
chakkani mAnini mIsari yevvare
yekkuvaina nI bhAvameMchi chUDavasamA ||
Charanams
1.kOmali nIkuchamula koMDalakonala poMta
vOmuchu miMchi nilichenoka siMhamu
kAmuDu jaGhanamanE kaTTubaMDimIda beTTi
dImamutO vETalADidEri chUDa vasamA ||
2.paDatilE jigurula pAdapuTaDavilOna
naDavula yEnugalu naTiiMchagA
toDalaraTi kaMbAlatO gaTTi dImulugA
baDibaDi vETalADa bhAviMcha vasamA ||
3.aMganamuKhamanETi aMbujAkaramu poMta
muMgiTa jUpula lELLu mOhariMchagA
kaMgani SrIvEMkaTESu kougiTi bhAvAnagaTTi
cheMgaTanE vETalADi jittagiMcha vasamA ||
.

We will update this page , once we find comprehensive meaning. Feel free to contribute if you know.
.