Ustad Ghulam Ali (Urdu: غلام علی, Hindi: ग़ुलाम अली (born 1940) is a Pakistani ghazal singer of the Patiala gharana. He is not to be confused with the Indian singer Bade Ghulam Ali Khan (of whom he was a disciple) or Chhote Ghulam Ali, who is another Pakistani singer in the Qual Bachon Gharana More..
Category: Ghazals


Writer / Author: Ustad Ghulam Ali (غلام علی)


Language: Urdu (اردو)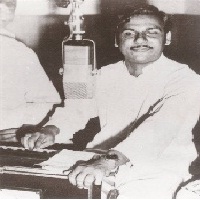 Recitals
Chamakte Chand Ko | چمکتے چند کو
Album:Private | Voice: U.Ghulam Ali

Awaiting Contributions.
This Ghazal was originally composed in Urdu. Other languages are for your convenience.
چمکتے چند کو ٹھٹہ ہوا تر بنا ڈالا ٢
میری آوارگی نے مجھکو آوارہ بنا ڈالا
چمکتے ٢
ہوں ہوام آہ آہ -٢
بد دلکش بد رنگین ہے یہ شہر کہتے ہیں ٢
یہاں پر ہیں ہزاروں گھر گھروں میں لوگ رہتے ہیں
مجھے اس شہر نے گلیوں کا بنجارا بنا ڈالا
چمکتے چند
میں اس دنیا کو اکثر دیکھ کر حیران ہوتا ہوں ٢
نہ مجھسے بن سکا چھوٹا سا گھر دیں رات روتا ہوں
خدایا تونے کیسے یہ جہاں سارا بنا ڈالا
چمکتے چند
میرے ملک میرا دل کیوں تداپتا ہے سلگتا ہے ٢
تیری مرضی , تیری مرضی پی کسکا زور چلتا ہے
کسی کو گل , کسی کو تونے انگارہ بنا ڈالا
چمکتے چند
یہی آگاز تھا میرا , یہی انجام ہونا تھا ٢
مجھے برباد ہونا تھا , مجھے ناکام ہونا تھا
مجھے تقدیر نے تقدیر کا مرا بنا ڈالا
چمکتے چند
.
Awaiting Contribution..
.
chamakte chand ko tuta hua tara bana dala X2
meri aawargi ne mujhko aawara bana dala
chamakte)-2
huuun huuuum aaaa aaa-2
bada dilkash bada rangeen hai yeh shehar kehte hain X2
yahan par hain hazaron ghar gharon mein log rehte hain
mujhe is shehar ne galiyon ka banjara bana dala
chamakte chand…
main is duniya ko aksar dekh kar hairaan hota hun X2
na mujhse ban saka chhota sa ghar, din raat rota hun
khudaya tune kaise ye jahan sara bana dala
chamakte chand…
mere malik, mera dil kyun tadapta hai, sulagta hai X2
teri marzi , teri marzi pe kiska zor chalta hai
kisi ko gul, kisi ko tune angara bana dala
chamakte chand…
yehi aagaz tha mera, yehi anjam hona tha X2
mujhe barbaad hona tha, mujhe nakaam hona tha
mujhe taqdeer ne taqdeer ka mara bana dala
chamakte chand…
.