Composer: Muttukumaraswamy (मुत्तुकुमर स्वम्य) popularly known as Muthuswamy Dikshithar (முத்துஸ்வாமி தீக்ஷிதர் – ముత్తుస్వామీ డిక్షితర్), (March 24, 1775 – October 21, 1835) was born in Tiruvarur (of Thanjavur district of Tamil Nadu) to a Tamil Iyer Brahmin couple Ramaswami Dikshitar and Subbamma, as the eldest son. He also had two younger brothers Baluswami, Chinnaswami and a sister Balambal.Chidambaranatha Yogi was his guru. More…

Raagam: Asaaveri

Taalam: Matyam
Diety: Navagraha Krithis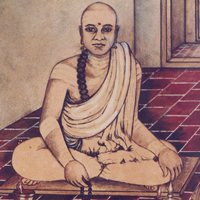 .
Recitals
Album: Unknown | Voice: D.K.Pattammal
Album: Unknown | Voice: Unknown
Album: Unknown | Voice: Madurai Mani Iyer

Awaiting Contributions.

We believe this kriti was originally composed in sanskrit. Other languages are for your convenience.
పల్లవి
చంద్రం భజ మానస సాధు హృదయ సదృశమ్
అనుపల్లవి
ఇంద్రాది లోక పాలేడిత తారేశం
(మధ్యమ కాల సాహిత్యమ్)
ఇందుం షోడశ కలా ధరం నిశా-కరం
ఇందిరా సహోదరం సుధా-కరం అనిశమ్
చరణము
శంకర మౌలి విభూషణం శీత కిరణం
చతుర్భుజం మదనచ్ఛత్రం క్షపా-కరమ్
వేంకటేశ నయనం విరాణ్మనో-జననం
విధుం కుముద మిత్రం విధి గురు గుహ వక్త్రమ్
(మధ్యమ కాల సాహిత్యమ్)
శశాంకం గీష్పతి శాపానుగ్రహ పాత్రం
శరచ్చంద్రికా ధవళ ప్రకాశ గాత్రమ్
కంకణ కేయూర హార ముకుటాది ధరం
పంకజ రిపుం రోహిణీ ప్రియ-కర చతురమ్
variations
ముకుటాది – మకుటాది
.
பல்லவி
சந்த்3ரம் ப4ஜ மானஸ ஸாது4 ஹ்ரு2த3ய ஸத்3ரு2ஸ1ம்
அனுபல்லவி
இந்த்3ராதி3 லோக பாலேடி3த தாரேஸ1ம்
(மத்4யம கால ஸாஹித்யம்)
இந்து3ம் ஷோட3ஸ1 கலா த4ரம் நிஸா1-கரம்
இந்தி3ரா ஸஹோத3ரம் ஸுதா4-கரம் அனிஸ1ம்
சரணம்
ஸ1ங்கர மௌலி விபூ4ஷணம் ஸீ1த கிரணம்
சதுர்பு4ஜம் மத3னச்ச2த்ரம் க்ஷபா-கரம்
வேங்கடேஸ1 நயனம் விராண்மனோ-ஜனனம்
விது4ம் குமுத3 மித்ரம் விதி4 கு3ரு கு3ஹ வக்த்ரம்
(மத்4யம கால ஸாஹித்யம்)
ஸ1ஸா1ங்கம் கீ3ஷ்பதி ஸா1பானுக்3ரஹ பாத்ரம்
ஸ1ரச்சந்த்3ரிகா த4வள ப்ரகாஸ1 கா3த்ரம்
கங்கண கேயூர ஹார முகுடாதி3 த4ரம்
பங்கஜ ரிபும் ரோஹிணீ ப்ரிய-கர சதுரம்
variations
முகுடாதி3 – மகுடாதி3
.
ಪಲ್ಲವಿ
ಚಂದ್ರಂ ಭಜ ಮಾನಸ ಸಾಧು ಹೃದಯ ಸದೃಶಮ್
ಅನುಪಲ್ಲವಿ
ಇಂದ್ರಾದಿ ಲೋಕ ಪಾಲೇಡಿತ ತಾರೇಶಂ
(ಮಧ್ಯಮ ಕಾಲ ಸಾಹಿತ್ಯಮ್)
ಇಂದುಂ ಷೋಡಶ ಕಲಾ ಧರಂ ನಿಶಾ-ಕರಂ
ಇಂದಿರಾ ಸಹೋದರಂ ಸುಧಾ-ಕರಂ ಅನಿಶಮ್
ಚರಣಮ್
ಶಂಕರ ಮೌಲಿ ವಿಭೂಷಣಂ ಶೀತ ಕಿರಣಂ
ಚತುರ್ಭುಜಂ ಮದನಚ್ಛತ್ರಂ ಕ್ಷಪಾ-ಕರಮ್
ವೇಂಕಟೇಶ ನಯನಂ ವಿರಾಣ್ಮನೋ-ಜನನಂ
ವಿಧುಂ ಕುಮುದ ಮಿತ್ರಂ ವಿಧಿ ಗುರು ಗುಹ ವಕ್ತ್ರಮ್
(ಮಧ್ಯಮ ಕಾಲ ಸಾಹಿತ್ಯಮ್)
ಶಶಾಂಕಂ ಗೀಷ್ಪತಿ ಶಾಪಾನುಗ್ರಹ ಪಾತ್ರಂ
ಶರಚ್ಚಂದ್ರಿಕಾ ಧವಳ ಪ್ರಕಾಶ ಗಾತ್ರಮ್
ಕಂಕಣ ಕೇಯೂರ ಹಾರ ಮುಕುಟಾದಿ ಧರಂ
ಪಂಕಜ ರಿಪುಂ ರೋಹಿಣೀ ಪ್ರಿಯ-ಕರ ಚತುರಮ್
variations
ಮುಕುಟಾದಿ – ಮಕುಟಾದಿ
.
पल्लवि
चन्द्रं भज मानस साधु हृदय सदृशम्
अनुपल्लवि
इन्द्रादि लोक पालेडित तारेशं
(मध्यम काल साहित्यम्)
इन्दुं षोडश कला धरं निशा-करं
इन्दिरा सहोदरं सुधा-करं अनिशम्
चरणम्
शङ्कर मौलि विभूषणं शीत किरणं
चतुर्भुजं मदनच्छत्रं क्षपा-करम्
वेङ्कटेश नयनं विराण्मनो-जननं
विधुं कुमुद मित्रं विधि गुरु गुह वक्त्रम्
(मध्यम काल साहित्यम्)
शशाङ्कं गीष्पति शापानुग्रह पात्रं
शरच्चन्द्रिका धवळ प्रकाश गात्रम्
कङ्कण केयूर हार मुकुटादि धरं
पङ्कज रिपुं रोहिणी प्रिय-कर चतुरम्
variations
मुकुटादि – मकुटादि
.
pallavi
candraM bhaja mAnasa sAdhu hRdaya sadRSam
anupallavi
indrAdi lOka pAlEDita tArESaM
(madhyama kAla sAhityam)
induM shODaSa kalA dharaM niSA-karaM
indirA sahOdaraM sudhA-karaM aniSam
caraNam
Sankara mauli vibhUshaNaM SIta kiraNaM
caturbhujaM madanacchatraM kshapA-karam
vEnkaTESa nayanaM virANmanO-jananaM
vidhuM kumuda mitraM vidhi guru guha vaktram
(madhyama kAla sAhityam)
SaSAnkaM gIshpati SApAnugraha pAtraM
SaraccandrikA dhavaLa prakASa gAtram
kankaNa kEyUra hAra mukuTAdi dharaM
pankaja ripuM rOhiNI priya-kara caturam
variations
mukuTAdi – makuTAdi
.
പല്ലവി
ചന്ദ്രം ഭജ മാനസ സാധു ഹൃദയ സദൃശമ്
അനുപല്ലവി
ഇന്ദ്രാദി ലോക പാലേഡിത താരേശം
(മധ്യമ കാല സാഹിത്യമ്)
ഇന്ദും ഷോഡശ കലാ ധരം നിശാ-കരം
ഇന്ദിരാ സഹോദരം സുധാ-കരം അനിശമ്
ചരണമ്
ശങ്കര മൌലി വിഭൂഷണം ശീത കിരണം
ചതുര്ഭുജം മദനച്ഛത്രം ക്ഷപാ-കരമ്
വേങ്കടേശ നയനം വിരാണ്മനോ-ജനനം
വിധും കുമുദ മിത്രം വിധി ഗുരു ഗുഹ വക്ത്രമ്
(മധ്യമ കാല സാഹിത്യമ്)
ശശാങ്കം ഗീഷ്പതി ശാപാനുഗ്രഹ പാത്രം
ശരച്ചന്ദ്രികാ ധവള പ്രകാശ ഗാത്രമ്
കങ്കണ കേയൂര ഹാര മുകുടാദി ധരം
പങ്കജ രിപും രോഹിണീ പ്രിയ-കര ചതുരമ്
variations
മുകുടാദി – മകുടാദി
.
Pallavi:
O Mind. Worship Candra, who is as cool as the hearts of the sages.
Anupallavi:
The Lord of Tara, worshipped by Indra and other regents; the one who cools; The one who has 16 phases, the one that causes night; the brother of Lakshmi! The one who pours forth nectar;
Charanam:
The one worn by Shankara on his head; the one who has cool rays; the one with 4 hands; the one who serves the cupid as an umbrella; the cause for night; the one who is the eye of venkatesha; the one born out of the mind of virAt-purusha; the one who causes medicines; the friend of the lily. The one who resembles the face of Guha the perceptor of Brahma;
The one who has the mark of a hare; the one who was subject to the curse & later the grace by Brhaspati, the one who shines like the autumnal moon; the one who wears a bracelet, necklace, & crown, the enemy of the lotus; the intelligent one who was dear to Rohini.
.