Composer: Sri Tallapaka Annamacharya (Annamayya అన్నమయ్య) , May 9, 1408 – February 23, 1503 was born to Narayana Suri and Lakkamamba in Tallapaka, a village in current day Kadapa district of Andhra Pradesh. More….
Keerthana No. 279
Copper Sheet No. 847
Pallavi: Chekkiti Cheyika (చెక్కిటి చేయిక)
Ragam: Natta narayani
Language: Telugu (తెలుగు)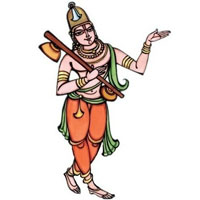 Recitals
Awaiting Contributions.
…
Awaiting Contributions.
[audio: audio-instrumental-file-name.mp3].
This Kriti was originally composed in Telugu. Other languages are for your convenience.
Pallavi
|| చెక్కిటి చేయిక నేల చింతలేల | అక్కరతో నాపె నీ యలపారిచీ గాక ||
Charanams
|| జవ్వనపు సతి తోడి సరసము | చివ్వన నీ మేనెల్లా జెమరింపించె |
పువ్వుల వసంతాలు పొలయాటలూ | నవ్వి నవ్వి నీ మనసు నాము లెక్కింపించె ||
|| చక్కెర బొమ్మవంటి యీ సతి పొందులు | చిక్కించి నీకు వలపు చిమ్మిరేగించె |
నిక్కి నిక్కి యాపె జూచె నీ వేడుకలు | చెక్కుల చెనకులయి సిగ్గు విడిపించె ||
|| అలమేలు మంగతో నెయ్యపు రతులు | నిలువెల్ల సింగారమై నీకు నమరె |
నెలవై శ్రీ వేంకటేశ నీ తమకము | అలరిన చుట్టరికమై తగిలించె ||
.
Pallavi
|| cekkiTi cE yika nEla ciMtalEla | akkaratO nApe nI yalapAricI gAka ||
Charanams
|| javvanapu sati tODi sarasamu | civvana nI mEnellA jemariMpiMce |
puvvula vasaMtAlu polayATalU | navvi navvi nI manasu nAmu lekkiMpiMce ||
|| cakkera bommavaMTi yI sati poMdulu | cikkiMci nIku valapu cimmirEgiMce |
nikki nikki yApe jUce nI vEDukalu | cekkula cenakulayi siggu viDipiMce ||
|| alamElu maMgatO neyyapu ratulu | niluvella siMgAramai nIku namare |
nelavai SrI vEMkaTESa nI tamakamu | alarina cuTTarikamai tagiliMce ||
.

We will update this page , once we find comprehensive meaning. Feel free to contribute if you know.
.