Composer: Sri Tallapaka Annamacharya (Annamayya అన్నమయ్య) , May 9, 1408 – February 23, 1503 was born to Narayana Suri and Lakkamamba in Tallapaka, a village in current day Kadapa district of Andhra Pradesh. More….
Keerthana No. 427 Volume: 13
Copper Sheet No. 582
Pallavi: Cheliyaro Neeve Kade (చెలియరో నీవే కదే)
Ragam: Varali
Language: Telugu (తెలుగు)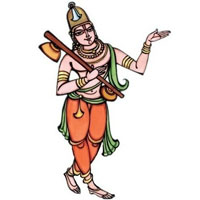 Recitals
Awaiting Contributions.
…
This Kriti was originally composed in Telugu. Other languages are for your convenience.
Pallavi
|| celiyarO nIvE kadE sRuShTikartavu | niluvuna nI magaDu mecce nammA ||
Charanams
|| bommala jaMkiMcitEnE poddu guMkinaTlenu | kammi nIvu navvitEnE kAyu vennela |
sommala mOvi cUpitE cukkalu niMDukonunu | nemmadi nI ramaNuDu ninu meccenammA ||
|| politi nIvu cUcitE voddu voDucu nappuDE | polayalukala neMDa poDacUpunu |
tilakiMci nilicitEdiShTamaunu lOkamella | nelakoni nI viBuDu ninnu meccenammA ||
|| ekkuvai nIvu gUDitE niru saMjalunu dOcu | mokkina nIturumuku mUgu mEGAlu |
vokkaTai nI ratulanu vOlArcagA nEDu | nikki SrI vEMkaTESuDu ninnu meccenammA ||
.

We will update this page , once we find comprehensive meaning. Feel free to contribute if you know.
.