Composer: Sri Tallapaka Annamacharya (Annamayya అన్నమయ్య) , May 9, 1408 – February 23, 1503 was born to Narayana Suri and Lakkamamba in Tallapaka, a village in current day Kadapa district of Andhra Pradesh. More….
Keerthana No. 13
Copper Sheet No. 103
Pallavi: Chi Chi Vivekama (చీ చీ వివేకమా)
Ragam: Sudda Vasantham
Language: Telugu (తెలుగు)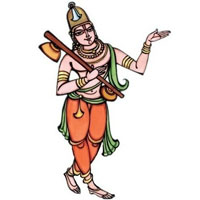 Recitals
Awaiting Contributions.
…
Awaiting Contributions.
[audio: audio-instrumental-file-name.mp3].
This Kriti was originally composed in Telugu. Other languages are for your convenience.
Pallavi
|| చీ చీ వివేకమా చిత్తపువికారమా | యేచి హరి గొలువక హీనుడాయ జీవుడు ||
Charanams
|| బతికేనంటా బోయి పయిడి వుచ్చుక తన- | పతియవసరముల బ్రాణమిచ్చీని |
బతు కందులోన నేది పసిడి యెక్కడ నుండు | గతిహరి గొలువక కట్టువడె జీవుడు ||
|| దొడ్డవాడనయ్యేనని దొరల గొలిచి వారి- | కడ్డము నిడుపు మొక్కు నతిదీనుడై |
దొడ్డతన మేది యందు దొర యాడనున్నవాడు | వొడ్డి హరి గొలువక వోడుపడె జీవుడు ||
| చావనేల నోవనేల సారె గిందుపడనేల | యీవల శ్రీవేంకటేశు డింట నున్నాడు |
దేవు డాతడే నేడు తెలిసి కొలిచేగాని | భావించ కిన్నాళ్ళదాకా భ్రమ బడె జీవుడు ||
.
Pallavi
|| cI cI vivEkamA cittapuvikAramA | yEci hari goluvaka hInuDAya jIvuDu ||
Charanams
|| batikEnaMTA bOyi payiDi vuccuka tana- | patiyavasaramula brANamiccIni |
batu kaMdulOna nEdi pasiDi yekkaDa nuMDu | gatihari goluvaka kaTTuvaDe jIvuDu ||
|| doDDavADanayyEnani dorala golici vAri- | kaDDamu niDupu mokku natidInuDai |
doDDatana mEdi yaMdu dora yADanunnavADu | voDDi hari goluvaka vODupaDe jIvuDu ||
| cAvanEla nOvanEla sAre giMdupaDanEla | yIvala SrIvEMkaTESu DiMTa nunnADu |
dEvu DAtaDE nEDu telisi kolicEgAni | BAviMca kinnALLadAkA Brama baDe jIvuDu ||
.

We will update this page , once we find comprehensive meaning. Feel free to contribute if you know.
.