Composer: Sri Tallapaka Annamacharya (Annamayya అన్నమయ్య) , May 9, 1408 – February 23, 1503 was born to Narayana Suri and Lakkamamba in Tallapaka, a village in current day Kadapa district of Andhra Pradesh. More….
Keerthana No. 470
Copper Sheet No. 589
Pallavi: Chutame Yi Santosalu (చూతమే యీ సంతోసాలు)
Ragam: Kedara Gowla
Language: Telugu (తెలుగు)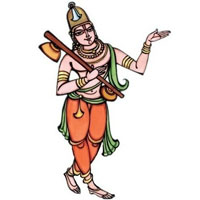 Recitals
Awaiting Contributions.
…
Awaiting Contributions.
[audio: audio-instrumental-file-name.mp3].
This Kriti was originally composed in Telugu. Other languages are for your convenience.
Pallavi
|| చూతమే యీ సంతోసాలు సొరిదినుండి | ఐతేనేమే సవతుల మది మనమేలే||
Charanams
|| సతి తిట్టులతనికి చవులై వుండగాను | మతిలోన వగవగ మనకేల |
యితవై యీపె గుంపెన కితడు లోగుచుండగా | కుతిల కుడువ నేలే కొమ్మలాల మనము ||
|| ఆపెసేసే ఉద్దండాలు ఆతడోరుచుకుండగా | కోపమేలే మనకును కోపులనుండి |
వోపి యాలియాజ్ఞ మగడొట్టి జవదాటడు | ఆపసోపాలేలే మనమందరిలో వారము ||
|| కొంగాపెవట్టి తియ్యగా కూచుండాతడు లోగాగా | పంగించనేలే మనము పలుమారును |
యెంగిలిమోవిచ్చె నాపె యెనసి శ్రీ వేంకటేశు | డంగదేలేయేలిద్దరట్టే మనములను ||
.
Pallavi
|| cUtamE yI saMtOsAlu soridinuMDi | aitEnEmE savatula madi manamElE||
Charanams
|| sati tiTTulataniki cavulai vuMDagAnu | matilOna vagavaga manakEla |
yitavai yIpe guMpena kitaDu lOgucuMDagA | kutila kuDuva nElE kommalAla manamu ||
|| ApesEsE uddaMDAlu AtaDOrucukuMDagA | kOpamElE manakunu kOpulanuMDi |
vOpi yAliyAj~ja magaDoTTi javadATaDu | ApasOpAlElE manamaMdarilO vAramu ||
|| koMgApevaTTi tiyyagA kUcuMDAtaDu lOgAgA | paMgiMcanElE manamu palumArunu |
yeMgilimOvicce nApe yenasi SrI vEMkaTESu | DaMgadElEyEliddaraTTE manamulanu ||
.

We will update this page , once we find comprehensive meaning. Feel free to contribute if you know.
.