Composer: Sri Tallapaka Annamacharya (Annamayya అన్నమయ్య) , May 9, 1408 – February 23, 1503 was born to Narayana Suri and Lakkamamba in Tallapaka, a village in current day Kadapa district of Andhra Pradesh. More….
Keerthana No. 10
Copper Sheet No. 202
Pallavi:Cootuvuraavayyaa (చూతువురావయ్యా)
Ragam: Desaalam
Language: Telugu (తెలుగు)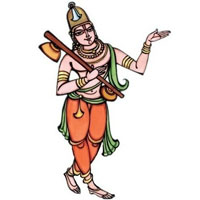 Recitals
Awaiting Contributions.
…
Awaiting Contributions.
[audio: audio-instrumental-file-name.mp3].
This Kriti was originally composed in Telugu. Other languages are for your convenience.
పల్లవి
చూతువురావయ్యా సుదతికాఁపురము
యితలనిదె నియింటిలొనను
చరణములు
1.తీపు మోవిలొని తేనెలు గరఁచీ
చూపులకాఁకల చురుకులను
దాపగు చెక్కుటద్దములు దోమీ
పూపల నవ్వ్గప్పురానను
2.పులకబియ్యాలఁ బొగలివెట్టీ
చలి వలపుల చ్న్నులను
పొలపునెరుల పోరులు వాపీ
ములువాఁడి గోళ్ల ముచ్చటను
3.మొనపి సిగ్గులను ముగ్గులు వెట్టీ
చెనకేటి చెక్కు చేతులను
యెననె శ్రీవెంకటేశ నిన్నునాపె
కని నీవు రాఁగాఁ గాఁగిటను.
.
Pallavi
cutuvurAvayyA sudatikA@mpuramu
yitalanide niyimTilonanu
Charanams
1.tIpu mOviloni tEnelu gara@mcI
cUpulakA@mkala curukulanu
dApagu cekkuTaddamulu dOmI
pUpala navvgappurAnanu
2.pulakabiyyAla@m bogaliveTTI
cali valapula cnnulanu
polapunerula pOrulu vApI
muluvA@mDi gOLla muccaTanu
3.monapi siggulanu muggulu veTTI
cenakETi cekku cEtulanu
yenane SrIvenkaTESa ninnunApe
kani nIvu rA@mgA@m gA@mgiTanu.
.

We will update this page , once we find comprehensive meaning. Feel free to contribute if you know.
.