Composer: Muttukumaraswamy (முத்துகுமாரச்வாமி) popularly known as Muthuswamy Dikshithar (முத்துஸ்வாமி தீக்ஷிதர் – ముత్తుస్వామీ డిక్షితర్), (March 24, 1775 – October 21, 1835) was born in Tiruvarur (of Thanjavur district of Tamil Nadu) to a Tamil Iyer Brahmin couple Ramaswami Dikshitar and Subbamma, as the eldest son. He also had two younger brothers Baluswami, Chinnaswami and a sister Balambal.Chidambaranatha Yogi was his guru. More…

Raagam: Daakshaayani
Taalam: Rupakam
Diety: Mayuram – Mayuranatha swami krithis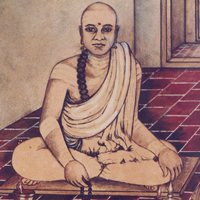 .
Recitals

Awaiting Contributions.


Awaiting Contributions.

We believe this kriti was originally composed in sanskrit. Other languages are for your convenience.
పల్లవి
దాక్షాయణి అభయాంబికే
వరదాభయ హస్తే నమస్తే శ్రీ
అనుపల్లవి
దీక్షా సంతుష్ట మానసే దీనావన హస్త సారసే
కాంక్షితార్థ ప్రదాయిని కామ తంత్ర విధాయిని
సాక్షి రూప ప్రకాశిని సమస్త జగద్విలాసిని
చరణమ్
సకల నిష్కళ స్వరూప తేజసే
సకల లోక సృష్టి కరణ భ్రాజసే
సకల భక్త సంరక్షణ యశసే
సకల యోగి మనో-రూప తత్వ తపసే
(మధ్యమ కాల సాహిత్యమ్)
ప్రబల గురు గుహోదయే పంచానన హృదాలయే
భరత మతంగాది నుతే భారతీశ పూజితే
variations
నమస్తే శ్రీ – నమస్తే
.
பல்லவி
தா3க்ஷாயணி அப4யாம்பி3கே
வரதா3ப4ய ஹஸ்தே நமஸ்தே ஸ்ரீ
அனுபல்லவி
தீ3க்ஷா ஸந்துஷ்ட மானஸே தீ3னாவன ஹஸ்த ஸாரஸே
காங்க்ஷிதார்த2 ப்ரதா3யினி காம தந்த்ர விதா4யினி
ஸாக்ஷி ரூப ப்ரகாஸி1னி ஸமஸ்த ஜக3த்3விலாஸினி
சரணம்
ஸகல நிஷ்கள ஸ்வரூப தேஜஸே
ஸகல லோக ஸ்ரு2ஷ்டி கரண ப்4ராஜஸே
ஸகல ப4க்த ஸம்ரக்ஷண யஸ1ஸே
ஸகல யோகி3 மனோ-ரூப தத்வ தபஸே
(மத்4யம கால ஸாஹித்யம்)
ப்ரப3ல கு3ரு கு3ஹோத3யே பஞ்சானன ஹ்ரு2தா3லயே
ப4ரத மதங்கா3தி3 நுதே பா4ரதீஸ1 பூஜிதே
variations
நமஸ்தே ஸ்ரீ – நமஸ்தே
.
ಪಲ್ಲವಿ
ದಾಕ್ಷಾಯಣಿ ಅಭಯಾಂಬಿಕೇ
ವರದಾಭಯ ಹಸ್ತೇ ನಮಸ್ತೇ ಶ್ರೀ
ಅನುಪಲ್ಲವಿ
ದೀಕ್ಷಾ ಸಂತುಷ್ಟ ಮಾನಸೇ ದೀನಾವನ ಹಸ್ತ ಸಾರಸೇ
ಕಾಂಕ್ಷಿತಾರ್ಥ ಪ್ರದಾಯಿನಿ ಕಾಮ ತಂತ್ರ ವಿಧಾಯಿನಿ
ಸಾಕ್ಷಿ ರೂಪ ಪ್ರಕಾಶಿನಿ ಸಮಸ್ತ ಜಗದ್ವಿಲಾಸಿನಿ
ಚರಣಮ್
ಸಕಲ ನಿಷ್ಕಳ ಸ್ವರೂಪ ತೇಜಸೇ
ಸಕಲ ಲೋಕ ಸೃಷ್ಟಿ ಕರಣ ಭ್ರಾಜಸೇ
ಸಕಲ ಭಕ್ತ ಸಂರಕ್ಷಣ ಯಶಸೇ
ಸಕಲ ಯೋಗಿ ಮನೋ-ರೂಪ ತತ್ವ ತಪಸೇ
(ಮಧ್ಯಮ ಕಾಲ ಸಾಹಿತ್ಯಮ್)
ಪ್ರಬಲ ಗುರು ಗುಹೋದಯೇ ಪಂಚಾನನ ಹೃದಾಲಯೇ
ಭರತ ಮತಂಗಾದಿ ನುತೇ ಭಾರತೀಶ ಪೂಜಿತೇ
variations
ನಮಸ್ತೇ ಶ್ರೀ – ನಮಸ್ತೇ
.
पल्लवि
दाक्षायणि अभयाम्बिके
वरदाभय हस्ते नमस्ते श्री
अनुपल्लवि
दीक्षा सन्तुष्ट मानसे दीनावन हस्त सारसे
काङ्क्षितार्थ प्रदायिनि काम तन्त्र विधायिनि
साक्षि रूप प्रकाशिनि समस्त जगद्विलासिनि
चरणम्
सकल निष्कळ स्वरूप तेजसे
सकल लोक सृष्टि करण भ्राजसे
सकल भक्त संरक्षण यशसे
सकल योगि मनो-रूप तत्व तपसे
(मध्यम काल साहित्यम्)
प्रबल गुरु गुहोदये पञ्चानन हृदालये
भरत मतङ्गादि नुते भारतीश पूजिते
variations
नमस्ते श्री – नमस्ते
.
pallavi
dAkshAyaNi abhayAmbikE
varadAbhaya hastE namastE SrI
anupallavi
dIkshA santushTa mAnasE dInAvana hasta sArasE
kAnkshitArtha pradAyini kAma tantra vidhAyini
sAkshi rUpa prakASini samasta jagadvilAsini
caraNam
sakala nishkaLa svarUpa tEjasE
sakala lOka sRshTi karaNa bhrAjasE
sakala bhakta saMrakshaNa yaSasE
sakala yOgi manO-rUpa tatva tapasE
(madhyama kAla sAhityam)
prabala guru guhOdayE pancAnana hRdAlayE
bharata matangAdi nutE bhAratISa pUjitE
variations
namastE SrI – namastE
.
പല്ലവി
ദാക്ഷായണി അഭയാമ്ബികേ
വരദാഭയ ഹസ്തേ നമസ്തേ ശ്രീ
അനുപല്ലവി
ദീക്ഷാ സന്തുഷ്ട മാനസേ ദീനാവന ഹസ്ത സാരസേ
കാങ്ക്ഷിതാര്ഥ പ്രദായിനി കാമ തന്ത്ര വിധായിനി
സാക്ഷി രൂപ പ്രകാശിനി സമസ്ത ജഗദ്വിലാസിനി
ചരണമ്
സകല നിഷ്കള സ്വരൂപ തേജസേ
സകല ലോക സൃഷ്ടി കരണ ഭ്രാജസേ
സകല ഭക്ത സംരക്ഷണ യശസേ
സകല യോഗി മനോ-രൂപ തത്വ തപസേ
(മധ്യമ കാല സാഹിത്യമ്)
പ്രബല ഗുരു ഗുഹോദയേ പഞ്ചാനന ഹൃദാലയേ
ഭരത മതങ്ഗാദി നുതേ ഭാരതീശ പൂജിതേ
variations
നമസ്തേ ശ്രീ – നമസ്തേ
.
Pallavi:
Abhayamba, the daughter of Daksha! The one bearing the abhaya and varadha mudras! Prostrations unto you.
Anupallavi:
The one who is pleased with initiation.The lotus-feet that protects the destitutes.The one who grants all desires.The one who displays kamakala.The one who shines forth as a witness.The one who pervades the universe.
Charanam:
The splendrous one who is of the formless and with form.The one who shines forth by all her creation.The one with the fame of protecting all her devotees.The one who becomes the object of penance in every yogi's mind.The source of guruguha.The one who dwells in the heart of Shiva – the 5-faced one.The one praised by Bharatha and Matanga.The one worshipped by Brahma-Lord of Sarasvati.
.