Composer: Muttukumaraswamy (मुत्तुकुमर स्वम्य) popularly known as Muthuswamy Dikshithar (முத்துஸ்வாமி தீக்ஷிதர் – ముత్తుస్వామీ డిక్షితర్), (March 24, 1775 – October 21, 1835) was born in Tiruvarur (of Thanjavur district of Tamil Nadu) to a Tamil Iyer Brahmin couple Ramaswami Dikshitar and Subbamma, as the eldest son. He also had two younger brothers Baluswami, Chinnaswami and a sister Balambal.Chidambaranatha Yogi was his guru. More…

Raagam: Ananda Bhairavi
Taalam: Rupakam
Diety: Palani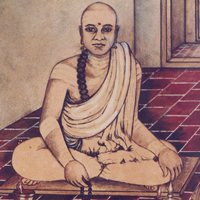 .
Recitals
Album: Unknown | Voice: G.Ravi Kiran

Awaiting Contributions.

We believe this kriti was originally composed in sanskrit. Other languages are for your convenience.
పల్లవి
దండాయుధ పాణిం దండిత దైత్య శ్రేణిం
దయా నిధిం భజ రే హృదయ సతతం సుర వినుతం
అనుపల్లవి
చండాంశు శత కోటి సంకాశం జగదీశం
అఖండ రూపం అండజ మణి మండల-మయ కుండలాది –
(మధ్యమ కాల సాహిత్యమ్)
మండితాంగ సుకుమారం ఖండిత తారక శూరం
పండిత-తర నవ వీరం చండికేశావతారమ్
చరణమ్
మందస్మిత వదనారవిందం మాతుల గోవిందం
శరణాగత సుర బృందం బహు మానిత ముని బృందం
పరిపాలిత ముచుకుందం ప్రణత విరించి ముకుందం
అధర మధుర మకరందం మృదు-తర వచనం అనిందం
మాయా మూల కందం స్కందం శందం
పృథివ్యాత్మక గంధం గగనాత్మక సుమ గంధం
వాయు-మయ ధూప గంధం వహ్ని-మయ దీప బృందం
అమృతాత్మక రస బృందం శ్రీ గురు గుహం ఆనందం
(మధ్యమ కాల సాహిత్యమ్)
సుందర కర చరణారవిందం రథ గజ తురగ బృందం
సత్య జ్ఞానానందం అతి స్వచ్ఛందమ్
variations:
మండితాంగ – మండితాంక
అనిందం – ఆనందం – అనంతం
తురగ – తురంగ
.
பல்லவி
தண்டாயுத பாணிம் தண்டித தைத்ய ஸ்ரேணிம்
தயா நிதிம் பஜ ரே ஹ்ருதய ஸததம் ஸுர வினுதம்
அனுபல்லவி
சண்டாம்ஸு ஸத கோடி ஸங்காஸ1ம் ஜகதீஸ1ம்
அகண்ட ரூபம் அண்டஜ மணி மண்டல-மய குண்டலாதி –
(மத்யம கால ஸாஹித்யம்)
மண்டிதாங்க ஸுகுமாரம் கண்டித தாரக ஸூரம்
பண்டித-தர நவ வீரம் சண்டிகேஸாவதாரம்
சரணம்
மந்தஸ்மித வதனாரவிந்தம் மாதுல கோவிந்தம்
ஸரணாகத ஸுர ப்ருந்தம் பஹு மானித முனி ப்ருந்தம்
பரிபாலித முசுகுந்தம் ப்ரணத விரிஞ்சி முகுந்தம்
அதர மதுர மகரந்தம் ம்ருது-தர வசனம் அனிந்தம்
மாயா மூல கந்தம் ஸ்கந்தம் ஸந்தம்
ப்ருதிவ்யாத்மக கந்தம் ககனாத்மக ஸும கந்தம்
வாயு-மய தூப கந்தம் வஹ்னி-மய தீப ப்ருந்தம்
அம்ருதாத்மக ரஸ ப்3ருந்தம் ஸ்ரீ குரு குஹம் ஆனந்தம்
(மத்யம கால ஸாஹித்யம்)
ஸுந்தர கர சரணாரவிந்த3ம் ரத க3ஜ துரக ப்ருந்தம்
ஸத்ய ஞானானந்தம் அதி ஸ்வச்சந்தம்
variations:
மண்டிதாங்க – மண்டி3தாங்க
அனிந்தம் – ஆனந்தம் – அனந்தம்
துரக – துரங்க
.
ಪಲ್ಲವಿ
ದಂಡಾಯುಧ ಪಾಣಿಂ ದಂಡಿತ ದೈತ್ಯ ಶ್ರೇಣಿಂ
ದಯಾ ನಿಧಿಂ ಭಜ ರೇ ಹೃದಯ ಸತತಂ ಸುರ ವಿನುತಂ
ಅನುಪಲ್ಲವಿ
ಚಂಡಾಂಶು ಶತ ಕೋಟಿ ಸಂಕಾಶಂ ಜಗದೀಶಂ
ಅಖಂಡ ರೂಪಂ ಅಂಡಜ ಮಣಿ ಮಂಡಲ-ಮಯ ಕುಂಡಲಾದಿ –
(ಮಧ್ಯಮ ಕಾಲ ಸಾಹಿತ್ಯಮ್)
ಮಂಡಿತಾಂಗ ಸುಕುಮಾರಂ ಖಂಡಿತ ತಾರಕ ಶೂರಂ
ಪಂಡಿತ-ತರ ನವ ವೀರಂ ಚಂಡಿಕೇಶಾವತಾರಮ್
ಚರಣಮ್
ಮಂದಸ್ಮಿತ ವದನಾರವಿಂದಂ ಮಾತುಲ ಗೋವಿಂದಂ
ಶರಣಾಗತ ಸುರ ಬೃಂದಂ ಬಹು ಮಾನಿತ ಮುನಿ ಬೃಂದಂ
ಪರಿಪಾಲಿತ ಮುಚುಕುಂದಂ ಪ್ರಣತ ವಿರಿಂಚಿ ಮುಕುಂದಂ
ಅಧರ ಮಧುರ ಮಕರಂದಂ ಮೃದು-ತರ ವಚನಂ ಅನಿಂದಂ
ಮಾಯಾ ಮೂಲ ಕಂದಂ ಸ್ಕಂದಂ ಶಂದಂ
ಪೃಥಿವ್ಯಾತ್ಮಕ ಗಂಧಂ ಗಗನಾತ್ಮಕ ಸುಮ ಗಂಧಂ
ವಾಯು-ಮಯ ಧೂಪ ಗಂಧಂ ವಹ್ನಿ-ಮಯ ದೀಪ ಬೃಂದಂ
ಅಮೃತಾತ್ಮಕ ರಸ ಬೃಂದಂ ಶ್ರೀ ಗುರು ಗುಹಂ ಆನಂದಂ
(ಮಧ್ಯಮ ಕಾಲ ಸಾಹಿತ್ಯಮ್)
ಸುಂದರ ಕರ ಚರಣಾರವಿಂದಂ ರಥ ಗಜ ತುರಗ ಬೃಂದಂ
ಸತ್ಯ ಜ್ಞಾನಾನಂದಂ ಅತಿ ಸ್ವಚ್ಛಂದಮ್
variations:
ಮಂಡಿತಾಂಗ – ಮಂಡಿತಾಂಕ
ಅನಿಂದಂ – ಆನಂದಂ – ಅನಂತಂ
ತುರಗ – ತುರಂಗ
.
पल्लवि
दण्डायुध पाणिं दण्डित दैत्य श्रेणिं
दया निधिं भज रे हृदय सततं सुर विनुतं
अनुपल्लवि
चण्डांशु शत कोटि संकाशं जगदीशं
अखण्ड रूपं अण्डज मणि मण्डल-मय कुण्डलादि –
(मध्यम काल साहित्यम्)
मण्डिताङ्ग सुकुमारं खण्डित तारक शूरं
पण्डित-तर नव वीरं चण्डिकेशावतारम्
चरणम्
मन्दस्मित वदनारविन्दं मातुल गोविन्दं
शरणागत सुर बृन्दं बहु मानित मुनि बृन्दं
परिपालित मुचुकुन्दं प्रणत विरिञ्चि मुकुन्दं
अधर मधुर मकरन्दं मृदु-तर वचनं अनिन्दं
माया मूल कन्दं स्कन्दं शन्दं
पृथिव्यात्मक गन्धं गगनात्मक सुम गन्धं
वायु-मय धूप गन्धं वह्नि-मय दीप बृन्दं
अमृतात्मक रस बृन्दं श्री गुरु गुहं आनन्दं
(मध्यम काल साहित्यम्)
सुन्दर कर चरणारविन्दं रथ गज तुरग बृन्दं
सत्य ज्ञानानन्दं अति स्वच्छन्दम्
variations:
मण्डिताङ्ग – मण्डिताङ्क
अनिन्दं – आनन्दं – अनन्तं
तुरग – तुरङ्ग
.
pallavi
daNDAyudha pANiM daNDita daitya SrENiM
dayA nidhiM bhaja rE hRdaya satataM sura vinutaM
anupallavi
caNDAMSu Sata kOTi saMkASaM jagadISaM
akhaNDa rUpaM aNDaja maNi maNDala-maya kuNDalAdi –
(madhyama kAla sAhityam)
maNDitAnga sukumAraM khaNDita tAraka SUraM
paNDita-tara nava vIraM caNDikESAvatAram
caraNam
mandasmita vadanAravindaM mAtula gOvindaM
SaraNAgata sura bRndaM bahu mAnita muni bRndaM
paripAlita mucukundaM praNata virinci mukundaM
adhara madhura makarandaM mRdu-tara vacanaM anindaM
mAyA mUla kandaM skandaM SandaM
pRthivyAtmaka gandhaM gaganAtmaka suma gandhaM
vAyu-maya dhUpa gandhaM vahni-maya dIpa bRndaM
amRtAtmaka rasa bRndaM SrI guru guhaM AnandaM
(madhyama kAla sAhityam)
sundara kara caraNAravindaM ratha gaja turaga bRndaM
satya jnAnAnandaM ati svacchandam
variations:
maNDitAnga – maNDitAnka
anindaM – AnandaM – anantaM
turaga – turanga
kshEtra – pazhani – daNDAyudha pANi
.
പല്ലവി
ദണ്ഡായുധ പാണിം ദണ്ഡിത ദൈത്യ ശ്രേണിം
ദയാ നിധിം ഭജ രേ ഹൃദയ സതതം സുര വിനുതം
അനുപല്ലവി
ചണ്ഡാംശു ശത കോടി സങ്കാശം ജഗദീശം
അഖണ്ഡ രൂപം അണ്ഡജ മണി മണ്ഡല-മയ കുണ്ഡലാദി –
(മധ്യമ കാല സാഹിത്യമ്)
മണ്ഡിതാങ്ഗ സുകുമാരം ഖണ്ഡിത താരക ശൂരം
പണ്ഡിത-തര നവ വീരം ചണ്ഡികേശാവതാരമ്
ചരണമ്
മന്ദസ്മിത വദനാരവിന്ദം മാതുല ഗോവിന്ദം
ശരണാഗത സുര ബൃന്ദം ബഹു മാനിത മുനി ബൃന്ദം
പരിപാലിത മുചുകുന്ദം പ്രണത വിരിഞ്ചി മുകുന്ദം
അധര മധുര മകരന്ദം മൃദു-തര വചനം അനിന്ദം
മായാ മൂല കന്ദം സ്കന്ദം ശന്ദം
പൃഥിവ്യാത്മക ഗന്ധം ഗഗനാത്മക സുമ ഗന്ധം
വായു-മയ ധൂപ ഗന്ധം വഹ്നി-മയ ദീപ ബൃന്ദം
അമൃതാത്മക രസ ബൃന്ദം ശ്രീ ഗുരു ഗുഹം ആനന്ദം
(മധ്യമ കാല സാഹിത്യമ്)
സുന്ദര കര ചരണാരവിന്ദം രഥ ഗജ തുരഗ ബൃന്ദം
സത്യ ജ്ഞാനാനന്ദം അതി സ്വച്ഛന്ദമ്
variations:
മണ്ഡിതാങ്ഗ – മണ്ഡിതാങ്ക
അനിന്ദം – ആനന്ദം – അനന്തം
തുരഗ – തുരങ്ഗ
.
Pallavi
I am protected by dandanatha, the intelligent one who won over the race of demons.
Anupallavi
Who is always indivisible eternal Bliss,
whose lotus feet are capable of bestowing empires (to the devotees)
Charanam
The killer of Vishukra the brother of Bandasura.
The one wroshipped by the intelligent as the one dwelling in kirichaka ratha;
The one who has guruguha – who was praised by Chandikesha by her side.
.