Composer: Sri Tallapaka Annamacharya (Annamayya అన్నమయ్య) , May 9, 1408 – February 23, 1503 was born to Narayana Suri and Lakkamamba in Tallapaka, a village in current day Kadapa district of Andhra Pradesh. More….
Keerthana No. 5
Copper Sheet No. 201
Pallavi: Dasoha manubuddi
(దాసోహ మనుబుద్ది)
Ragam: Nata
Language: Telugu (తెలుగు)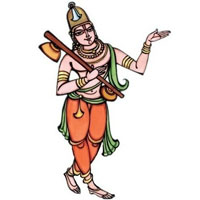 Recitals
Awaiting Contributions.
…
Awaiting Contributions.
[audio: audio-instrumental-file-name.mp3].
This Kriti was originally composed in Telugu. Other languages are for your convenience.
పల్లవి
దాసోహ మనుబుద్ది దలంచరు దానవులు
యీసులకే పెనగేరు యిప్పుడూ గొందరు
చరణములు
1.హరిచక్రముదూషించెయట్టివారే యసురలు
అరయ దామేదైవమన్న వారు నసురలె
ధర నరకాసురుడు తానె దైవమని చెడె
యిరవై యిది మానరు యిప్పుడూ గోవింద || దాసోహ ||
2.పురుషొత్తమునిపూజపొంతబోరు అసురులు
సరవి విష్ణూని జపించనివారు నసురలే
హిరణ్యకశిపుడును యీతను నోల్లక చెడె
ఇరవై యీతని నొల్ల రిప్పుడు గోవింద || దాసోహ ||
3.సురలును మునులును శుకాదియోగులును
పరమను శ్రీవేంకటపతి యనుచు
శరణని బ్రదికేరు సరి నేడు వైష్ణవులు
యెరపరికానం బోయ్యే రిప్పుడు గోవింద || దాసోహ ||
.
Pallavi
dAsOha manubuddi dalaMcharu dAnavulu
yIsulakE penagEru yippuDU gomdaru
Charanams
1.harichakramudUshiMcheyaTTivArE yasuralu
araya dAmEdaivamanna vAru nasurale
dhara narakAsuruDu tAne daivamani cheDe
yiravai yidi mAnaru yippuDU gOviMda || dAsOha ||
2.puruShottamunipUjapoMtabOru asurulu
saravi vishNUni japinchanivAru nasuralE
hiraNyakaSipuDunu yItanu nOllaka cheDe
iravai yItani nolla rippuDu gOviMda || dAsOha ||
3.suralunu munulunu SukAdiyoegulunu
paramanu SrIvEMkaTapati yanuchu
SaraNani bradikEru sari nEDu vaishNavulu
yeraparikAnaM bOyyE rippuDu gOviMda || dAsOha ||
.

We will update this page , once we find comprehensive meaning. Feel free to contribute if you know.
.